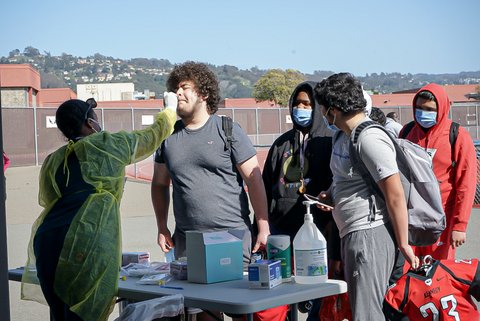 31 Mar

Testing and Limited Seating Continues as High School Football Reaches Midseason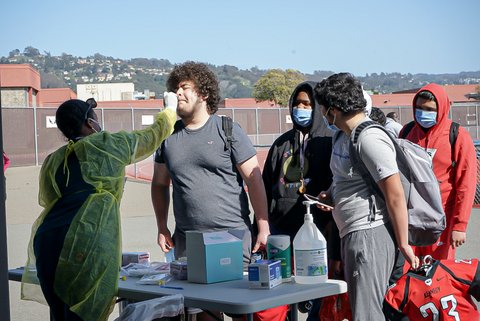 Phlebologist Isis Moore swabs senior football player Moises Martinez's nose outside Kennedy High School while his teammates wait. WCCUSD student-athletes must be tested for the coronavirus each week.
Story and photos by Denis Perez-Bravo
Weekly COVID-19 testing and limited spectators have become the norm for varsity high school football teams in the West Contra Costa Unified School District.
Every Monday, student athletes playing football must be tested before they can go on the field to practice.
"I feel safer. It is for myself and others," said Manuel Guillen, a junior playing safety for Kennedy High.
Getting tested, while unexpected, is something he will gladly do to continue playing organized sports.
After getting his nose swabbed by the concession stands, Guillen, shoulder pads in hand, walked onto Kennedy's football field. As he gears up for practice and starts to throw around a football, the worries of COVID-19, social distancing and illness completely leave his mind, he said.
"I feel safer," said Kennedy High junior Manuel Guillen of the weekly coronavirus tests required for student-athletes. Here, his is administered by phlebologist Isis Moore.
Football teams in the district have now played two games. Only varsity games are allowed, but scrimmages between the school's junior varsity teams are organized depending on the school.
So far, no WCCUSD student-athletes have tested positive for COVID-19.
"It has been a learning experience," Kennedy High School Athletic Director Carl Sumler said as he sat in the unused concession stand.
From when practices were allowed to resume to having games, there have been many protocols the school has had to follow.
"In football, at first, all the players needed to wear gloves," he said.
>>>Read: Richmond High Athletes Get Back in the Game as High School Sports Return
Now as more sports are being allowed and the county is in a different tier, the same level of safety is being taken.
Sumler points to a paper titled "WCCUSD COVID-19 Athlete Screening / Monitoring Form." It is a form he makes sure coaches and athletes fill out daily. The form documents groups of athletes that were close to each other and whether they displayed any symptoms — fever, coughing, sore throat, shortness of breath — whether they had close contact to anyone with COVID-19 and their temperature if it was higher than 100.3 degrees Fahrenheit.
These forms would be extremely helpful if at any point an athlete tests positive for COVID-19.
If an athlete does test positive, the student would have to be isolated and the game for his school that week would be canceled, WCCUSD coordinator Tashaka Merriweather said.
"We would not cancel practice, but if there were multiple positive tests from the team, then that is a different situation," Merriweather said.
Safety Manuel Guillen stretches during a Kennedy High football practice. He said the sport helps him put his worries about COVID-19 out of his mind.
The athletic department at a school would have to trace who the student was in contact with on campus to see if anymore positive cases exist. And the team would have to get retested before being able to play again.
Through safety protocols, the district's first priority — getting student's back on the field — has been successful. Although football was not the first sport to return to playing competitions, it has been the hardest to control because of the large number of athletes on each team and the crowds that the games attract, he said.
The district has given student athletes two tickets each to allow a person 18 or older to watch the game inside the facilities, Merriweather said.
The player's guests must be put on a list by Wednesday the week of a game. And the attendants must come an hour before the game to be checked in, have their identification verified and receive a wristband.
Anyone not listed will not be allowed in and can watch from outside, as many family, friends and community members have done so far.
Only a limited number of fans are allowed on the Kennedy football grounds this season. But others can watch from outside the fence like this people did for the opening game between Kennedy and DeAnza on March 19.
With students allowed to invite two people to each game, Merriweather hopes this will help "alleviate the congestion outside of the facilities."
As the five-game season for football enters midway, the way it is handled will be a positive step toward success with indoor sports like basketball and volleyball.
"I am proud of the teams and coaches because it has been a lot of hard work. Moving forward, we hope to allow for people to also enjoy the events," Merriweather said.