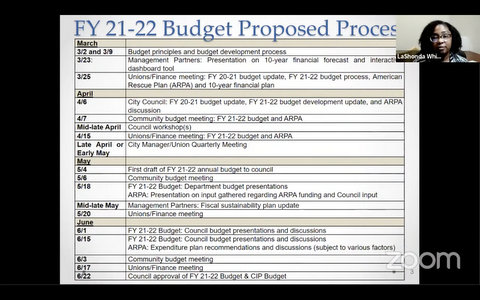 07 Apr

Richmond Will Get $20.81 Million In Federal Money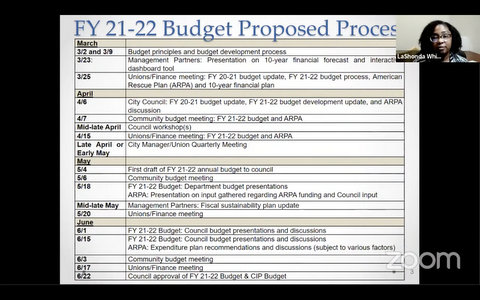 Richmond will get nearly $21 million under the American Rescue Plan. LaShonda White, the city's senior management analyst, presented a potential budget timeline Tuesday. (Screenshot captured by Mathew Miranda / Richmond Pulse)
By Mathew Miranda
Over the next two years, Richmond will receive $20.81 million in federal relief funds from the recently passed American Rescue Plan.
The city's finance department presented information on these funds and the 2021-22 fiscal year budget process during Tuesday night's City Council meeting. Richmond's finances will likely take center stage during the following months as the city prepares for its end of June annual budget deadline.
Senior Management Analyst LaShonda White offered a proposed timeline for the budget process. White said the first draft of the budget would likely be presented to the council May 4, followed by department budget presentations two weeks later. Then, three more budget discussions are expected to be held in June, culminating in what hopes to be the council's approval of the budget on June 22.
>>>Read: Richmond Passes Budget, Will Look at Reducing Police Force
The city will offer three virtual community budget meetings in the next two months, with the first one 6 p.m. Wednesday. The other two meetings are planned for May 6 and June 3. These meetings will be recorded and offer Spanish interpreters.
The first community meeting is also intended to provide residents with information on the American Rescue Plan and gather public input on how the $20.81 million should be spent. White Richmond expects to receive the funds in two equal installments.
The first allocation will likely be given in June or early July with the second installment one year later. If desired by the council, the city may utilize the first installment for the 2021-22 fiscal year budget.  All the funds must be used by the end of 2024.
The city is still waiting for further guidance from the U.S. Treasury Department but will be required to provide periodic reports with a detailed accounting of the money use, White added.
Among the possible uses are addressing the economic effects of the pandemic, providing premium pay to essential employers for employees, restoring government services cut or reduced due to the pandemic, or making investments in water, sewer or broadband infrastructure. The funds cannot be used toward pension costs but can be transferred to private nonprofit organizations or transportation-related public benefits.
>>>Read: Richmond Council Does Not Agree on Budget-Guiding Principles
Council member Gayle McLaughlin suggested several community programs including Literacy For Every Adult, Richmond Build, libraries and summer youth jobs that would benefit from the funding. She also proposed funding the unhoused and healing circles to move forward from the pandemic.
"These are the kinds of things that will both advance our community and give people an opportunity to play a role in shaping a better future for us all," McLaughlin said.
Vice Mayor Demnlus Johnson focused his comments on leveraging funding from the state and county, which will both receive support from the American Rescue Plan as well. Johnson added that he would like a report or document that explores the city programs most affected by the pandemic.
White agreed with exploring additional entities to give funds to and finding ways to create regional partnerships. Contra Costa County will receive $226 million while Oakland and Berkeley will get $192 million and $68.3 million, respectively.
"Is there a way for us to think strategically about how we can pool our resources to have our dollars stretch a little further?" White asked.
Council member Claudia Jimenez questioned the public engagement process for the budget and federal funding. She asked how the city would facilitate community meetings, meet their outreach goals, and contact residents who are generally left out of the budget development process. Jimenez emphasized translating the information in multiple languages for minority residents.
White said the meetings would consist of general education on the budget process and eventually be opened up for a question-and-answer format. She added that the city is looking toward creating an online survey, developing a frequently asked question page and adding American Rescue Plan information to the city website.
"If we realize there is a need or desire for more, we can always talk about having additional meetings and presentations," White said.
Hazard Pay for Grocery Workers
In other news, the City Council unanimously approved a hazard pay ordinance that will require large grocery store employers to pay an additional $5 per hour to all full-time and part-time workers. The emergency ordinance goes into effect immediately.
Per the ordinance, large grocery stores are defined as retail or wholesale stores that are more than 15,000 square feet with at least 10% of the interior space dedicated to food sales for off-site consumption. Franchise grocery stores with 500 or more nationwide employees must also abide by the ordinance.
Some of the businesses that will be affected in Richmond include Target, Walmart, Costco and Grocery Outlet. If an employer already offers some type of hazard pay, then that will be credited toward the $5. Costco paid a $2 premium to its hourly workers beginning March 2020 but announced last February that the additional pay would end as the one-year mark approaches.
In the last few months, dozens of cities across California, including Berkeley, Los Angeles, Long Beach, San Jose, San Francisco, Oakland, San Leandro, San Mateo, Daly City, Concord, Coachella, Santa Ana and Irvine have passed hazard pay legislation for grocery workers. A few of these cities, however, are now facing lawsuits over the pay mandate from the California Grocers' Association.
Richmond's ordinance will expire after 90 days or when the city reaches the yellow tier under California Health Orders, whichever comes first.