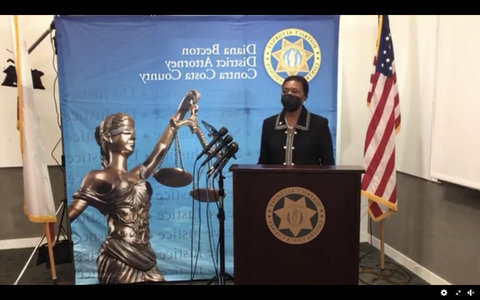 21 Apr

Contra Costa DA Charges Danville Officer in 2018 Fatal Shooting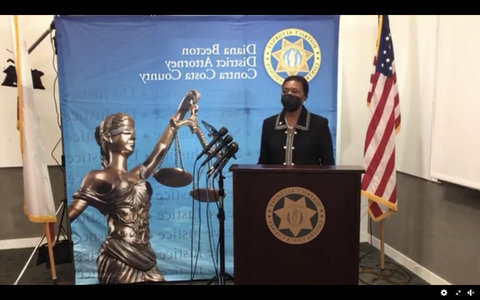 District Attorney Diana Becton at a press conference Wednesday announced felony charges against a Danville police officer for the 2018 shooting death of a man with mental illness. (Screenshot captured by Edward Booth / Richmond Pulse)
By Edward Booth
Contra Costa District Attorney Diana Becton said at a press conference Wednesday she'd filed felony charges against Danville Police Officer Andrew Hall. As a sheriff's deputy, Hall killed an unarmed man, Laudemer Arboleda, with a semi-automatic weapon in 2018.
The announcement came about a month after Hall shot and killed Tyrell Wilson on March 11. Earlier this month, Wilson's family filed a federal civil rights lawsuit against Danville.
The announcement also came one day after ex-police officer Derek Chauvin was found guilty on all counts for the murder last year of George Floyd.
Arboleda, the man Hall shot and killed in 2018, was slowly driving away from police when Hall stepped into the path of his vehicle and fired 10 rounds through the windshield and passenger window, according to the San Francisco Chronicle. Both men Hall killed suffered from mental illness.
>>>Read: Town Hall Begins Reimagining of Policing
"Officer Hall used unreasonable and unnecessary force when he responded to the in-progress traffic pursuit involving Laudemer Arboleda, endangering not only Mr. Arboleda's life but the lives of his fellow officers and citizens in the immediate area," Becton said in a press release.
The San Francisco Chronicle reported that Becton had given no indication of where she would land on filing charges as a result of the death of Arboleda, despite the incident occurring roughly two and a half years ago.
Becton said Hall is being charged with two felonies: voluntary manslaughter and assault with a semi-automatic weapon. If convicted, she said, Hall would face 22 years in state prison and be prohibited from being a police officer.
"I am confident a jury of Officer Hall's peers will review this case and ultimately hold Officer Hall accountable," Becton said. "The unnecessary death of Mr. Arboleda underscores the need for law enforcement personnel to better understand those who are suffering from mental illness."