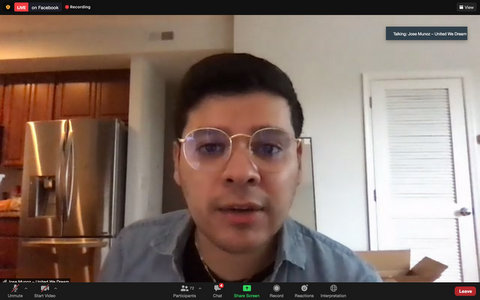 21 Apr

Legislation Could Help Millions of Immigrants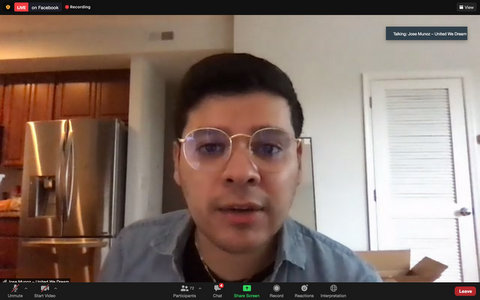 "DACA recipients like me have lived our lives court case to court case," said José Muñoz of United We Dream during an April 9 Ethnic Media Services press briefing. (Screenshot captured by Danielle Parenteau-Decker / Richmond Pulse)
By Danielle Parenteau-Decker
José Muñoz is a self-described "queer DACA recipient." Leydy Rangel and her parents are undocumented farmworkers.
Major federal legislation in the works could help people like them.
Two immigration bills that could protect millions living and working in the U.S. passed the U.S. House of Representatives recently but are likely to face a bigger challenge in the U.S. Senate.
Both bills have bipartisan support, but getting enough votes in a nearly evenly split Senate is far from guaranteed.
The bills and their chances for passage were the subject of a panel discussion hosted Friday, April 9 by Ethnic Media Services.
The American Dream and Promise Act of 2021 would give certain immigrants protections, including the chance to become permanent residents.
As many as 3 million people could be eligible, said Theresa Cardinal Brown, the managing director of immigration and cross-border policy for the Bipartisan Policy Center.
Qualifying Dreamers and DACA recipients, Temporary Protected Status holders and those under Deferred Enforced Departure could not be deported for 10 years. During that period they would be able to legally work in the U.S. and travel in and out of the country.
Dreamers who receive the conditional permanent resident status planned in the bill could apply for permanent residency if they meet an education, military service or employment requirement.
Rep. Lucille Roybal-Allard (D-Calif.) introduced the bill, H.R. 6, on March 3. It passed March 18 by a vote of 228-197. All 219 Democrats voted in favor. Nine Republicans voted yes, 197 voted against and five abstained.
H.R. 1603, the Farm Workforce Modernization Act, would give undocumented agricultural workers currently in the U.S. a chance to become legalized. "Roughly half" of all farmworkers in the U.S. are undocumented, according to Rangel, communications specialist for the UFW Foundation.
Rangel said the act is especially needed now.
"During the pandemic, farmworkers have been more vulnerable than others," she said.
Farmworkers are more susceptible to the coronavirus because they are more likely to live in crowded homes, among other reasons, Rangel added.
The bill would create a Certified Agricultural Worker status, which would be effective for five and a half years. People on CAW visas, which would be renewable, would not be eligible for public benefits, tax benefits or health care subsidies.
It also includes protections for employers, workers and their dependents. For example, a person could not be subject to removal while their application was pending.
The bipartisan legislation was first introduced in 2019 and then reintroduced March 3 by Reps. Zoe Lofgren (D-Calif.) and Dan Newhouse (R-Wash.).
H.R. 1603 passed with a 247-174 vote in the House. It fared somewhat better than H.R. 6 among Republicans but not by much: Thirty Republicans voted in favor.
The panelists could not come to a consensus on the need for Republican support.
"If you want to pass this kind of legislation, you can't rely on the Republicans," said Brent Renison, an immigration attorney.
The bills need 60 votes each to pass the Senate. Assuming all 50 Democrats supported them, they would need 10 votes from across the aisle.
But, Renison argued, that could cause problems.
"If you try to get 10 Republicans," the legislation would change so much, "it would be unacceptable to the other side," he said.
Whatever the fate of this legislation, the potential impact is undeniable.
Rangel shared what the passage of H.R. 1603 would mean for her family.
She said her parents have worked in the fields for more than 20 years. Gaining legal status would let them visit siblings they have not seen since migrating.
Rangel said she is "protected under DACA currently" but only on a two-year basis, "which prevents me from establishing a home."
Muñoz said he knows "firsthand the importance of this act," referring to the Dream and Promise Act.
"DACA recipients like me have lived our lives court case to court case," said Muñoz, national communications manager for United We Dream.
Those acts are not the only pieces of major immigration legislation under consideration, however.
On Feb. 26, Sen. Alex Padilla (D-Calif.) announced his first bill — the Citizenship for Essential Workers Act — along with Sen. Elizabeth Warren (D-Mass.) and Reps. Ted Lieu (D-Calif.) and Joaquin Castro (D-Texas).
It would create an accelerated pathway to citizenship for more than 5 million people who work in health care, meatpacking, public transit and certain other industries.
"We must not allow the workers who are called essential today to be deported tomorrow," said Castro in a press release.
As far as these bills go, something even more comprehensive is also on the table.
On Feb. 18, Rep. Linda Sánchez (D-Calif.) and Sen. Bob Menendez (D-N.J.) introduced the U.S. Citizenship Act, which was proposed by President Biden on his first day in office.
It would give a pathway to citizenship to millions of people, "including Dreamers, Temporary Protective Status recipients, and essential workers who have made enormous sacrifices during the pandemic," according to a press release.
These bills represent a major shift.
The government "has been sending one word and one message to immigrants," said Joseph Villela, and that is "no." Villela is director of policy and advocacy at the Coalition for Humane Immigrant Rights of Los Angeles.
Thus, immigration reform is long overdue, the panel said.
"The last time we addressed immigration [more broadly] was 35 years ago, which indicates our system is broken and outdated," said Villela.
He also said the government needs to first "roll back all the Draconian" rules from the Trump administration — and then go further.
"We really need to overhaul the system overall," Villela said.