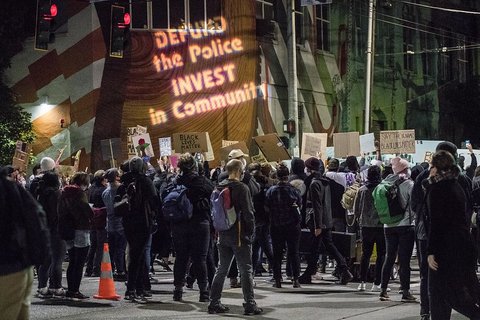 03 May

Richmond Has Fewer Police Officers Amid Budget Reallocation Talks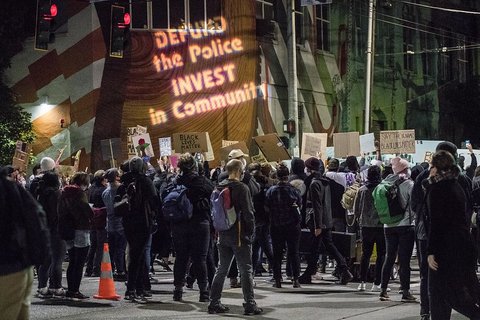 As more and more people call for major changes to law enforcement, officers across the country are leaving police work altogether. (Backbone Campaign via Flickr under CC BY 2.0 license)
By Mathew Miranda
The Richmond Police Department, like many others across the nation, continues to see a decrease in officers and applicants.
In the last decade, America's criminal justice system has become the focus of national conversation as millions call for sweeping changes. Many people want to see officers held accountable and police departments' large budgets reallocated to other programs that reduce crime.
But as the cries for change grow louder, some police departments are seeing officers who choose to walk away and potential applicants look to other professions.
Richmond is no different. It currently has the fewest officers in the last 23 years, according to Police Chief Bisa French. At its peak, French said Richmond had 203 officers. Now, the department is down to 157.
The decrease has led the department to significantly lessen or eliminate entire units including foot and bike patrol, homicide and undercover investigations.
"We don't even investigate if somebody breaks into your car," French said. "We take a report for your insurance, but we don't try to figure out who did it because we don't have the personnel or resources to do it."
Typically, Richmond tends to see its officers go to other departments for more pay or less crime. More recently, two sergeants left policing altogether. The two sergeants, both women, had been with the department for more than 10 years.
"We don't have enough females in law enforcement already, and so to lose two female sergeants, that's difficult because I think we need more women in this profession," French said.
Both sergeants declined to speak with the Richmond Pulse, but, in an exit interview with one, French said the former sergeant expressed her worry over the current state of policing.
From New York and Pennsylvania to Oklahoma and Colorado, departments across the country report officers resigning or retiring early due to similar sentiments.
French said that the killing of George Floyd seems to have accelerated an already growing negative perception of police and that likely affects the number of people applying to be officers in Richmond.
According to French, 10 years ago, the department would receive 50 to 60 applicants for five positions.
"Now, we're lucky if we get more than 10 people to show up for a test," she said.
In an interview with Richmond Pulse, former 23-year Richmond Police veteran Mark Gagan, whom the department surprisingly fired in 2018, spoke about the importance of recruitment. Gagan said departments would invest large amounts of money into recruiting and development, which increases the need to retain those officers.
"Not only is it a loss of an investment in those people and what they're supposed to provide for the city, but it also sheds light on concerning trends for the mindset and the culture of the officer," Gagan said.
Gagan said Richmond began seeing higher levels of community engagement to reimagine policing after police in Ferguson, Mo., shot and killed Michael Brown in 2014. But the unrest over the last year seems to be much broader and "disrupting the culture of policing."
Recent statistics from the U.S. Census Bureau indicated fewer police officers per capita in 2019 than at any point since 1994.
"It's now being much more center stage and prompting many people to look inward as to what either their role should be in embracing the change, or how it will affect them," Gagan said.
Richmond will likely continue to see law enforcement personnel decrease over the next few years, given the city's constrained budget. Last year, 22 officer positions and 12 non-sworn positions were frozen due to budget cuts.
French said she understands the city's position financially and expects "difficult times in the next year or two."
On April 21, the Reimagining Public Safety Community Task Force recommended that the department reallocate $10.3 million to homelessness, youth unemployment, gun prevention and violence prevention and mental health crisis services. The task force, formed last year, consists of 21 community members.
In the proposal, the Office of Neighborhood Safety and RichmondWorks Summer Youth Program would receive $2.5 million and $1.9 million increases. The task force proposed the department could achieve the reallocation by reducing sworn officers, overtime and "other pay," as well as auxiliary services.
Task force member and Richmond native Eddy Chacon said the youth program could provide about 700 more jobs in the summer with the extra funding. Chacon hoped to clear up the misconception that the task force is defunding the police.
"We are reallocating for prevention and more community resources," Chacon said.
French said she welcomed the task force's ideas but did not agree that funding should come out of the department's budget. She estimated that the department could lose up to 35 officers if the City Council approves the reallocation proposal.
"We don't think it's fair, and we think it's actually harmful to our community because we're already under-resourced, in terms of the amount of officers," French said.
Chacon, however, said the department's mentality should change around the city's needs.
"If they're concerned about being under-resourced as a department, then I think they need to take a look at what is under-resourced in the community," Chacon said.
Mayor Tom Butt called the proposed recommendations "ill-conceived" and believes the department would benefit from improved training for officers rather than possibly having fewer officers. Butt also said that Richmond's three districts and nine beats would be difficult to patrol with any fewer officers.
"You have to solve the problem, and the problems involve training and leadership," Butt said.