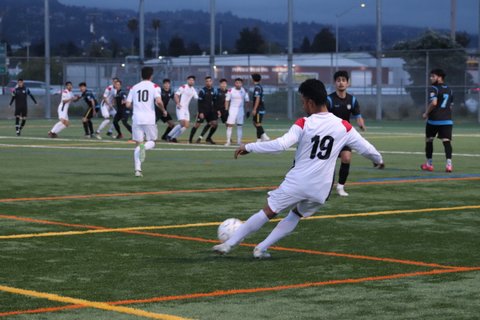 06 May

'Long Time Coming': Local Teams Make National Soccer League Pacific Conference Debut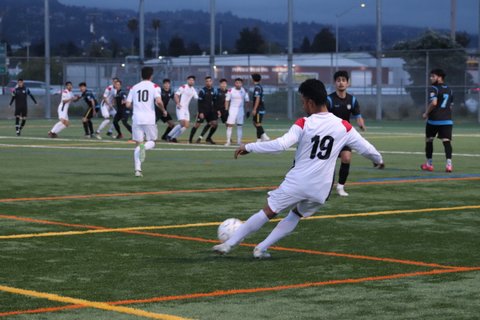 San Pablo FC forward Kevin Sanchez takes a free kick against Atlético East Bay.  Photo by Matias Alejandre
Story and video by Denis Perez-Bravo
Richmond Sol Football Club and San Pablo Football Club debuted in the National Soccer League Pacific Conference over the weekend, nearly a year after both teams joined the league.
"It's been a long time coming. It felt great to compete at a competitive level as a team. This is what we have been training for," San Pablo FC midfielder Pedro Hernandez said.
The Pacific Conference consists of 12 teams: San Pablo FC, Richmond Sol FC, Vallejo Omega Football Club, Stockton TLJ Football Club, Atlético East Bay, Real San Jose, NorCal Rush, Oakland Stompers, San Leandro United, Salinas Soccer Academy, Dahlak Hadenet Football Club and American Canyon Rising.
Despite starting in the second week of the league, a game behind most other teams, San Pablo FC sits at third on the leaderboard. If they win their next game, they would have the best record in the league so far at 2-0.
San Pablo FC
San Pablo FC outscored Atlético East Bay 3-0 during their season opener at Tom Bates Regional Sports Complex on Friday night.
Midfielder Pedro Hernandez opened the scoring when he received a rolling pass outside the goal box from fellow midfielder Richy Amador and lobbed it over Atlético Easy Bay's goalie.
"The first goal made a statement for our team, our program, our club and our community. Once we got the first goal, there was no stopping us," Hernandez said.
San Pablo FC put defensive pressure on Atlético East Bay, utilizing counterattacks to build the team's momentum, he said.
"We put them under a lot of pressure. We were winning tackles, 50-50 balls, finding our wingers and finishing opportunities," Hernandez said.
San Pablo FC held the one-goal lead up to halftime. They went up by two in the second half when Atlético East Bay scored an own goal. San Pablo FC forward Naviel Ocegueda sealed the game when he scored on a one-on-one with the goalie.
"It was a great finish from Naviel from a long throw in that went right over the defenders head and put him straight through on goal," said San Pablo midfielder Juan Alejandre Jr., who threw in the ball.
He knew Ocegueda would be able to follow the play because he had seen him do it when they played together at De Anza High School. He hopes Ocegueda, alongside his other teammates, can continue scoring and reach double digits by the end of the season.
San Pablo FC goalie Alejandro Cervantez was a key part of the win. Cervantez blocked a penalty kick and a one-on-one situation in the box in the first half. And in the second half, he caught a wild shot that deflected off an Atlético East Bay player inside the box.
"Hopefully this great start to the league can keep us motivated and hungry for more. Now, it's time to show everyone that San Pablo FC is here to play and make history," Alejandre said.
RICHMOND SOL FC
Richmond Sol Football Club debuted in the National Soccer League against Vallejo Omega Football Club at the MLK Turf Field on Saturday evening.
The game ended in a 1-1 tie.
Early on, Richmond forward Alejandro Fernandez kicked a volley off a corner kick by the right post, but the ball deflected off a Vallejo player. Fernandez quickly rebounded inside the box and scored in the fourth minute for the game's first goal.
Vallejo had an opportunity to tie the game in the 20th minute of the first half.
Richmond goalie Joseph Ventura ran and dove for a loose ball that Vallejo forward Edenilson Blanco was rushing at. As they collided, Blanco fell to the ground and a penalty kick was called.
Blanco took the penalty kick, slipped, missed the goal completely, and Richmond held the 1-0 lead up to halftime.
At halftime, Richmond head coach Manuel Martinez urged the players to use their speed against the Vallejo defenders and finish their plays.
"We got to score another," Martinez said.
Richmond was not able to do so, however. Instead, a redeemed Blanco tied the game on a penalty kick in the 16th minute of the second half after Richmond Sol defender Andres Plascencia fouled him inside the box.
As the game winded down, players on both sides experienced cramps and minor injuries. With infractions on both teams, gameplay slowed and neither team scored again.
"They were very physical," Fernandez said.
Vallejo was able to get organized by the second half and block Richmond's plays before they got too dangerous. Richmond's tactic to use the wings and outpace the defenders was stopped by the strength of the Vallejo Omega players.
Richmond was supposed to open the season against the Oakland Stompers, but that game was canceled two weeks ago. With Saturday's tie, the Sol sit in the middle of the standings.