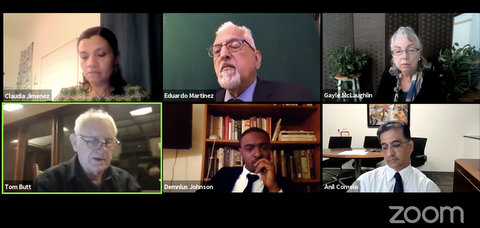 14 May

Richmond Unlikely to Hire New Staff In Upcoming Budget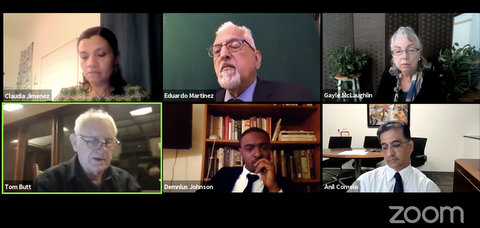 The Richmond City Council addressed city staffing and vaccination requirements at its May 11 meeting. (Screenshot captured by Mathew Miranda / Richmond Pulse)
By Mathew Miranda
Hiring freezes are likely to remain in effect and new hires unlikely to be made as the city of Richmond continues to work toward filling a projected deficit of $12.6 million.
The Richmond City Council on Tuesday received budget presentations from nearly every city department.
In each presentation, the departments described the services provided and their accomplishments and challenges over the past year. The need for increased staffing in departments was a recurring theme. Last year, the city approved hiring freezes for more than 50 vacant city positions due to the loss of tax revenues from the pandemic. It's likely those positions will remain frozen, and most departments will not hire new staff.
"It's very likely to be close to the status quo to make it's a balanced budget," City Manager Laura Snideman said. "Even unfreezing positions would be an extra."
Snideman added that "all departments clearly need staff" but, given the city's current financial state, departments should not anticipate many changes. Snideman also said the American Rescue Plan funding will likely not help with hiring because that money is intended for one-time allocations.
The federal relief funds and their potential uses for the 2021-22 fiscal year budget will be discussed at next Tuesday's meeting. City staff has spent the last few weeks collecting ideas from the community, unions and the council. Snideman said Richmond would receive more than the $20.8 million initially expected. She expects the amount to be in the "high $20 millions."
Council member Gayle McLaughlin brought forward a list of concerns from constituents that she hopes may be funded through the American Rescue Plan. They included a potential citywide broadband service, upkeep of local parks, paving of curbs and sidewalks and addressing the illegal dumping. Vice Mayor Demnlus Johnson also highlighted infrastructure and technology as two points of emphasis for the city. Johnson said he hopes that the federal infrastructure bill currently being discussed will cure some of these needs.
The departments that presented Tuesday included: Office of the Mayor, City Council, Community Police Review, City Clerk, City Attorney, City Manager's Office, Economic Development, Richmond Housing Authority, Port, Internal Services / Department of Children and Youth, Finance, Human Resources, Information Technology, Office of Neighborhood Safety, Fire Department, Public Works, Water Resource Recovery, Community Development, Housing, Library, Community Service and Employment and Training.
The police department did not present because of Monday's special council meeting. Snideman said that staff is working to update the department's presentation after the council voted to support recommendations that look to reallocate $10.3 million.
Reopening City Hall
In other news, the council discussed plans to reopen City Hall in June and the lack of a vaccine mandate for city staff and visitors.
Human Resources Director Anil Comelo said the city recommends staff to get vaccinated but has been advised not to require vaccines by an outside employment law counsel. Comelo added that a mandate would create logistical and legal challenges, take up significant staff time and be difficult to enforce. According to Comelo, the law allows people to refuse vaccination for religious reasons.
The city will continue to mandate safe practices such as masks and social distancing.
Mayor Tom Butt called the decision "poor judgment" and said he feels very strongly that Richmond should require vaccinations for staff.
"You're giving everyone a pass and tell them it's their choice to get vaccinated or not," Butt said.
Comelo called Butt's comments inappropriate and said that most cities in California are choosing not to mandate vaccines for employees.
"Out of the 115 human resources jurisdictions groups I am part of, literally just two are requiring employees to be vaccinated," Comelo said.
The next public Richmond City Council meeting will be held 6:30 p.m. Tuesday. The agenda is available on the city's website, and the meeting can be viewed live on KCRT TV's YouTube channel.