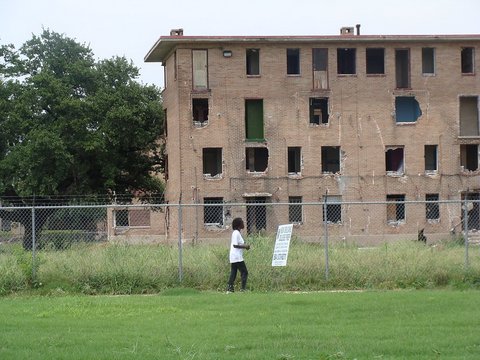 27 May

Boost to Public Housing May Not Be Enough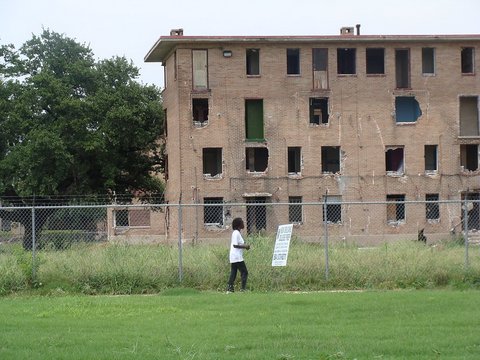 Decades of underfunding have left public housing buildings like this one in New Orleans, photographed in 2007, in disrepair. ("Public Housing" by Karen Apricot via Flickr under CC BY-SA 2.0 license.)
By Danielle Parenteau-Decker
Public housing in the U.S. could soon receive a $40 billion investment as part of one of several measures laid out in the American Jobs Plan, President Joe Biden's sweeping infrastructure proposal.
But providers say it is not enough.
The National Association of Housing and Redevelopment Officials brought together providers from around the country to discuss the state of public housing in the United States during an online briefing April 30.
"If we get it, great, but we still have a $70 billion backlog," said Sunny Shaw, NAHRO president and executive director of Housing Alliance & Community Partnerships in Pocatello, Idaho.
As massive as the proposed $40 billion figure is, the speakers said it can't make up for decades of underfunding and deferred maintenance.
"If we only get enough money to replace part of the bridge, that won't get you where you need to go," said Michael Gerber, president and chief executive of the Housing Authority of the City of Austin.
For years, tight budgets have forced low-income housing providers to ask themselves some tough questions.
"What can we do, and what can we put off?" asked Shaunté Evans, the CEO of Spartanburg Housing in South Carolina.
>>>Read: New Rent Relief Program Tries to Help Small Landlords
Darrin Taylor, who heads the Housing Authority of Poplar Bluff, Mo., said housing providers are constantly behind and cannot catch up.
He also said administrators like him have to carefully plan their spending, can only "address the most immediate needs" and are "never able to make long-term changes."
In his state, for example, most public housing was built in the 1960s and now needs major kitchen and bathroom fixes, accessibility improvements for people with disabilities, and more. But such modernization efforts and even routine maintenance often have to be put off or forgone entirely, Taylor said.
Still, as great as their needs are, providers worry it would be hard to make the government understand that.
"Getting the rest of [the needed funding] — from an advocacy standpoint — will be difficult," said Tess Hembree, NAHRO's director of government relations.
The issue isn't just the money, but rather the sheer number of people who need help with housing.
When the Austin housing authority recently reopened its Housing Choice Voucher waitlist, it received 19,000 applications covering 39,000 people in just eight days, Gerber said. He added that not all of these people may have been eligible, but said it was telling that so many people felt they needed and deserved housing assistance.
The housing choice voucher program, also known as Section 8, helps very low-income, elderly and disabled people rent homes from private landlords. Typically, a voucher holder pays a portion of their rent with their local housing agency making up the difference. The vouchers have a limited value, however, so if the total rent exceeds it, the tenant is responsible for the difference. Vouchers can only be used if landlords accept them, and many choose not to, citing concerns over paperwork and potential tenants they view as problematic and unreliable.
Plus, there are nowhere near enough vouchers available to meet the demand. In some places, they are impossible to get or result in people waiting years before their application is even processed.
Shaw called these housing voucher waitlists "disheartening" and said she wished she could give a voucher to everyone who came into her agency and was eligible. But organizations like hers simply can't afford that.
The American Jobs Plan would also add 200,000 housing vouchers.
These funding shortfalls are a major problem because these housing agencies serve "people who are at the very greatest level of need," Gerber said. His clients make $12,000 or less a year if they are on Section 8 and $10,000 or less if they live in public housing.
Increasing rents, job losses and a lack of sufficient aid all mean more people are losing their homes, and Gerber said that agencies need to ask, "Who's presenting as homeless?"
In his community, he said, it's "people who look like my grandmother, people who look like my teenage nephew… people with cognitive and physical difficulties… so many kids. So many kids."