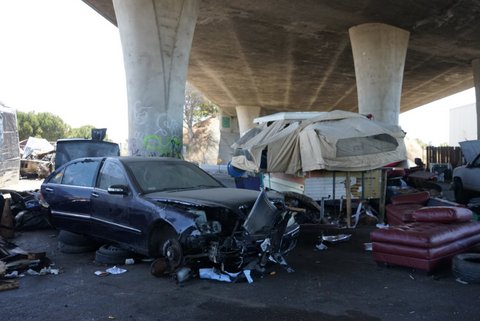 02 Jun

'It's Scary': Unhoused Richmond Women on Life in the Pandemic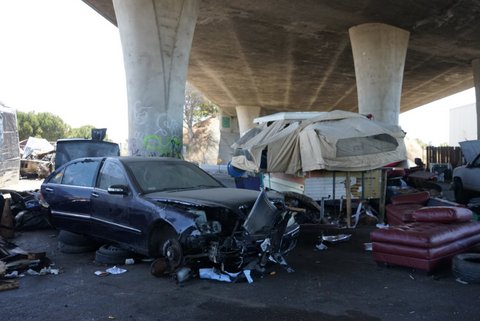 Some of Richmond's unhoused residents live in this RV encampment, taking shelter under an overpass with cars in constant motion. (Denis Perez-Bravo / Richmond Pulse)
By Juan C. Mendoza
Near an overpass off the Richmond Parkway with cars in constant motion sits an RV encampment. The displaced and unhoused people who live here — long in need of work and basic resources — face even more trials and trepidations as resources and health care continue to dwindle.
Being unhoused is already one of the biggest challenges one may face within their lifetime. Throughout the COVID-19 pandemic, the number of unhoused people has grown and their lives have become even harder.
At this unhoused encampment lives Crystal Bofferd, who lost her job due to health issues and her housing shortly after. For Bofferd and countless others, finding housing during a pandemic has been far from easy.
"I almost got to the point where I could rent something, but the pandemic, well, I guess it did make it harder," she said.
>>>Read: Q&A: Homeless During a Coronavirus Christmas
With housing prices rising yet again, unhoused people face more issues than just being unable to afford it. People are more reluctant to rent out spaces because of the increased probability of evictions during the pandemic.
To have a stable home to thrive in, one must have a reliable source of income, which is much more difficult for unhoused people to come by, especially during a pandemic.
A major obstacle unhoused individuals face when searching for jobs is the stereotypes that surround them constantly. Remarks like "Oh, they're just lazy" or "maybe if they tried harder" do nothing for unhoused individuals. They simply ignore the actual factors that create homelessness.
But for Natalie Fitzgerald, another member of the unhoused encampment, these remarks hold no truth.
"I feel like a fool asking for something for free when I'm able-bodied," she said. "I enjoy working, hard work, coming home being tired."
While Fitzgerald enjoys working, her opportunities to work are becoming slimmer and slimmer with businesses closing and the pandemic affecting employment rates across the country.
"Since COVID, it's just crazy because a lot of work that we would've had, we [don't] now, which makes it harder," said Fitzgerald.
But job shortages and reluctant landlords are far from the only obstacles unhoused individuals face on a daily basis. Violence is at a peak among unhoused people, particularly against women.
"One lady [who] used to stay across from the train tracks next to the soup kitchens was killed," said Bofferd. "As a matter of fact, several women have been killed during this pandemic."
Bofferd described how chaotic her environment has become as of late.
"The violence has been upscaled among homeless people, just a lot of madness going on," she said. "For people who don't have any type of temporary housing, it is extremely dangerous."
As the violence continues daily, unhoused people's health can go largely ignored, which can have deadly costs, especially during a viral pandemic.
"It's scary, you know, you don't want to get sick…And it's hard not to," said one encampment resident who did not give her name. But some people "don't really think the virus is real. They don't protect themselves."
That can put others at risk.
"When my mom was in Richmond she would tell me that I wasn't allowed to come over anymore because the people here don't wear masks," the woman continued.
When the COVID-19 vaccine was made available in the encampment, she got the shot, but not all residents followed suit.
"I tried to talk a lot of other people into taking it, but a lot of people didn't want to take it," she said. "I tried to explain to them … It's just something you need to do to protect and take care of yourself."
She, like Bofferd and Fitzgerald, discussed the lack of resources as of late and said it's becoming harder and harder to come by basic needs.
"I mean there's things that we need around here that would help us a lot, like bathrooms or water," the woman said.
Bofferd said others give no thought to everything they go without.
We "don't have basic resources, and people don't think about it," she said. "Where do we get water, tissue or cover?"
And people's possessions can be lost just like that. Fitzgerald said a recent fire cost two people everything they owned, leaving them with nothing.
"One of them was asking, 'Where am I going to use the restroom at? What am I going to eat for dinner?', like, 'What am I going to put on tomorrow?' " Fitzgerald said. "And everything she had is gone."
Fitzgerald said the importance of community has shaped her daily actions. She added that she feels it's important to give to others even when she's struggling herself.
"We're trying to make it so that if one person has a lot of things, then they have to donate the extra stuff to other people…That's what a circle does," she said. "It keeps going; [it's] a family…Being hungry is not a good feeling."
For Richmond or any city to thrive, its residents must be able to thrive, but no one can do so without support. Unhoused individuals like the people at this encampment have little to no support at all.
Day by day, people pass them by, seeing them only as people who made bad decisions or are just unlucky — if they see them at all. But unhoused people need basic resources and a financial foundation, like anyone else.