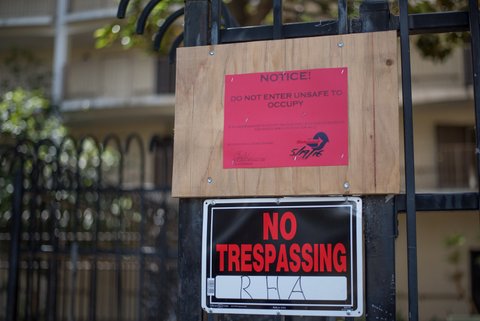 03 Jun

Renovated Hacienda Will Provide Affordable Housing for Seniors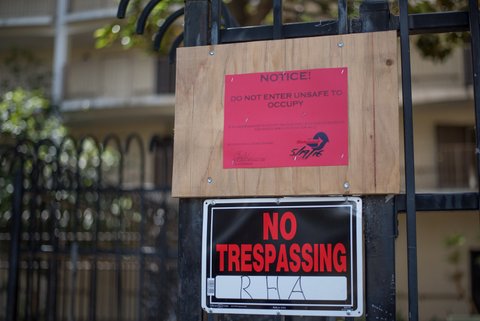 In 2015, the Hacienda housing complex after reports of substandard living conditions. In 2022, it is set to reopen, following renovations. (Richmond Pulse file)
By Joel Umanzor Jr.
Local affordable housing has helped lifelong Richmond resident 71-year-old Maxine Griffin stay in her hometown while people have had to leave the community.
"I've been in Richmond all my life," she said about her families' ties to North Richmond.
"We were born down the street on Silver [Avenue]. All of my family was here but they all moved away. I chose to stay here."
She made her comments on video during the virtual groundbreaking ceremony of an affordable housing redevelopment.
Griffin has lived at the Community Housing Development Corporation's Community Heritage Senior Apartments in North Richmond for the past seven years. She said her living situation has provided her with not just a community of people around her — but an extended family.
"It's like a house and a family," she said. "It's a nice little place."
Affordable housing took a major step forward in Richmond with the virtual groundbreaking May 27 for the renovation of the Hacienda complex at 1300 Roosevelt Ave.
Local officials, including Richmond Mayor Tom Butt and Contra Costa County District 1 Supervisor John Gioia, joined via Zoom to celebrate the finalization of a process that began in 2015.
The redevelopment of the Hacienda complex is slated to be completed in 2022 and will serve some of the most at-risk people in the community Gioia says. He added that the only way to adequately address the housing and homeless crisis in West County is to quickly build more projects like the Hacienda.
"This is really a historic landmark," Gioia said. "Richmond really committed to taking the Hacienda project and investing, with others, substantial funding, resources and time to make this project work."
The Hacienda complex originally opened in 1966 and was in operation until 2015 when it was vacated after reports of residents living squalid conditions. At the time, the complex was being run by an understaffed Richmond Housing Authority.
>>>Read: Boost to Public Housing May Not Be Enough
The process of getting to the recent groundbreaking has spanned all of Butt's term in office. According to Butt, when he started the RHA simply did not have the resources to adequately maintain the property.
"I took office as mayor in January of 2015, and about the first thing I did was go to Washington, D.C., and meet with Congressman [Mark] DeSaulnier and with HUD and secured the vouchers we needed to get the 150 residents moved into alternate locations, so we could start on this long road to rehabilitation. We were successful in doing that," Butt said. "And so here we are, seven years later. We've got great partners in the city… together, we've pulled this off, and it took a long time, but we're here."
Other agencies represented at the virtual groundbreaking included Community Housing Development Corporation of North Richmond, Mercy Housing California, the RHA, the Office of the Richmond City Manager, Enterprise Community Partners, JP Morgan Chase and the Bettye Poetz Ferguson Foundation, all of which contributed financial backing towards the $75 million project in hopes of addressing older people's needs through the renovation of the current building.
The redevelopment will modernize the 150-unit affordable housing project with more pedestrian-friendly access to the building and community-focused areas such as a wellness trail, a garden and local artwork. It will feature 12, two-bedroom units, 114 one-bedroom units and 24 studio units for residents and two units for property managers.
Gerard Windt, director of Public and Indian Housing in Northern California for the U.S. Department of Housing and Urban Development, said access to affordable housing does not just fulfill a basic need of community members but improves the quality of life.
"Affordable housing contributes to the well-being of families in the community," Windt said. "Decent affordable housing also reduces stress, toxins and infectious disease which leads to improvements in both physical and mental health."
Nannette Beacham, director of the Richmond Housing Authority said that although the Hacienda redevelopment is a victory for seniors in the area, there is still work to be done in the community to address housing and homelessness.
"We look forward to our continued partnership (with the community). The Richmond Housing Authority is not going to go away once this project has been redeveloped," she said. "We are excited and we will continue to be involved with the residents that return and the new residents of Hacienda."
The Hacienda complex will house people 62 and over and will set aside 25 units for seniors who have previously experienced homelessness.
According to city of Richmond officials, the project will also have 148 Section 8 vouchers on a 20-year contract with a 20-year renewal through the Housing Authority of Contra Costa County.
Correction: An earlier version of this story said that Mercy Housing took over the property after it closed in 2015. The city of Richmond and the Richmond Housing Authority continued to run and finance the property following its closure. Mercy only recently took the lead on closing the redevelopment deal.