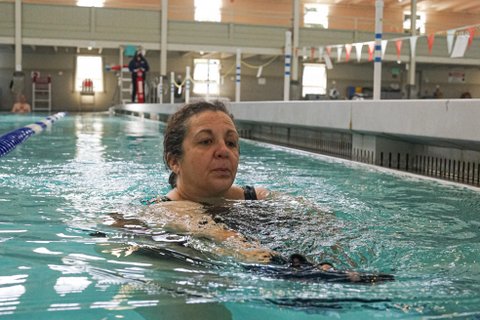 10 Jun

For Their Health, Older People Get Back in the Water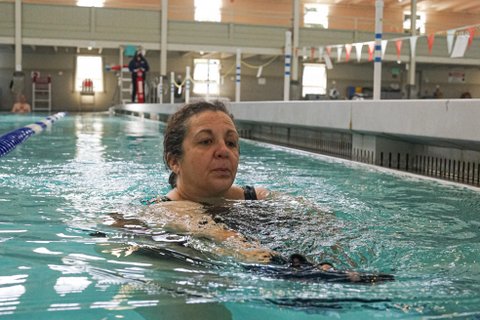 Siobhan Castiglia, 55, says walking in the water at the Richmond Plunge gives her relief from the effects of osteoarthritis.
Story and photos by Denis Perez-Bravo
Three days a week, 55-year-old Siobhan Castiglia visits the Plunge in Point Richmond to submerge her lower body in a shallow pool to help fight the early stages of arthritis.
"To be honest, I do not like water," she said. "But it is beneficial for my leg. It is the most beneficial thing I can do for my health."
Her buoyancy in the water reduces the effects of gravity. It allows Castiglia to exercise her bones with a low-impact workout, she said.
A few years ago she started feeling pain in her joints and was later diagnosed with osteoarthritis.
She began water walking because of pain. But when COVID-19 arrived, the Plunge shut down. When it did, she lost her exercise venue and says she became sedentary.
"COVID made me less active. I wasn't moving around and I wasn't working," she said.
She felt her bones stiffening and more pain too. Although she continued to work with a physical therapist, it hurt her to work out and did not compare to the relief she felt in the water.
So when the Plunge reopened last month, she quickly signed up to return to the pool.
"We are in a credit card world where we want everything to be now," she said. "But for things like health, you have to be patient to build stamina. So I just think about how good it is going to be later."
Studies show that swimming and water exercise has the same effect on the body as cycling, an exercise recommended often by physicians.
For a 2016 study published in the Journal of Rheumatology, 48 sedentary middle-aged or older adults with osteoarthritis participated in swimming exercises for three months — 45 minutes a day for three days a week.
Physicians saw significant reductions in participants' joint pain, stiffness and physical limitations. They also noted a 15 to 30% increase in maximum handgrip strength, isokinetic knee extension, flexion power and the distance participants could walk in six minutes.
Other benefits of swimming include an increase in heart rate without stress on the body, lower blood pressure and better control of blood sugar levels, toned muscles and increased strength and endurance, according to Healthline.com.
Swimming has also been linked to helping people with insomnia sleep better, improving the moods of people with dementia and expanding lung capacity of asthma patients, according to Healthline.
Point Richmond resident Yael Ronen, 66, swam competitively in high school in Israel. She continues to swim for her health at the Plunge.
"I used to be a competitive swimmer, but now I just do it to keep my cholesterol down," Pt. Richmond resident Yael Ronen, 66, said.
She swam competitively in high school in Israel, learning during her adolescence the multiple benefits of swimming. Now, at the Plunge, she swims 45 minutes per day several days a week.
"I have my intervals I do: two really intense laps and then two relaxing laps. My doctor has been amazed when I go in for my mid-year check up," she said.
Ronen and her husband, whom she swims with, hope to continue swimming for the rest of their lives, she said.
"I love seeing the people that come here. Some can barely walk. They come with walkers or even in wheelchairs, but once they get in the water they can move their bodies on their own," Richmond Community Service Department aquatics coordinator Paula Cooper-Tipton said.
She and a team of lifeguards and staff operate The Plunge and the Richmond Swim Center at Kennedy High School.
>>>Read: Pool Lanes Open Up in Richmond, Lifeguards Needed
In both locations, older communities are always present exercising for health reasons, Cooper-Tipton said.
"Swimming, once you learn, it is a lifelong skill. No matter how old, disabled or injured, they can always come and feel good."
Each center offers deep and shallow lanes. Both may also be reserved for water walking. People can register online up to two weeks ahead or at least 48 hours before the day they will swim. An hour costs $7 for Richmond residents and $8 for non-Richmond residents.
The Plunge and the Swim Center are open Monday through Sunday, but the hours may vary. The current full schedule for both pools is available online.