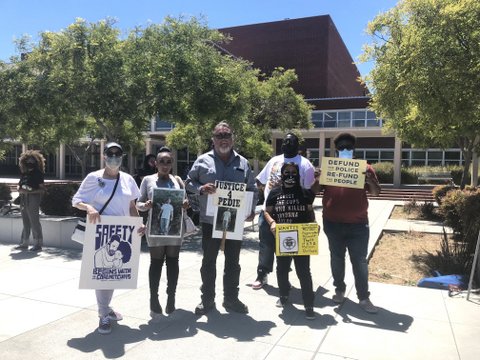 17 Jun

Richmond Rallies to Defund Police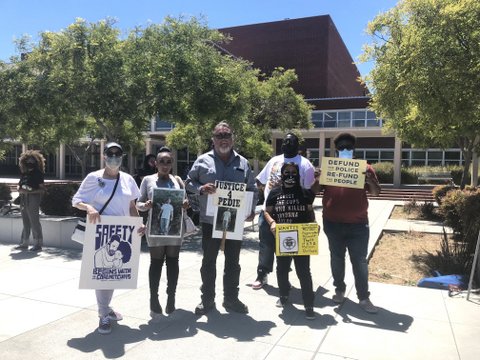 Kristin Killian Lobos, from left in white, Celeste Guap, Rick Perez, Randy Joseph, Marisol Cantu and Armond Corshawn at Civic Center Plaza on June 12 for a rally focused on public safety and police spending. (Maria Bernal / Richmond Pulse)
By Maria Bernal
One year after the historic Black Lives Matter protests, around a hundred people gathered in sun and shade at the Civic Center Plaza.
The Richmond Reimagining Public Safety work group held a peaceful protest rally at Civic Center Plaza on June 12.
The rally comes amid debates over police spending in Richmond. 
The Reimagining Public Safety group had recommended shifting about $10 million in the 2021-22 fiscal year budget from the police department to other community services, a move a majority of the City Council said in May it supports.
>>>Read: City Council Supports Task Force Recommendations to Reallocate Police Funds
Speakers in the rally performed songs and poems and spoke about their experiences with the Richmond Police Department. 
Among the speakers was Deborah Small who moved to Richmond and says she feels like a part of its community. She wants people to "consider public safety" and what we consider crimes.
"The fact that we spend so much money and time chasing people for small amounts of drugs, or for engaging in sex work and survival things," Small said, "and yet we don't put any of our resources behind the corporate criminals who are destroying our environment, sucking up our profits, not paying any taxes, and collecting information without our permission." 
The crowd cheered when she said language can influence the treatment of people.
"When you call someone a criminal you take away their humanity," she said.
City Council member Melvin Willis said his experiences with officers made him question his safety around them.
"Public safety isn't just policing the community and going after people who are bad actors," he said. "Public safety is also investing into the welfare and ability to heal the hurt that our Black and Brown communities are experiencing every single day."
Willis is among the council members who support the reallocation of police funds to address issues that impact people of color in Richmond.
"Black and Brown communities are also the minority of Contra Costa Community, but they are also more likely to be in the criminal justice system more than our white counterparts that outnumber us in Contra Costa County," he said. "There's something wrong with this."
He continued with a question. 
"Why are we, the minority, disproportionately overrepresented in our criminal justice system?" Willis asked.
Willis brought up the recent Memorial Day bike shop event at Rich City Rides. Six officers were on site, requesting permits from event organizers. 
"Why are we treated like we're already a danger before we even have a chance to even have a conversation?" Willis said. "What I observed in that whole conversation was legit fear from the police from Black members, Black leaders in our community — afraid of being criminalized and police officers, talking at them and not with them."
Richmond teacher Isabel Gil-Garcia said she attended the event because she is worried about her students' interactions with police.
"I've experienced a lot of their stories that they've shared with me and how policing impacts the community," she said.  "It's also very personal for me because I come from a similar community to Richmond, and I have family members who have been victimized by the police and have ended up incarcerated because [of] the system."
Gil-Garcia recently joined the Richmond Task Force and says she is looking forward to "the crisis intervention hotline" that is being created for people to "call 311 instead of 911" to get help from qualified people who can "handle mental health crises."
"As a returning resident now and as someone who's building their life in Richmond, I feel like it's incredibly important to be in support, and to just be in community with the folks who are actually in the community, and invest in that community," she said.
At 14 years old, Celia Nicole was mistaken for a runaway teen. An officer who stopped her wouldn't believe what she said or let her go. It wasn't until a teacher spoke on her behalf that she was dismissed by the officer.
Now at 29, she says the interaction left an impression on her. She attended the rally in support of the reallocation of police funds.
"That kind of stuff kind of sticks with you, and I have been wary of police," she said. "Coming together and voicing our concerns, and even our ideas and supporting each other in the community because we know the police is not going to do that."
The woman known as Celeste Guap, who was at the center of a 2016 scandal, shared her story, which involved several Richmond Police Department officers who sexually exploited her.
"And a big slap in the face was that none of them were ever really held accountable, despite wrongdoing on their part. One of them, I met as a minor, while he worked [as] our school resource officer," Guap said. "Back then, I was very young, vulnerable. And these men with guns and badges and authority took advantage of a teen that was in pain for their own sexual gratification." 
She said the police should get less money and suggested that funding focus on community programs and "the most marginalized." 
"I remember hanging with a few of them while they were supposed to be on duty. Seems like the more money you give the department, the less they do," she said. "Trust me, I would know. I believe in community. I believe our community, myself included, would benefit more with compassionate, empathetic care and resources we're feeding."
After much debate, the City Council voted Tuesday to reduce the police budget by about $3 million and invest that money in violence prevention, non-police crisis response and services for unhoused people.