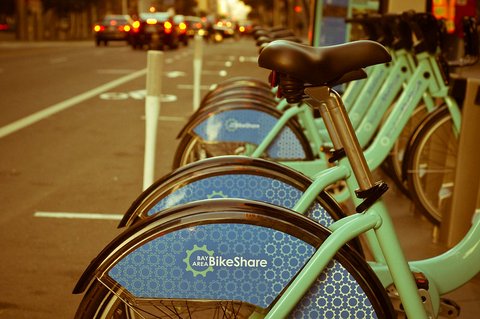 22 Jun

New Bikeshare Program Tries to Make Biking More Accessible in Richmond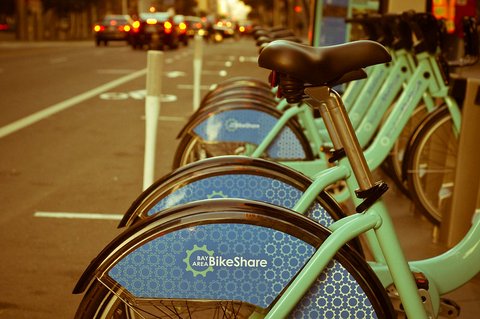 Public bikes that people can use for a fee have been around the Bay Area for a while now. The ones seen here are pictured in 2013. Now, Richmond has its first bikeshare program. ("BikeShare" by David Goehring via Flickr under CC BY 2.0 license.)
By Joel Umanzor Jr.
Richmond residents and visitors now have a new way to get around the city.
The city of Richmond partnered with Bolt Mobility to provide the city's first bikeshare program with a 250 electric-bike fleet that is meant to be used in conjunction with mass transit.
A press release said the e-bikes would be located at transportation hubs around Richmond such as the ferry terminal and the BART station and at various trails around the area.
"Richmond is building for the future," Bolt CEO Ignacio Tzoumas said in the press release. "Through this partnership, we can leverage Bolt's technology to help reduce pollution, improve congestion, provide transportation to the underserved, and shorten commute times."
Bolt, which was co-founded by Olympic gold medalist Usain Bolt, bills itself as a personal transportation company within the micromobility industry that is focused on equity, access and quality of life through mobility.
Micromobility is a newer industry that uses small, lightweight vehicles operating at a range of 15 miles per hour or less such as standard bicycles; bikes, scooters and skateboards with electric motors; and shared bicycles.
Through partnerships with municipalities, universities and local ownership, Bolt has expanded to markets such as Washington D.C., Durham, N.C., and Portland, Ore.
E-bikes are similar to standard bicycles but have an electric motor that help riders increase their range of travel while decreasing their exertion. The Bolt bikes also have baskets for errands and storage.
Mayor Tom Butt said the addition of the bikeshare program will enhance Richmond's existing bikeability.
"Richmond is perhaps the best city in the Bay Area to get around on a bike. We have more San Francisco Bay Trail than any other city in the Bay Area," he said in the press release. "Our commitment to health and mobility has led to the development of the Richmond-San Rafael Bridge bicycle and pedestrian path, Richmond Greenway, Richmond Wellness Trail, Yellow Brick Road and more."
Funding came, in part, from the Metropolitan Transportation Commission's Bike Share Capital Grant Program. Chief among the program's purposes is making bikes more accessible.
Alternative payment methods will be available for riders who do not have credit or debit cards. Because of financial support from 511 Contra Costa, Bolt will waive the unlock fee for a person's first five rides. Additionally, it will offer the Bolt Forward Program, which will provide reduced rates for qualified riders on government assistance.
Bolt Mobility also said it would provide free helmets, upon request. Plus, the bikes will have a top speed of 15 mph while on the Bay Trail.
Riders with smartphones should download the Gotcha Powered by Bolt app, available on the Apple App Store and Google Play. Riders who don't have a smartphone or don't want to use theirs can pay by Clipper card.