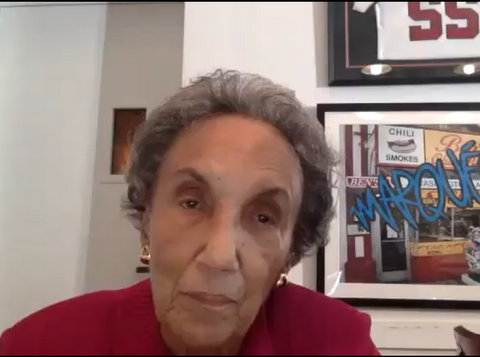 23 Jun

Small Businesses Are Still Fighting to Survive the Pandemic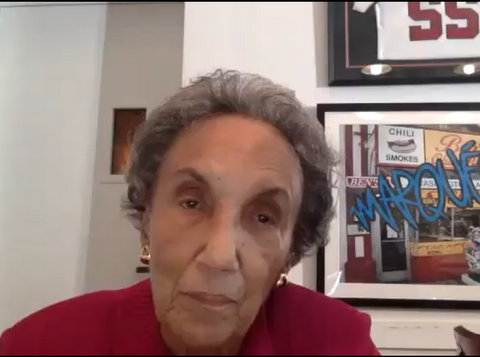 "It has been a very challenging 62½ years, but I can tell you that nothing has been quite as challenging as this pandemic," said Ben's Chili Bowl owner Virginia Ali. (Screenshot captured by Danielle Parenteau-Decker / Richmond Pulse)
By Danielle Parenteau-Decker
Virginia Ali and her husband, an immigrant from Trinidad, opened Ben's Chili Bowl in 1958 in an area of Washington, D.C., then known as Black Broadway.
The years that followed were not kind to the neighborhood or its small businesses. Many small businesses closed around the time of the civil rights movement and never reopened. Middle-class African Americans moved away and "heroin moved in, crack cocaine moved in, and our beautiful, beautiful neighborhood and community began to go downhill," Ali said.
By 1978, Ben's was one of just three small businesses left in the area. Then, the restaurant took a hit again when the street it is on was dug up to build a subway station.
It was "a very, very difficult time, a seriously challenging time," Ali said, but "we were able to survive."
Then, the coronavirus came.
"It has been a very challenging 62½ years, but I can tell you that nothing has been quite as challenging as this pandemic," she said last month during an Ethnic Media Services press briefing on the pandemic's impact on small businesses, particularly minority-owned ones.
According to the briefing, over 200,000 small businesses closed over the last year.
Lendistry founder and CEO Everett Sands said, "Most small businesses were in a financially precarious position going into the pandemic," which made things worse and made certain inequities more apparent.
Namely, he mentioned places that did not have enough assets or "the resources to exist for a longer period of time" when business was down.
Many small businesses also faced significant roadblocks in getting assistance from the government as they lacked the "infrastructure and/or the knowledge by which to put together the proper paperwork," Sands said.
So the minority-led Lendistry works to help educate small businesses about resources, systems and opportunities, he said.
But the problem was bigger than certain entrepreneurs not having the right knowledge or resources.
Initially, the aid simply was "not targeted correctly," said U.S. Rep. Ro Khanna (D-Calif.), resulting in the help going where it was not needed the most.
Khanna said the money was often going to more "medium-sized businesses" with hundreds of employees and millions — if not billions — of dollars in revenue and that "had relationships with [big] banks."
Ali said Ben's could not get a Paycheck Protection Program loan the first time they were offered because "the money had gone so fast," but it did get a loan in the second round.
"That certainly helped us hold on to our staff," Ali said.
As more people get vaccinated, COVID-19 numbers come down and safety measures are lifted, prospects are finally improving for small businesses.
"If you have survived up till now, it's pretty good news," Khanna said. "You're going to have a pretty good recovery."
But the government still needs to help small businesses recover, especially those "that have leveraged debt, that have had to close shop, that might not be able to reopen," Khanna said.
The congressman said the government needs to focus on forgiving loans and assisting with capital. He also said the government needs to be intentional about who it helps, making sure to assist truly small businesses and "really looking at the racial and gender distribution of the aid."
We "need to be explicit in our diversity goals," he said, meaning the government needs to specify that a certain percentage of entrepreneurs who receive aid need to be women or Black, for example.
"If we don't have these diversity numbers, we're never going to hit the target," Khanna said.
For their part, businesses like Ben's Chili Bowl that have hung on during the pandemic have done so, in part, by adapting and with some help from their communities.
Ali said that Ben's turned to curbside service, online ordering and "enhanced e-commerce," selling food and merchandise nationwide.
Plus, when people heard that Ben's was struggling, Ali said letters and donations came in "from all over the country." She mentioned receiving a $25 money order with a note that read, "This is all I can afford, but I want to help."
Those donations helped Ben's not only hold on but give back. Ali said they used the money to prepare lunches for medical staff at nearby hospitals, first responders, teachers and protesters.
For Ali, closing the business was never an option even as tough as things got.
"It's a struggle but we're still here," she said. "To close down — I couldn't bear to think about that."
If you want to help your favorite small businesses stay open, the simplest way is by visiting them and spending some money.