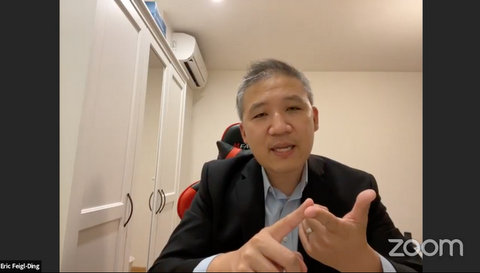 13 Jul

Medical Experts Say the Fully Vaccinated Should Keep Wearing Masks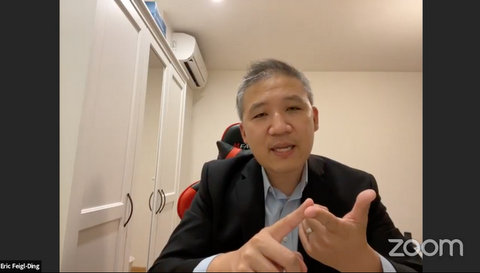 "I believe the CDC is wrong here," said Dr. Eric Feigl-Ding of the Centers for Disease Control and Prevention's guidance that people may stop masking after getting fully vaccinated. (Screenshot captured by Joel Umanzor Jr. / Richmond Pulse)
By Joel Umanzor Jr.
Masking up when going outside is still a confusing issue for many vaccinated Americans.
According to a June 17 bulletin by the Centers for Disease Control, fully vaccinated people may resume their normal day-to-day activities without wearing a mask.
Yet the World Health Organization recommends that fully vaccinated people still wear masks as a precaution against spreading the COVID-19 virus and its variants.
"I believe the CDC is wrong here, and it is a little bit too narrow on self-protection when there are so many people who are not fully vaccinated," said Dr. Eric Feigl-Ding, epidemiologist and senior fellow at the Federation of American Scientists.
Feigl-Ding made his comments as part of a panel of medical experts hosted Friday by Ethnic Media Services. The three doctors all agreed with the WHO's assessment that individuals who are vaccinated should still use masks and social distancing as preventative measures against transmitting the coronavirus.
According to Feigl-Ding, preventing the transmission of the delta variant through masking is crucial because the variant can be transmitted from person to person in a short amount of time.
"We know that vaccinated people can transmit for sure," he said about the dozen cases of vaccinated transmissions reported in Asia and the Pacific. "In Australia, delta variant now has properties of 'fleeting exposure transmission,' as in people who literally brushed past each other in the shopping mall, within five seconds of proximity, the other person was infected after a mere second's exposure, according to New South Wales officials."
Dr. Jose Luis Perez of the South Central Family Health Center in Los Angeles said the easiest form of protection for the most vulnerable communities affected by COVID-19 is masking, especially because in these areas, the vaccination rate is lower.
"In the area of Los Angeles that I work, for example, only about 40% of the population is vaccinated, which means six out of ten people that I cross paths with in the street have not been vaccinated and all of those people are exposed and have a higher risk of contracting the delta variant," Perez said. "So my recommendation to everyone really in the South L.A. area is to wear a mask, especially if you are going to be in places where having six to 10 foot distance from other folks is not going to be possible."
In certain areas, pockets of unvaccinated people have caused experts like Dr. Ben Neuman of Texas to say that not enough is being done with masking mandates to eradicate COVID-19.
"I think the debate tends to center around the idea of how hard we should try to get rid of COVID-19," Neuman said. "I would argue that if I want to make a mistake, I want to make a mistake on the side of certainty."
Neuman added that even though statistics have shown how well masks contain the coronavirus' spread, people are still doing everything other than masking up.
"The masks are the one piece of guidance that is quite effective. You'll see people do a lot of things, all of the hand sanitizer, the little tiny, stupid plexiglass shields that the air goes right around and above. All of this stuff… [is] much less effective than masking," Nueman said, pointing out that masks reduce the virus spreading by 99% compared with all of the other preventative measures that add up to around 1%.
Although the coronavirus can spread through vaccinated people, Neuman said that the delta variant is close enough to the original strain of the virus that vaccination is a useful tool for defense against fatal COVID-19 symptoms.
"The vaccine works. We have the tools we need to stop this between the vaccine and masks," he said. "The difficulty is one of public relations, basically convincing people to do the right thing even though it is a step more difficult or annoying than doing the wrong thing."
For Perez, outside of the politics behind anti-masking, the social aspect of why people don't like to mask has been evident to him in his line of work.
"We had a bit of a test case with behavioral health," Perez said about the period during the middle of the pandemic last year when his practice reopened for therapists to see patients with anxiety or depression. "We saw patients with masks and we saw a tremendous drop in the number of patients seeking mental health services. Then, we implemented telehealth, seeing patients though devices, and our no-show rate dropped like a stone."
Seeing people's facial responses are aspects of social communication cues that people are not used to going without, according to Perez, who suggested the message behind masking should be less "punitive."
Yet for Feigl-Ding, the reality of the delta variant should be enough to push society to mask up.
"What worries me about our society is that people don't react until crap hits the fan," Feigl-Ding said. "Until they see hospitals and emergency rooms filling up, they don't believe it's real. We saw that last year, when New York was filling up but Texas was not, they thought it was not real. Until it shows up on your doorstep and their friends and family are getting sick, then and only then do people take it seriously and by then it will be too late in the pandemic."