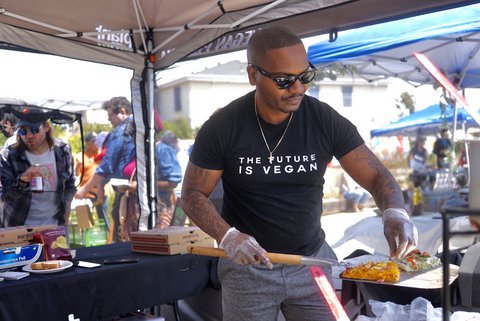 31 Jul

Vegan Pop-Up Promotes Healthfulness in Richmond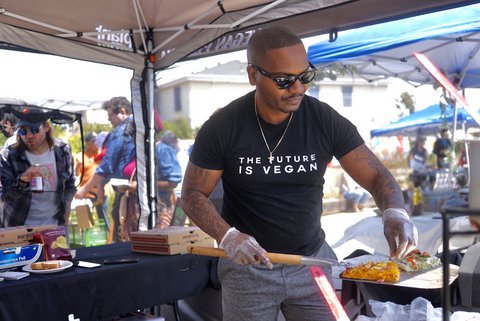 Bobby Frazier, owner of PlantNSoul Vegan Pizzeria, pulls slices from the oven at the vegan pop-up event July 18 at Unity Park. (Denis Perez-Bravo / Richmond Pulse)
By Olivia Lozano
Vendors sold attractive, nutritious and tasty foods amid a cheery atmosphere from a freshly cleaned and gardened Unity Park on July 18 for Richmond's latest vegan pop-up.
These pop-ups, held monthly, are sponsored by nonprofits Direct Action Everywhere and Rich City Rides. They feature small businesses from across the Bay Area in an attempt to "support local vendors and people of color," said event organizer and member of Direct Action Everywhere Susana Chavez. The pop-up also tries to bring more organic and healthy foods to vulnerable populations. "It's a way to teach people that we don't have to consume animal products to be healthy."
Direct Action Everywhere, or DxE, is a global grassroots network of animal rights activists trying to educate the public about animal cruelty. For the vegan pop-ups, DxE partnered with Rich City Rides, another Richmond nonprofit, which promotes the usage of bikes within the community, in part, to improve health and fitness.
The partnership allows DxE and Rich City Rides to promote wellness together by combining their passions for veganism and physical activity.
In March 2012, Unity Park was created in parts of the Richmond Greenway to bring more resources to those areas. Since then, community members have come together occasionally to clean and garden the park.
"We can plant so many vegetables in this place and it would be for the community," Chavez said. "It would not take much work to grow your own vegetables, and it would be healing for yourself as well. If you learn how to plant and see the product of that hard work, it's amazing."
This July vegan pop-up featured 24 vendors selling products including colorful and flavorful dishes, juices and herbs, jewelry, candles, and even accessories for our furry friends.
Many vendors said a newfound passion for health, wellness and environmentalism and a love of animals sparked their entrepreneurship.
Raven Earth God Bridges, founder of Mother's Milk, a natural and organic medical juice brand, said their philosophy centered on trying to heal the body without medication but, instead, through food.
"My mother's go-to cure was always Tylenol, and I didn't like how our society relies on over-the-counter medication to solve our health issues," Bridges said.
Kehinde Koyejo started Choc'late Mama Cookies because she wanted to create a treat for her family that would be free of animal-derived ingredients and gluten. She said that was because of her husband's various food-related allergies.
Liquified Juicery founder Ashley Comora said she noticed there weren't enough vegan-friendly places in Richmond and she joined the event because she wanted to bridge that gap.
Chavez, the pop-up organizer, said she draws motivation from a desire to support animals and general wellness.
"Our community doesn't have that much access to high-end, healthy restaurants, but we don't need that," she said. "We need to build community and learn how to help each other."
The vegan pop-up will be back in August with more vendors as it expands to the newly installed basketball courts. For more information, follow Direct Action Everywhere SF and Rich City Rides on Instagram for updates.