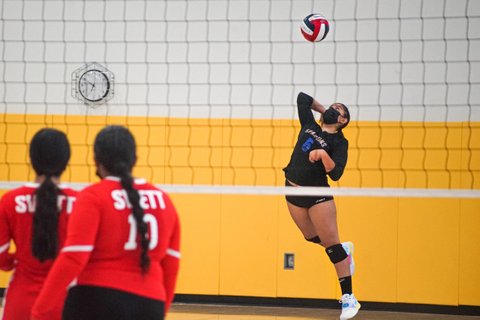 26 Aug

Pinole Valley Girls' Volleyball Opens Season With Win Over John Swett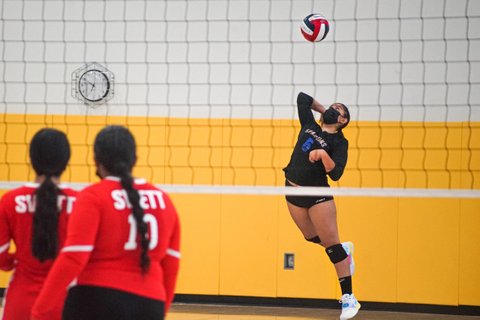 Pinole Valley High School player Melina Mendoza serves the ball during a 3-2 win against John Swett High School at Pinole's gym on Monday.
By Denis Perez-Bravo
Volleyball returned to an uproarious Pinole Valley High School gym as the Pinole girls' team got its first win of the 2021-22 season in the fifth set, 15-4, against John Swett High School on Monday.
"We tried to stay in a positive mindset even though it was hectic at some points of the game," Pinole Valley senior Alyssa Dudley said.
Swett rallied late in the fourth, standing their ground after losing the second and third sets 25-12 and 25-15. John Swett, 0-3 this season, took the first set 25-21. In the third, they regained control and came back from an 20-18 deficit to a 22-20 lead. Swett finished the set 25-23.
Pinole, determined to finish strong, buckled down and communicated well in the last set to win by double digits.
"We came together, and we knew what we had to do," Dudley said.
Around a hundred people — parents, teachers, peers, siblings and friends of the players — cheered on as the girls from both teams served, spiked, ran to and dove for the ball.
The familiar sound of the "Let's Go, Spartans" chant was heard from the home fans after more than a year since spectators had last been allowed at games.
"Every time I go for the ball, I am super joyful and happy playing the sport right now," Dudley said.
The journey for the Pinole girls to this point has been interesting, head coach Melanie Sheeley said.
"Some of them have aged and have barely played games," she said.
That makes this year's competition so much more important. The Pinole girls have a high level of talent that Sheeley is excited to see grow as they play tougher opponents in the Tri-County Athletic League-Rock division, which they are playing in for the first time in their history.
Before 2012, Pinole and many other teams in the area competed in the Alameda Contra Costa Athletic League but later moved to TCAL, which is divided into Stone and Rock divisions.
"This year we have moved up from Stone to Rock," Sheeley said.
Their promotion has been coming since 2016 when Sheeley became head coach. That year, Pinole ranked sixth in TCAL-Stone division league play. At the TCAL playoff, they beat Richmond High School and upset Hercules High School to face top seed John Swett for a spot in the North Coast Section but lost the game 3-1.
The next year, they ranked second in TCAL-Stone but lost to third-ranked Bethel High School in the first round of the league playoffs. In 2018, Pinole went undefeated 12-0 in their season but lost once again to Bethel in the TCAL-Stone finals.
Pinole continued to fight for the championship banner in 2019 when they went 11-1 in the regular season, only losing one game against Bethel. In the playoff run, Pinole made it to the finals once again against Bethel. They came out with a victorious 3-1 game and advanced for the first time ever to the DIV North Coast Section Playoffs. They lost to El Molino High School in the first round.
>>>Read: Kennedy Girls Soccer Seniors Reflect After Difficult Year: 'Every Loss Is a Win'
In 2020, the nine-game season ended in June with no playoff or regional championship run for any team because of COVID-19. Pinole wouldn't play a game again until April 2021 when friendly, spectator-free games started up again.
Now, with the league starting back up and the promise of playoffs and a regional championship at the end of the season, Sheeley is optimistic about her team.
"This is one of the strongest teams I have had in Pinole," she said.
Pinole plays next at Alhambra High School in a non-league game Sept. 2 at 6 p.m.