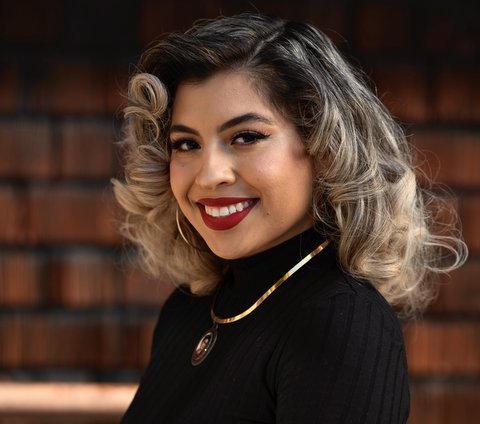 02 Sep

'My Life Feels Like a Subscription': An Immigrant's Story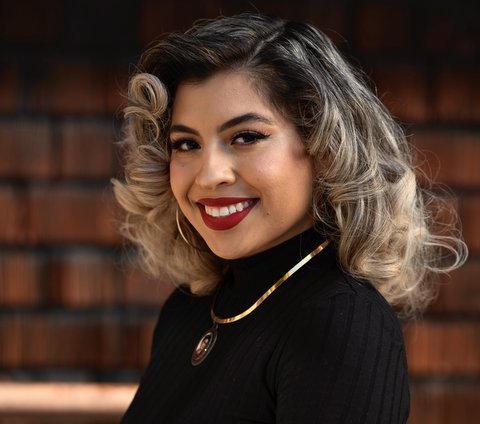 Pulse reporter Maria Bernal won a Mexican radio contest for her essay on the Mexican immigrant experience in the U.S. in the 21st century. (Photo by David Rodriguez)
By Maria Bernal
My dad usually sits on our black couch after work and turns on the TV to Canal 11 de Mexico. During a recent commercial break, an announcement came on about a contest on the Mexican immigrant experience in the United States in the 21st century.
To enter, one had to submit a three-minute audio piece to IMER, known as the Mexican Institute of Radio in English, and the Mexican Cultural Institute of D.C. the contest was open to residents ages 18 to 35 in the U.S of Mexican descent.
I sat and wrote down all of the feelings that came with being an immigrant. I thought about Trump. I thought about being a brown woman. I thought about the oppressive systems that exist. There is so much to say about the collective experiences of immigrants but not enough time to say it.
This is what I wrote, translated from Spanish:
I have a different burden than my parents.

I arrived two months before my four years and I remain as a beneficiary of Deferred Action for Childhood Arrivals.

2021 marks the ninth anniversary of DACA. Nine years with uncertainty.

My life feels like a subscription when I have to renew my app every two years.

It's hard not to feel like our lives are temporary as immigrants when it's politically gruesome.

It is quickly learning to survive when our parents depend on our knowledge of language to navigate the foreign system.

In the process of learning the language and assimilating, parts of our identities as Mexicans are lost.

To survive in the United States, it is required to learn the cultural, financial, educational, cooperative and legal systems.

Outside of my house, it is not customary to speak Spanish. It is not required. And over time it is lost, and slowly the 'I don't know' becomes 'I don't knew.'

Then, they ridicule us for forgetting words when we are just trying to survive the unknown.

But what I have not been able to forget was the rain in Guadalajara. The water that passes through the houses when it floods and how the streets appear to be urban rivers.

Or how the environment is filled with the fragrance of the rain that vaporizes, the wet earth.

And we continue to survive the road to the United States.

On my way, I have come across authorities who have discriminated, have questioned my abilities, my intelligence, and my experience as a Mexican woman.

The responsibility I have for my parents, their sacrifices and mine, for my culture, for my ancestors, and the advancement of women of color requires courage.

But my roots make me strong.

I am the first in my family to graduate from college.

I received my BA from San Jose State University and

I am going to start my master's degree soon at UC Berkeley School of Journalism where I hope to be the change that is needed in the media.

I will be exposed to environments not used to seeing a person like me, but I will navigate

and create space for those who come after me.

New avenues will be carved for the town

and it is being done with ganas

The dreams that crossed the border are being fulfilled.

Raised in the United States and born in Mexico, I am from here and there. I belong to both. I belong to both of them.

From Richmond, California, I am Maria Fernanda Bernal with El Instituto Mexicano de la Radio and Instituto Cultural Mexicano in Washington, D.C.
The day I emailed it IMER, I had my parents listen. I looked at my parents and examined their faces for emotions, and there it was. My father had this look on his face like someone trying their best to hold back tears.
Seeing my parents proud was enough for me. I felt like a winner because my parents were finally able to listen to my work. The work I do is mostly in English, so this was the first time my family in Mexico could understand my work.
>>>Read: 'Am I Really That Sick?' Healthcare Costs Weigh on Undocumented People
A few weeks later, I got a call from a number with a 52 country code, and I immediately thought about it being a scam. But it was IMER. They called to schedule an interview for that Monday. The woman on the phone said that after they played my piece on air, the radio host would interview me about my piece because I won first prize.
My piece was aired in 19 different Mexican states that Monday morning. At the end of the interview, I gave a shout out to my parents who were attentively listening to the online live radio stream in another room and my family in Mexico who were listening at 9 a.m. their time using a radio.
My win would be broadcast on Canal 11 de Mexico for two weeks and be made permanently available on IMER and the Mexican Cultural Institute of D.C. social media and website. I also got a stipend that will go toward my expenses at UC Berkeley.
This win feels like the song "Time To Say Goodbye" by Andrea Bocelli — melodic and heavenly — and it tastes like lavender honey. These accomplishments are a reflection of my ancestors' wildest dreams. It's serendipity and it is a beautiful gift the universe sent. I feel blessed and honored to have represented Mexican immigrants and women in my work.