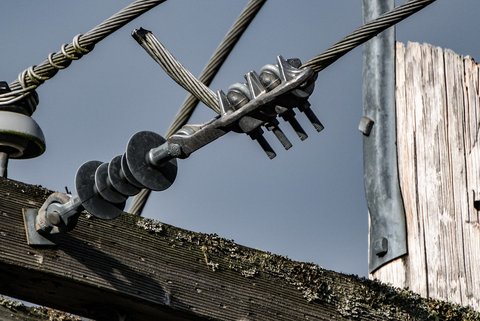 01 Oct

PG&E Explains Reasons for Uptick In Power Outages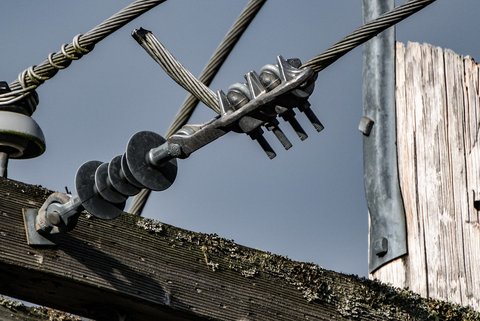 Dirty insulators on electric poles are largely responsible for the recent rash of power outages in Richmond and beyond, according to PG&E. ("Insulator 2020 12 07 02" by David Seibold under CC BY-NC 2.0 license)
By Mathew Miranda
Historic dry weather, Chevron refinery emissions, agricultural dust and bird poop are some of the reasons Richmond residents have been without power over the last few months.
In response to increases in outages, PG&E representative Darin Cline presented these explanations and potential solutions to the City Council on Tuesday. Over the last month, Richmond has seen 269 outages, and at the peak, 15,000 East Bay customers were affected.
"This is a unique year that has brought the problem to us in a really not good situation," Cline said.
Cline explained that most of the outages stem from a lack of regular washing of the insulators of PG&E electric power poles. Contaminants build up on these insulators and, if they encounter certain moisture sources, can potentially lead to ignitions and necessary repairs. The contaminants include automobile exhaust, refinery emissions, bird excrement and soil salts.
In prior years, and under normal circumstances, PG&E would rely on rainfall to clean the insulators. This year is different as the Bay Area is facing its driest year since 1977, according to Cline. He called the issue a "super problem."
"It's ending up being the worst drought situation in a long time," Cline said.
Cline noted that PG&E has progressively seen the climate situation worsen over the past few years. When Cline began working for PG&E six years ago, high fire-threat districts were 15% of its territory. Today, the high fire-threat districts cover 55% of PG&E's coverage area.
Through an analysis of weather conditions and containments across its service area, PG&E has identified six priority areas. Those are Richmond; San Leandro and Hayward; Salinas Valley; Fresno and Kings County; Kern County; and Tulare County.
Instead of washing the insulators once or twice a year, Cline said a monthly wash may become the new norm. Insulator washing crews are working on the critical areas in Contra Costa County. Each crew is supposed to wash 1,000 poles per week. PG&E hopes to complete all the washing work by Nov. 15.
PG&E is also in the process of receiving new insulators that are not as susceptible to ignitions. But with thousands of insulators, Cline said the changes will take years.
While Council member Melvin Willis asked about the pandemic's effect on outages, Council member Claudia Jimenez raised questions about Chevron's potential impact on increasing contaminants.
Cline said evidence does not show that the pandemic has led to more outages, but all refineries are shown to add more particulate matter to air, and that eventually sticks to insulators. Some of the other PG&E priority areas were chosen because the cities or counties are near oil industries or power plants, Cline said.
"They do seem to be one of those kind of things that does adhere to the insulators," Cline said.
Council member Gayle McLaughlin pushed for these infrastructure improvements to occur sooner. She also said residents worry Richmond is not being prioritized given its reputation as a low-income community. McLaughlin added that Richmond should "not be left behind" in infrastructure changes or during repair times.
"We want to make sure there isn't discrimination going on here, because if there is, believe me our residents are going to rise up and complain," McLaughlin said.
South Street Renamed
In other news, the council unanimously approved renaming South Street to Ethel Dotson South in honor of the late community activist.
Ethel Geraldine Dotson, who died in November 2007, was a well-known activist in the city that served on many boards locally and at the state level. Pullman Neighborhood Council initiated the request to rename the street, which runs from Carlson Boulevard to Wall Avenue, given her contribution to Richmond and that specific neighborhood. At its June 2 meeting, the Recreation and Parks Commission also recommended the name change.
Residents, property owners and local post offices have been notified of the renaming.