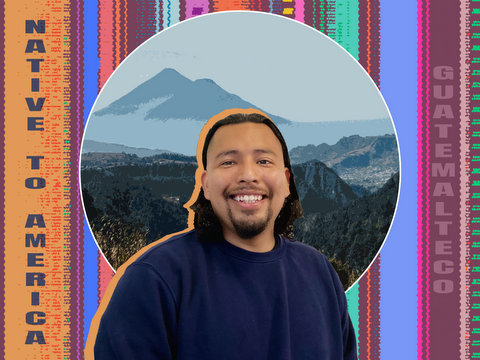 04 Oct

Why I Am Letting Go of 'Latino' as Part of My Self-Identification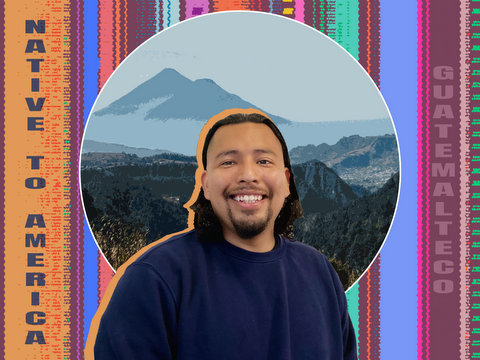 Story and photo illustration by Denis Perez-Bravo
I have let go of "Latino" as a term I personally identify myself with.
For me, identifying myself proudly and without question as a Latino erases the hundreds of years of history my Indigenous ancestors accumulated in their culture and societies before the European conquest of the Americas.
For a very long time I was confused about who I am, where I come from and how I would present myself.
Now, I proudly identify as a brown Indigenous man from Guatemala, a descendent of the Mam people, a Maya culture.
I was born in Tecate, Baja California, Mexico. My mom would visit family in Tecate frequently. Three months after my birth, she returned to San Marcos, Guatemala. We stayed there for three years, then spent two years in Mexico and finally immigrated to West Oakland in 2001. I have not been able to visit Guatemala since I was 3.
For a long time, I considered myself simply Mexican. In elementary school in Oakland, most of my friends were Mexican and even those who were Salvadorian or Belizean would be called "Mexican" by white, Asian or Black people.
My friends and I never considered ourselves Latino until middle school when the term became more common. My Belizean friend Andy struggled with people calling him Mexican. He hated it. And in middle school, he was the one to quickly adopt the term Latino and influence our friends to proudly call ourselves Latino.
Andy wasn't ignoring his Belizean identity. He used the term Latino as a bridge for people to recognize him as a brown person from a Central American country rather than another Mexican boy.
But I felt represented as a young Mexican boy. I would watch Mexican soccer, eat Mexican food and watch Mexican TV shows. And in school, Mexican and Mexican American history were always presented to me, making it easy to identify as Mexican and ignore my Guatemalan roots.
>>>Read: Richmond Ranked Most Diverse City in the U.S.
But the more I used "Latino," the more I began questioning what that really meant. Especially when I would ask my parents where our family came from.
My parents would always tell me stories of their lives in Guatemala and tales of their parents and grandparents, but it wasn't until my high school years that I started to deeply care about them.
In high school, as I learned more about my family's history and the history of colonization, I began to question why I never considered myself Guatemalan. I questioned why "Mexican" and "Latino" were enough to represent me when, in reality, those two terms only touched the surface of who I really am. I asked myself why I didn't long for more knowledge of my ancestral mountainous lands of San Marcos, Guatemala, and its Indigenous people.
I believe as a collective, especially in the Bay Area, generations of South and Central American people who have been displaced from their homes have grown to understand that our ancestors' heritage, pre-conquest, pre-colonization and pre-immigration is what makes us who we are. Our great-grandparents once lived their ways of life as Indigenous Americans.
Today, I take pride in the stories my mother tells me of my great-grandparents in Guatemala. Of their long treks in the mountains. Their daily walks in the forest to pick leaves for wrapping tamales. Of the Mam language they spoke. Of the family gathering every evening around a campfire as they heated the café de olla, or coffee made in a pot.
When I hike in the mountains around me to appreciate nature and the Great Spirit, as I wash banana leaves and prepare tamales, and when I drink café de olla with my family as we talk in communion, I find comfort that my ancestors' spirit and customs are still alive in me.
The Mam language is a little harder to practice, and I was not aware of its existence until my adolescent years. But I am trying to learn as much as I can, and in Richmond, the Mam language is alive and spoken in the Guatemalan population that lives here. That makes me happy.
As we observe Hispanic Heritage Month, I remember that it is not just a reminder to celebrate revolution but a call for resistance. The Americas and also the Caribbeans have not been fully conquered; our Indigenous ancestors still exist in us.