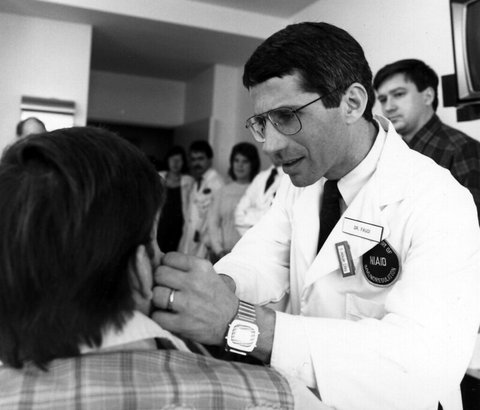 06 Oct

'Fauci' Documentary Offers Insight into U.S. Public Health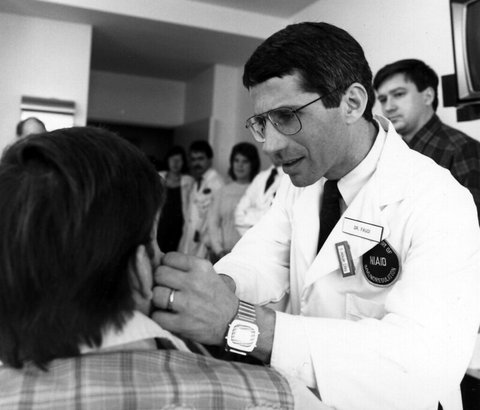 Dr. Anthony Fauci, examining an AIDS patient in 1987, was criticized for his early handling of that epidemic by AIDS activists who later became his political allies, a subject of new documentary "Fauci." (Photo by NIAID under CC BY 2.0 license)
By Michael J. Fitzgerald
The newly released documentary about Dr. Anthony Fauci — titled simply "Fauci" — could have been shaped in such a way as to body slam former President Donald Trump.
But it wasn't.
Instead, Fauci's interactions and well-reported disagreements with the former president, over how to best deal with the COVID-19 pandemic, are just minor points in a film looking at Fauci's 50-year career in medicine and public health.
His career has spanned the terms of seven U.S. presidents.
The film also offers a lot of insight into the way medicine and medical research is practiced in the U.S., along with its sharply focused look at a man who dedicated his entire professional life to medicine and helping people.
The AIDS epidemic, Ebola, SARS, and now the COVID-19 pandemic — the 80-year-old Fauci has been center stage in dealing with all of them, neatly documented in this National Geographic film.
And the film does so in mostly fast-moving scenes in approximately one hour and 45 minutes. If you walk away from the viewing screen for more than a moment, you will likely miss something interesting and critical.
The film touches on Fauci's triumphs and rare missteps. But even in chronicling those missteps — like not paying sufficient attention to the early demands of AIDS sufferers for new drugs — the backstories are fascinating.
Dealing with the AIDS crisis was a watershed moment for Fauci, the film demonstrates. In touching scenes, it's clear that the Cornell University-educated doctor quickly came to understand the human side of the disease. And it made him work even harder on treatments and lifesaving drugs.
The film's timeline bounces around in time and from AIDS to COVID and back. But the directing shows that Fauci has been consistent in his careful scientific approach to medicine during his entire career. He's not someone who would ever recommend a course of treatment not vetted six ways to Sunday with proper medical and scientific protocols.
The film also shows us Fauci the husband, Fauci the father and Fauci the friend.
At least a few of those friends were people he had crossed swords with at some time, including some vocal AIDS activists who had called for Fauci to resign or be fired. They later became allies in the political battles Fauci fought to get proper government funding.
Academy Award-winning executive producer Dan Cogan ("Icarus") and Emmy Award winners John Hoffman and Janet Tobias, who co-directed and produced the documentary, reached out to wide range of people to tell the Fauci story: former President George Bush, former U.S. Ambassador to the United Nations Susan Rice, U2 frontman and activist Bono and Microsoft cofounder and philanthropist Bill Gates, among many others.
Fauci's wife, Christine Grady — a nurse and bioethicist — fills in lots of the personal gaps along with his eldest daughter, Jenny.
In one telling family anecdote, Jenny relates that her father often worked 12 hours per day, six days per week. But the family had a tradition Fauci insisted on: eating a nightly meal together. And that was no matter how late he would be working at his office.
Jenny said the three girls would plead with him when he got home to simply sit down and eat right then. But the garrulous doctor and good father always wanted to have some quality time with them before dinner.
So they all waited.
The documentary is well worth watching, not just to learn about Dr. Anthony Fauci, who continues to work long hours, but to get a look behind the curtain of medicine and medical research.
"Fauci" had a limited release in September to select theaters, where people were required to be masked and vaccinated, of course. The film will be available for streaming on Disney+ Oct. 6 in the U.S. and Oct. 20 worldwide.