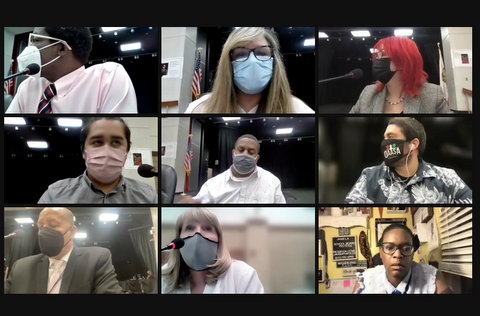 07 Oct

West Contra Costa Board of Education Discusses Anti-Vaccine Protestors on Campuses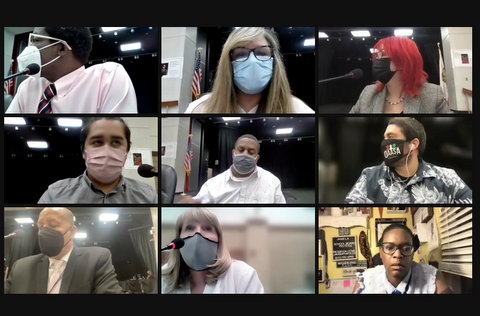 By Julia Métraux
Following the West Contra Costa Board of Education's decision to pass a COVID-19 vaccine mandate at its previous meeting, COVID-19 testing and vaccines remained a key issue at the Oct. 6 meeting.
During the month of October, 10 high schools and middle schools will host vaccine clinics for students ages 12 and older who have yet to receive the COVID-19 vaccine. Members of the board did not clarify whether teachers and other qualifying students could receive booster shots from these clinics.
Just a day after the Board of Education decision, California Gov. Gavin Newsom announced that all students and teachers above the age of 12, who do not qualify for a health or religious exemption, must be vaccinated before Jan. 1 for in-person attendance across the state of California.
Justin Trujillo, a student trustee who attends Pinole Valley High School, said that protestors came onto his high school campus to protest its on-site COVID-19 vaccination clinic earlier that day.
>>>Read: Some Eager, Some Reluctant — Teens Reflect on the Vaccine
"There were demonstrators who were opposed to it, and were actually, I believe, blocking the entrance to get into the vaccine center, and other places might have this sort of issue," Trujillo said. "Is there a way to make sure that students are safe because we don't know these people's motives?"
Michael Booker, the disaster preparedness and safety consultant for West Contra Costa Unified School District, clarified that demonstrators would be allowed to protest the COVID-19 vaccination clinics off campus as long as they are peaceful. On-campus protestors at Pinole Valley High School were removed.
"The police were called, and the police removed those people from the campus, and the people that remained were placed across the street," he said.
WCCUSD is also evaluating different procedures to increase COVID-19 testing of its students, including communal testing. Booker said that up to 25 students in a classroom would self-swab and put their swab in a communal tube. If there was a positive result, then the students would be further tested.
"We will get the results within 24 hours," Booker said. "They would follow up with that class, testing each individual that was in that class through a rapid test to kind of figure out if there were additional people that may have been affected."
Navigating Staff Shortages 
Human resources officer Marci Williams said in a presentation that the district is facing staffing shortages. This includes around 100 open special education positions across WCCUSD, although hirings for these positions are being made.
"We definitely have a nationwide and California state shortage of teachers, and people that retired early because of not wanting to either come back," Williams said, about teaching during COVID-19. "There was definitely a spike in retirements over the last two years."
>>>Read: 'We … Put Ourselves Last': Former WCCUSD Teachers on Why They Left the Classroom
After Williams said the district is looking at international candidates from countries such as Spain, trustee Otheree Christian asked if WCCUSD is making efforts to recruit from Historically Black Colleges and Universities. Williams said that the cost of living in the Bay Area has been a barrier to attracting candidates from these schools.
"One of the biggest stumps that we hear is the cost of living, so we may find people that are interested in and want to come here and work, but the cost of living is definitely different," she said.
The Status of Books and Instructional Materials
A resolution to declare textbooks and other instructional materials in compliance for the 2021-22 school year caused contention among board members.
After the motion initially failed due to anecdotal concerns that some board members raised about lackluster materials provided to students in the Vista Virtual Academy, the district's distance-learning option, trustee Christian voted to bring the motion back to the floor.
The board is required to pass this motion every year to continue to receive funding for more textbooks and instructional materials, per state Education Code 60119. The second motion passed, with trustee Jamela Smith-Folds voting no because she said she wanted more information on the quality of books and the perceived rush in the need to pass this motion.
Superintendent Dr. Kenneth "Chris" Hurst Sr. asked that, in the future, trustees could share complaints from members of the WCCUSD community before a meeting. According to LaResha Martin, chief academic officer and associate superintendent, teachers at Vista Virtual Academy had said its instructional materials were in compliance.
"I would ask that if our trustees are hearing things, if you can share that with the superintendent, so we can move forward I would like to have known any complaints or any issues, way ahead of time," Hurst said.