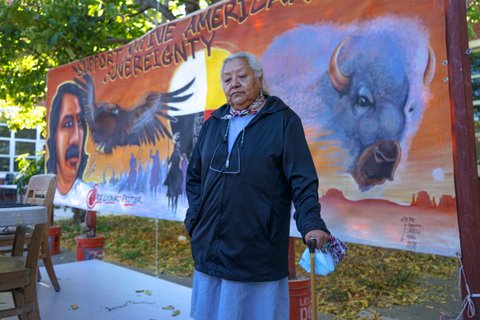 11 Oct

Richmond Art Center Amplifies Calls to Release Native American Activist Leonard Peltier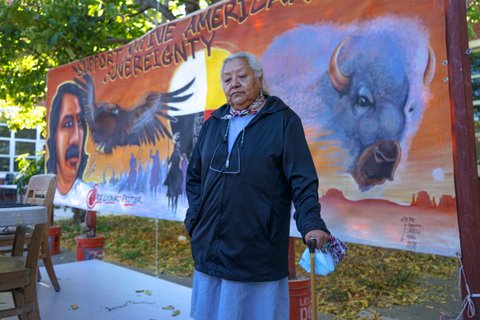 Native American activist Anne Begay at the Richmond Art Center event "Gathering in the Spirit of Gwarth-ee-las," held Oct. 8 in honor of imprisoned activist Leonard Peltier.
Story and photos by Denis Perez-Bravo
Through word and art, the call to free activist Leonard Peltier, a member of the American Indian Movement, from his 45-year imprisonment was amplified Sunday in the Richmond Art Center courtyard.
The center hosted the event "Gathering in the Spirit of Gwarth-ee-lass" to honor Peltier, his family and their sacrifices while giving free access to artist Rigo 23's exhibit "Time and Again."
In 1977, Peltier was convicted of the murders of two FBI agents. The agents were killed in 1975 at the Pine Ridge reservation in South Dakota. The trial was marred by many procedural issues, casting doubt on its outcome. For example, one alleged eyewitness to the shooting recanted her testimony and said the FBI threatened her. And a Freedom of Information Act ruling in 1980 revealed that evidence that might have helped Peltier was hidden by the prosecutors.
"He is in jail for a federal offense that is nothing but lies," said activist Anne Begay at the event Sunday.
Begay is the mother of Peltier's daughter, Kathy Peltier. Both were present at the event.
Begay led a discussion with Rigo 23 about her life and her memories of Leonard Peltier.
"Leonard is a father. He is a grandfather. He is a great grandfather. And he has never held his grandchildren," Begay said.
She also asked the crowd "to be more aware" and to raise awareness of one of the latest actions to free Peltier.
Rep. Raúl M. Grijalva, the chair of the Natural Resources Committee, and 10 other members of Congress sent a letter Oct. 8 formally requesting clemency for Peltier. The letter was addressed to President Biden; Attorney General Merrick Garland; Michael Carvajal, the director of the Federal Bureau of Prisons; and J.A. Keller, the bureau's southeast regional director. (Peltier is imprisoned at the Coleman Federal Correctional Complex in Florida.)
"Mr. Peltier has yet to receive a fair trial that is free from constitutional violations. Mr. Peltier is 77 years old and suffers from severe health conditions, including diabetes and an abdominal aortic aneurysm that can be lethal if ruptured. He has served more than 43 years in the federal prison system, some of which have been in solitary confinement," the letter read, in part.
After the discussion between Rigo and Begay, a lineup of poets came to the stage to perform.
One of them was Kathy Peltier, who is in her 40s. She read a poem about waiting for her father to come home that she wrote when she was 16.
"He sits behind walls, waiting to see my family," she read to the crowd.
Apart from hearing the speakers, attendees also got to see Rigo 23's sculpture of Leonard Peltier.
Artist Rigo 23's exhibit "Time and Again" features a 12-foot-tall sculpture of activist Leonard Peltier on a 6-foot-by-9-foot base — the size of a prison cell like the one Peltier has spent most of his life in.
The 12-foot-tall work depicts Peltier sitting on a base 9 feet by 6 feet, the size of a traditional jail cell like the one where he has spent most of his life, Rigo 23 said.
The sculpture is crowned with sage brought back from a Sun Dance ceremony and behind the Peltier figure hangs a traditional quilt from the Pine Ridge reservation. In between the giant feet of the sculpture, an altar sits. The sculpture is surrounded by photographs and artwork that have been arranged in a timeline from 1977 to 2021.
The various artworks were contributed by people from all over the country.
A line runs from Rigo 23's first solo exhibit at the Richmond Art Center to this one. Twenty-five years ago, he did an exhibit dedicated to the Black Panther Geronimo Ji Jaga and his political imprisonment. After his release, Rigo met Ji Jaga. Rigo said Ji Jaga told him to continue fighting for political prisoners, and that led him to Peltier's cause.
Rigo said he sees an extreme culture of violence against Black and Native American lives alike in the U.S. And he hopes to continue raising awareness of these issues, and especially of Peltier's case until he is released.
"Things change, but they stay the same," Rigo said.
The "Time and Again" exhibit will be open through Nov. 19 at the Richmond Art Center, located at 2540 Barrett Ave.
Correction: An earlier version of this story gave the last name of Leonard Peltier's daughter as "Begay." Her surname is "Peltier."