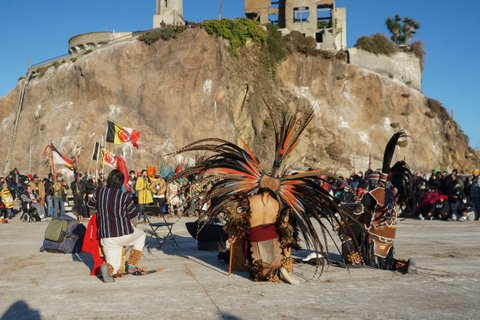 12 Oct

Alcatraz Sunrise Gathering Celebrates Tradition of Resistance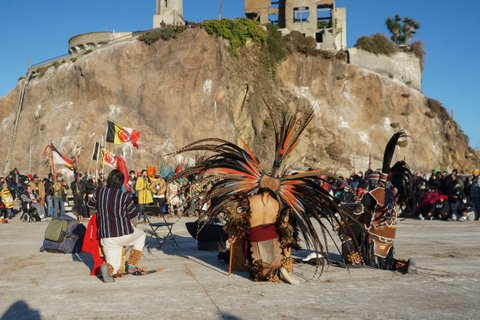 Story and photos by Denis Perez-Bravo
A circle outlined with crowds of people, a fire pit in the center and the sun rising in the background marked the beginning of Indigenous Peoples' Day on Alcatraz Island.
Indigenous people from all over the country gathered Monday to pay homage to their ancestors and embrace each other's cultures as they continue to fight for their lands.
The Indigenous Peoples' Day Sunrise Gathering is organized by the International Indian Treaty Council in remembrance of the 1969-71 occupation of Alcatraz by the Indians of All Tribes.
The occupations began Nov. 20,1969, as Native People called for the return of Alcatraz to its original inhabitants because at that time it was no longer a prison or federally used land, according to a KPFA article.
The 89 Native Americans who led the occupation argued that the 1866 Treaty of Fort Laramie between the U.S and the Lakota Peoples said unused federal land should be returned to the original inhabitants. As many as 400 Natives and their allies took over "the Rock" during the occupation, which lasted 19 months.
Although the occupation ended, Alcatraz remains a symbol of Native American resistance to colonization and genocide, and that symbolism is commemorated regularly as Indigenous people gather at sunrise to pray, dance, sing and commune.