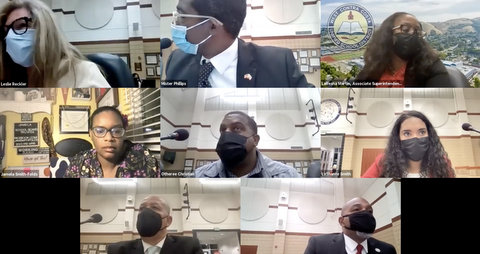 15 Oct

Without Enough Support, Some WCCUSD Students Are 'Struggling to Function'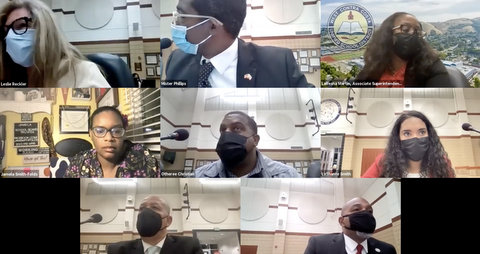 The West Contra Costa school board held a special meeting Wednesday focused on students' physical safety and mental well-being. (Screenshot captured by Julia Métraux / Richmond Pulse)
By Julia Métraux
The West Contra Costa Board of Education gathered Wednesday for a special study session to discuss the physical and mental safety of students. No measures were voted on, and trustee Demetrio Gonzalez-Hoy, as well as both student trustees, were absent for this session.
District safety consultant Michael Booker and school psychologist LaShante Smith presented information on school safety, as it pertains to both students' physical safety and mental well-being. Smith said that data shows an improvement as fewer physical violent incidents on campus have been reported.
"For the past five years, we are on a downward trend," Smith said. "I want to look specifically at 2017 to 2018 because that was the year that we passed our positive school climate resolution, and if you can see, the following year, our violent incidents went down."
Despite the decrease in reports of physical violence that has resulted in discipline thus far in the 2021-22 academic year, in comparison with the 2018-19 academic year, multiple members of the community expressed concerns about rising fights in schools.
"I'm getting videos of kids being brutally attacked while other kids are around cheering in videotapes," Ivy Winston, the executive director of Richmond's Bright Futures, said during public comment. "Staff that are present are only given verbal requests for them to stop because they can't intervene or get involved because of their safety and also their limitations."
The Need for More Behavioral and Emotional Support
During public comment, school psychologist Arthur Harris — who was not involved in the presentation with Smith and Booker — raised concerns about how remote learning during COVID-19 has affected the behavior of some students. Harris advocated for the need for more staff to support students.
>>>Read: Distance Learning Raises Questions About Mental Health
"Post-pandemic, I'm seeing these same kids struggling to function on campus," he said. "There's still some great students, but what's happening is I think there's a less amount of staff available to support the students."
Even before the COVID-19 pandemic, Smith said that "historically that there has been a lack of access to needed behavioral health services for students." This led to a focus on restorative practices at the beginning of the school year as students returned to their classrooms.
"We focused the first six weeks on the restorative restart, and that was really around utilizing social-emotional learning curriculum and restorative practices inside of the classroom," she said. Smith said that teachers can attend other trainings to learn more about implementing restorative practices going forward.
Trustee Otheree Christian asked if disruptive students could be moved to the virtual academy or Greenwood Academy. Smith said that virtual learning options for students showing behavioral issues are only considered if they do not follow COVID-19 protocols.
"Greenwood is really focused on credit recovery," Smith said. "But, if a student is in 11th or 12th grade is in need of credits and would benefit from a smaller school environment, that option is still on the table."
The Return of Student Resource Officers?
Winston asked the district to consider reimplementing school resource officers. In June 2020, the Board of Education voted to end contracts with police agencies for SROs, then relocating over $5 million in resources to support Black students in the district.
"I don't know why they were removed, but now our kids are suffering," Winston said. "Issues from divided communities are now spilling over into school sites, and the kids know that nothing could happen because [of] the lack of supervision."
Superintendent Kenneth "Chris" Hurst said that he has had conversations with members of his team about reinstating officers in the WCCUSD.
"I know it's gonna be a larger conversation, and I'm wanting to engage in the community in that conversation as well," Hurst said. " I will say, based on my experience, I have had extremely positive experiences and other places I've been with SROs."
The next Board of Education meeting will be Oct. 20.