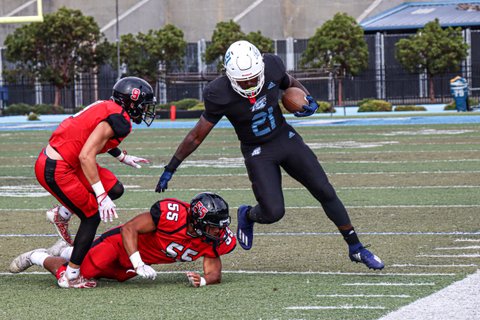 26 Oct

Contra Costa Football Beats Foothill College, Remains Undefeated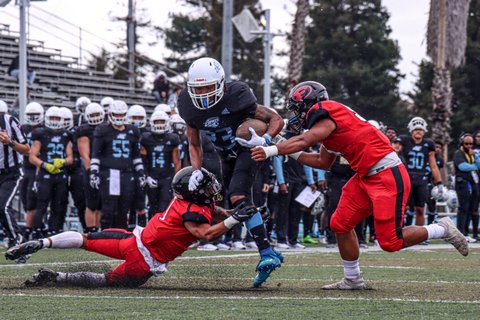 Contra Costa College running back Andre Mitchell is blocked by two Foothill College defensive players. Mitchell later went on to score a 96-yard kick-off return touchdown during the Comets' 43-13 win on Saturday.
Story and photos by Denis Perez-Bravo
The Contra Costa College football team holds a six-game winning streak after defeating Foothill College 43-13 at Comet Stadium during their homecoming game in San Pablo on Saturday.
With that win, Contra Costa is now 2-0 in the American-Pacific 7 conference of the California Community College Athletic Association.
"If we get better every day, the victories are going to take care of themselves," said running back Mike Franklin. "So there is no pressure."
Franklin rushed for 160 yards and three touchdowns on 20 carries against Foothill.
"I feel like I was trying to do too much the previous game, so I just played my game this time," Franklin said.
Other outstanding performances came from defensive end Tavaris Pitts and defensive back Darion Johnson who were named co-defensive players of the game by Contra Costa coaches.
Pitts tackled four opponents and sacked the quarterback two times. Johnson had 10 tackles, a sack and an interception.
Despite the overwhelming score against Foothill, Contra Costa did not start the game right.
Foothill drew first blood four minutes into the first quarter when Foothill quarterback Aajon Johnson passed to wide receiver Alex Murrell for 11 yards.
In the stands, fans shouted for Contra Costa to "answer back."
After starting their drive at their 25-yard line after the kickoff return, Contra Costa held a nine-play series that ended with Franklin running the ball four yards into the Foothill end zone.
Contra Costa College running back Mike Franklin rushes to the Foothill goal line as he is tackled by multiple opponents.
Foothill responded with another touchdown and a good goal kick, but Contra Costa immediately responded when running back Andre Mitchell returned a 96-yard kickoff return to score a touchdown, part of his 129 all-purpose yard game.
Contra Costa scored seven in the second quarter to continue stacking their lead. By the end of the third quarter, Contra Costa dominated Foothill as they scored 22 more points to get them to 43-13.
"We are the best in the league, and no other team in this conference can mess with us," Franklin said.
Contra Costa College defensive back Jaden Rhodes guards Foothill wide receiver Wuda Ardoin during a failed pass attempt.
Contra Costa will have a chance to prove the latter against Feather River College, the only other team in the Pac-7 conference that is still undefeated and who they share the same season record with. Contra Costa visits Feather River at 1 p.m. on Saturday.
"Feather River does a good job," said Alonzo Carter, San Jose State Football assistant coach and former Contra Costa head coach. Carter attended the game.
There is a lot of talent in Northern California community college football. To be on top of the leaderboard takes hard work, something he saw during his championship winning seasons at Contra Costa.
Now, he sees the possibility of another run for the section title with Contra Costa head coach Otis Yelverton and his team.
"Coach O has brought the pride back to this program," Carter said.
He pointed to the banners that hang from the top of the Contra Costa press box.
"You can see Contra Costa has had a history of winning championships," he said. "And he is right on track to doing so."