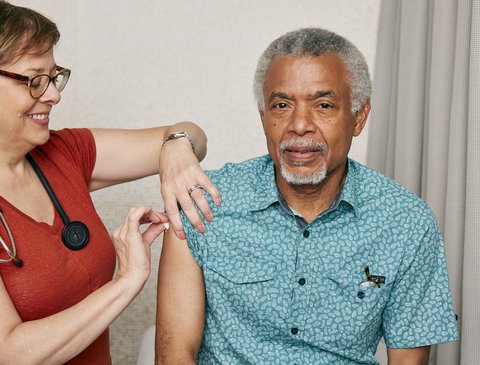 27 Oct

CCHS Offers Advice on COVID-19 Vaccine Booster Doses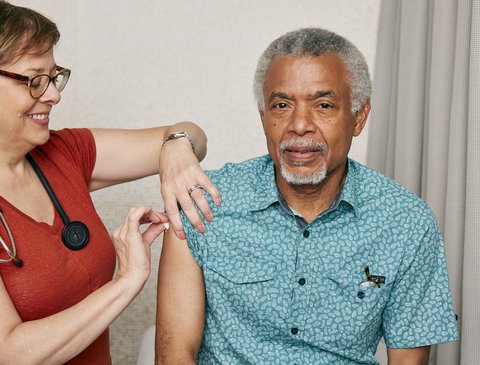 Certain populations at higher risk of severe COVID-19, including those 65 and older, are now eligible to receive a booster shot. (Heather Hazzan for Self Magazine, under CC BY 2.0 license)
By Michael J. Fitzgerald
Contra Costa County Health Services this week announced that booster COVID-19 vaccine doses are now available for many county residents.
"After reviewing research, the federal Centers for Disease Control & Prevention and California Department of Public Health have found that booster doses of all available COVID-19 vaccines are not only safe, but significantly improve protection against both infection and serious illness, including from the delta variant," CCHS officials announced.
Fully vaccinated people can pick any of the three available COVID-19 vaccines for their booster doses, regardless of the vaccine used during their initial immunization.
"All of the COVID-19 vaccines are extremely effective but, as with most vaccines, the protection they provide reduces over time. That is why getting a booster dose is a healthy choice," said Dr. Ori Tzvieli, deputy health officer for Contra Costa.
Tzvieli also stressed that people who have not gotten a COVID-19 vaccination should do so immediately. "COVID-19 vaccine provides the best protection we have against the virus, including for people who were previously infected," she said.
>>>Read: Doctors Debate COVID-19 Booster Shots
For anyone 18 or older who received the Johnson & Johnson vaccine, a booster of any of the three available vaccines is approved — provided it has been at least two months since they received their initial J&J dose.
Similar to those vaccinated with Pfizer vaccines, eligible people who received Moderna vaccines at least six months ago should get a booster dose, according to the CDC.
Those eligible for a Moderna or Pfizer booster must be 65 or older or 18-64 and live in a long-term care facility, have underlying medical conditions or live or work in a setting that puts them at higher risk of catching the coronavirus. CCHS also says individuals who are at increased risk of severe COVID-19 due to social inequities should consider the booster, including those from communities of color.
The Moderna booster shots are half the doses given in the first two vaccinations, CCHS said.
CCHS suggests that the best place for most Contra Costa residents to seek booster doses is through their healthcare providers or local neighborhood pharmacies. COVID-19 vaccine is now plentiful, CCHS says. The county health agency is in regular communication with community healthcare providers, clinics and pharmacies to ensure that all eligible residents can access vaccine.
Beginning Tuesday, CCHS' free vaccination clinics will also offer booster doses by appointment to anyone who is eligible. Call (833) 829-2626 to make an appointment, or use the agency's online form at cchealth.org/coronavirus.
More than 88% of Contra Costa residents who are 12 or older have received at least one dose of COVID-19 vaccine, as of Wednesday. More than 83% of county residents are fully vaccinated.
For information about pharmacies and other providers that offer the COVID-19 vaccine to the public, visit CCHS' Get Vaccinated page. Most providers will require appointments.