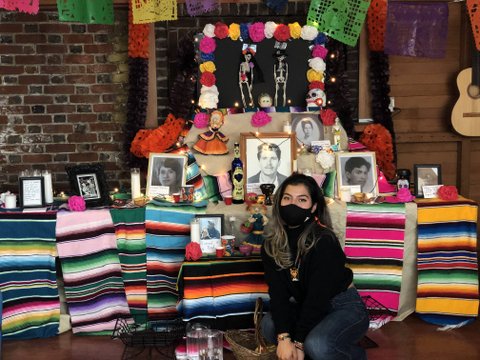 29 Oct

In Mexico, the Graveyards Are Most Alive on Día de los Muertos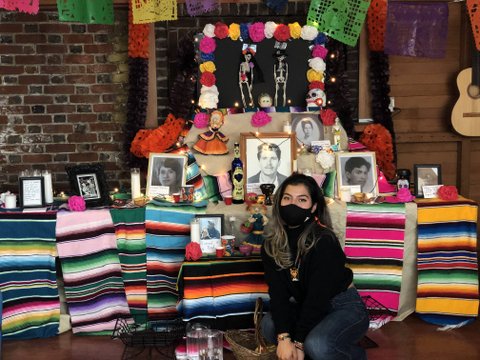 Pulse writer Maria Bernal created a Día de los Muertos altar at the UC Berkeley journalism school, where she is a student. (Photo by Yenny Garcia)
Commentary, Maria Bernal
When my abuelita walks through the cemeteries in the United States she is overcome with sorrow. I remember her pointing to the rows of naked tombstones without a single flower. "Look, their families have forgotten them."
It was a culture shock to her. She is from Veracruz, Mexico, and it is one of the states that celebrates Día de Los Muertos. It is traditional and part of her social education to honor our ancestors. 
No, it is not a Latin version of Halloween.
Día de los Muertos is an Indigenous practice that originated in what is now known as Mexico but is celebrated throughout Latin America. Indigenous people were able to maintain many of their traditional customs by masking them with Christianity. 
The significance of Día de los Muertos is honoring loved ones who have passed away. It is the belief that living beings never truly die. We remain alive through the memories and hearts of our loved ones. 
Gravestones are cleaned, fresh flowers are placed, and people eat a meal next to the tombstone. Graveyards in Mexico are always lively, but on Día de los Muertos, they are most alive. The graveyards look like gardens for sunsets and sunrises. They are drenched in orange and yellow from all of the cempasúchiles, or marigolds.
So when my abuelita looked out into the cemetery and saw empty gravestones, she assumed they were people who were forgotten by their families. It's not because everyone was forgotten but because of a different kind of relationship with death.
Día de los Muertos teaches me not to fear death but embrace it as a natural process of life and that it's a sacred rite of passage. Fear of death is a colonial thought forced onto Indigenous people. But it has been impossible to extinguish the connection that we have with life. The cycle of life is also a common theme in our traditional dances too.
I have had conversations with my family and have given them instructions in the event I die. I want to be cremated and I want to be planted in a tree. This sounds morbid, but let's be realistic. We can die at any time — car accidents, being struck by lighting, heart attack or COVID.
I got sick in early 2020, and at the time, we didn't have COVID-19 testing, but the fever I had was the most intense I have ever felt. I thought I was going to die when I woke up one morning as I felt my eyes shut again. I was too weak to keep awake, so I stopped struggling. I gave in and spoke with a higher power. I told it that I was ready to die. I felt grateful to have lived and experienced all that I have. Being human is an adventure and all of its heartaches and challenges make every second worth living. 
I am not writing this from the great beyond. I didn't die. Turns out I had fallen back asleep from my fever.
But knowing that I could die at any time makes me live a life of gratitude and acceptance. I believe that my family will honor me and remember to put a shot of Centenario with a bowl of aguachile.
I want to be the kind of ancestor like mine have been for me: a presence of guidance, protection and love.