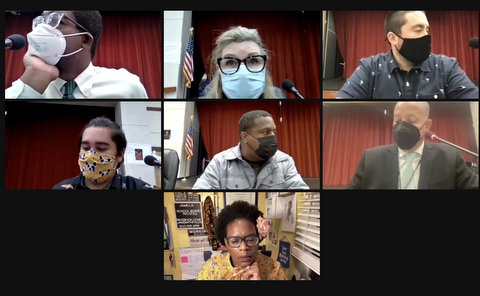 19 Nov

Parents Complain About WCCUSD Vaccine Mandate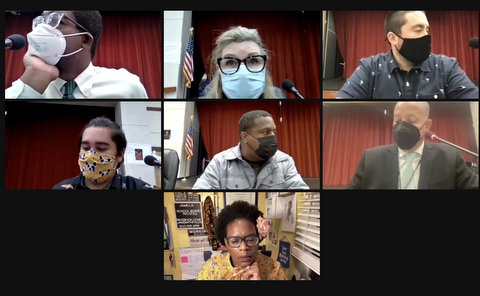 By Julia Métraux
The West Contra Costa Unified School District's COVID-19 vaccine mandate was a contentious issue at the board of education's meeting Wednesday.
Students 12 years old or older who do not qualify for a medical or religious exemption will have to be vaccinated against COVID-19 by Jan. 3. Students who fail to do so will be transferred to Vista Virtual Academy later that month at the start of the next semester.
Multiple parents who spoke against the mandate were asked by trustee Mister Phillips to raise their masks to cover their faces during public comment. One parent compared the COVID-19 vaccine mandate to the medical experiments uncovered at the Nuremberg trials.
Several parents asked the board to consider waiting to implement the mandate until the vaccine receives full approval from the U.S. Food and Drug Administration. In August, the FDA approved the Pfizer-BioNTech COVID-19 vaccine for people 16 and older. It remains under emergency authorization for people under 16.
"I would ask that you offer a test-out option for all kids," said WCCUSD parent Joey Dalton. "A weekly test to be administered by the parent or the caregiver at home, paid for by the caregiver at home."
Trustees Jamela Smith-Folds and Leslie Reckler both expressed concerns that the district has not directly asked parents if they would enroll their children in Vista Virtual Academy in accordance with the mandate. Smith-Folds had requested this be done at a prior board meeting.
"I'd like to encourage district staff to really start working on a real plan for Vista about who plans to enroll, who plans to disenroll," Reckler said. "I think that is super important because this mandate is right around the corner, and I'm not feeling like everything's all lined up there."
Honoring Sikh and Native American Awareness and Heritage Months
The board unanimously passed resolutions without discussion that recognized Sikh American Awareness and Appreciation Month and Native American Heritage Month.
Sikh American Awareness and Appreciation Month will take place each November. According to the resolution, 250,000 Sikh people live in California, which is around 40% of the United States' Sikh population. Nov. 30 marks Guru Nanak Dev Sahib's birthday, which is a Sikh religious festival
>>>Read: A Neighborhood Market with Roots in India
Native American Heritage Month will also be recognized in West Contra Costa schools every November. West Contra Costa schools are located on the lands of the Ohlone people, who mainly speak the Indigenous languages Karkin and Chochenyo in this region. WCCUSD teachers are encouraged to teach their students about different Native American cultures and traditions.
Are Parents Allowed on Campus?
WCCUSD Superintendent Chris Hurst brought a motion to allow fundraising activities to resume on campus at the elementary, middle and high school levels.
Discussion arose whether parents would and should be allowed to participate. Trustees Phillips, Smiths-Fold and Demetrio Gonzalez-Hoy all expressed concerns that allowing parents to participate in on-campus fundraising activities sounds like a policy change that was not brought in front of the board.
"I do think that there are site leaders who are being very cautious and thoughtful about their fundraising, and they are following the previous policy about not allowing parents on campus," Gonzalez-Hoy said. "I think it's gonna cause inconsistencies and confusion in the system, and then I don't want families to get upset at site leaders or staff."
Phillips said that the current policy indicates that parents need to make an appointment before coming onto campus.
"Let me clarify something because, myself as a parent, I don't go on campus, even though I have a badge and can pretty much walk around where I want because I didn't think I was supposed to be there," Phillips said.
The motion passed, with Phillips voting no. Student trustee Irene Kou was absent from this meeting. The next regular meeting will occur Dec. 8.