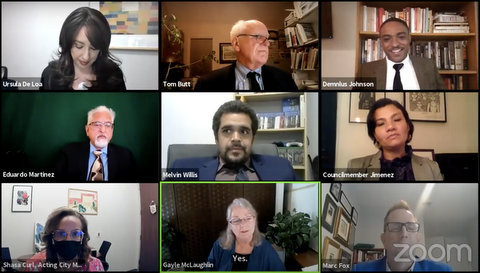 30 Nov

Richmond Censures Mayor, Approves Interim City Manager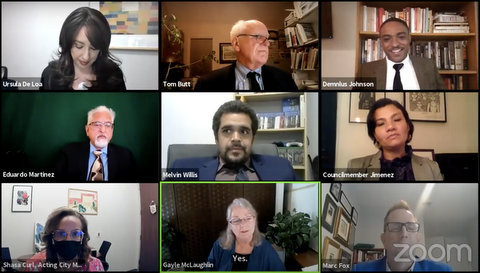 Richmond city government gained some needed stability amid ongoing contention at the Nov. 23 City Council meeting. (Screenshot captured by Sabrina Pascua / Richmond Pulse)
By Sabrina Pascua
The Richmond City Council voted unanimously at its Nov. 23 meeting to approve Shasa Curl as the new interim city manager.
Curl has been serving as acting city manager since the council voted to terminate former City Manager Laura Snideman in closed session Nov. 9.
"I just want to thank the City Council and the Richmond community for the honor and the privilege to serve you all," Curl said at the meeting. "I just want you to know that I am committed to doing a great job and working collaboratively with staff."
Per the employment agreement, Curl will serve as interim city manager for a three-month term starting Thursday and ending March 1.
The city does not currently have plans to search for a new city manager while Curl serves the term, according to Mayor Tom Butt. He said he does not know when the city will make that decision.
"We haven't gotten there yet," Butt said. "I suspect that everybody will just kind of watch and see what kind of job she's doing."
Butt added that if Curl is a "good fit" for the job, she may be offered the permanent position.
"This has all come up pretty quickly, and we're kind of hoping to make sure everything is covered in the short term," Butt said.
Despite the circumstances in which Curl is entering the position, she said she aspires to a cooperative relationship with city staff and the council.
"I just want to recognize that the last two years in this pandemic have been incredibly difficult for all of us, and I really appreciate the work that city staff have done as essential servants to provide service to the community," Curl said. "We look forward to having open and collaborative communication and working in collaboration with you all to implement the City Council's policy direction."
Censuring Mayor Butt
The council also voted to adopt a resolution to censure Butt. The move follows repeated accusations that Butt released information that was supposed to be confidential because it was discussed during closed session or covered by the attorney-client privilege shared by the city of Richmond and City Attorney Teresa Stricker. The vote was 5-2 with council member Nat Bates and the mayor voting against.
The resolution alleges that Butt released confidential information in his e-forum Nov. 5 and Nov. 16 and during the Nov. 9 council meeting.
By doing so, the resolution says that Butt is "breaching his duty as mayor."
The mayor and other council members may not publicly "release confidential attorney-client privileged information or confidential closed session information absent an affirmative vote by a majority of the City Council," according to the resolution.
Under the Brown Act, some types of closed session items may be publicly reported, but this allegedly did not apply to the information shared by the mayor.
The council directed Stricker to report Butt's alleged actions to the Contra Costa County grand jury and district attorney.
Stricker said that sharing confidential communications creates an "enormous problem" for the city attorney's office to provide confidential legal advice, which she said makes it difficult for the City Council to make informed decisions on behalf of the city.
The resolution went further saying that "by disclosing confidential attorney-client communications, Mayor Butt has made it impossible" for the city attorney's office to properly advise the council.
"The city attorney's office is being put in a position of having to weigh whether to provide the City Council with candid confidential legal advice," Stricker said, "because the city attorney's office is then having to weigh the risk to the city should the mayor decide to make that communication public."
Instead of responding to what Stricker said, Butt expressed grave discontent with her performance.
"Instead of wishing you the best, I'm going to wish you the worst," Butt said.
Bates said the council has much more important issues to deal with and that discussing this resolution is "wasting time."
"I think we need to be looking at trying to unify this council as opposed to tearing it apart," he said.
In contrast, council member Melvin Willis expressed appreciation for Stricker's work as city attorney. Willis also believes Stricker suffered from abuse from the council, which he apologized for.
"I do hope as we're transitioning, we keep in mind that the more we end up abusing employees and doing personal attacks, the harder it is going to be for us to get quality candidates that our city actually deserves," Willis said.