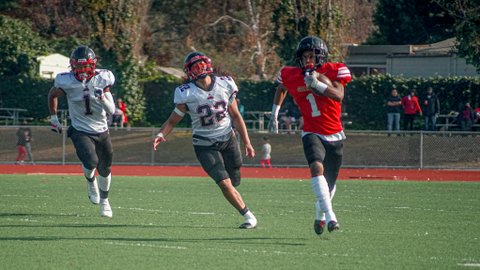 07 Dec

After 'Track Meet in the First Half,' Salesian Advances to Football Championship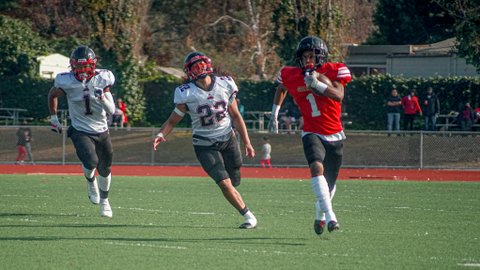 Salesian wide receiver Devin Quinn outpaces Aragon High School defenders during Salesian's 36-28 win during the CIF State Northern Regional D6-A Final in Richmond.
Story by Efrain Valdez | Photos by Denis Perez-Bravo
After the celebrations subsided and the crowd of people filed off the field, Salesian coach Chad Nightingale hugged senior quarterback Nicholas Fontanilla on the 50-yard line, congratulating him on the game-winning throw that would send the Pride to their second straight CIF Division 6-A state championship game.
Fontanilla told Nightingale that completing the fourth and goal touchdown pass to sophomore receiver Marco Turqueza late in the fourth quarter was like "the best moment of his life."
With the score 30-28 at halftime, the Pride put up a second half to remember. In the fourth quarter, Salesian put together an 18-play, 9-minute drive that led to the game-winning touchdown pass that secured the 36-28 victory Dec. 4 in the CIF Northern Region championship game. 
"I knew we went for the 'out' a few plays prior, but this time the voice in my head said 'slant, slant, slant' and just based on the look the defense was giving us, I just went for it," Fontanilla said about the moments before he threw the lone touchdown of the second half.
After catching and driving up, a Salesian offensive player is tackled by an Aragon High School defender during Salesian's win during the CIF State Northern Regional D6-A Final in Richmond.
In the game-clinching drive, the Salesian offense ran the ball 12 times out of the 18 plays in that possession. That crushing offensive approach would prove to be too much for the already fatigued Don defenders. 
"It was kind of a hopeless feeling," Dons coach Steve Sell said about watching the Salesian offense put together long drives that took most of the time off the clock.
That drive capped a second half that saw the Pride defense allow no points and force two turnovers, while establishing their dominant run game that led to them winning the time of possession battle 16 minutes to the Dons' 8.
"You kind of just watch and hope that you can get a stop, but we've been on the other side of that," Sell said. "As you get a couple of first downs, your confidence really starts to build."
The Pride accumulated over 400 yards of offense, and more than 250 of those yards were on the ground. Salesian's powerful run game was spearheaded by the dominant interior offensive linemen who paved the way for Fontanilla's 98 yards on 17 rushes and senior running back Devin Quinn's 108 rushing yards on 13 carries.
"Both teams were tired and both teams were banged up. Our kids played hard, their kids played hard," Nightingale said. "It was a clean football game. I always feel bad in these situations that there has to be a loser."
He said that Aragon deserves a lot of credit for making this a hard fought game. 
Despite a first half that featured six lead changes, an interception, a fumble, long touchdown passes and long touchdown rushes, the second half came to a screeching halt.
Aragon started the third quarter with the ball on its 39-yard line. That initial drive lasted only six plays and resulted in a turnover on downs after a fourth down incompletion.
"Our defense actually played very well," Nightingale said. "Their four touchdowns were on four big plays; they weren't sustained drives." 
Salesian Prep senior Andre Price, in red, falls to the ground just before catching a touchdown pass during Salesian's 36-28 win Saturday over Aragon High.
He said the defense was able to do a better job in the second half preventing "the big play" by the Aragon offense.
"What we did not do in the second half was let those [big plays] happen," Nightingale said. "Give them credit though; they played hard, and my kids just kept playing."
The first half also saw Dons senior receiver Alan Tanielu break out for a 59-yard touchdown outside the numbers and a 65-yard touchdown on a screen pass from junior quarterback Dylan Daniel.
"It was like a track meet in the first half," Aragon coach Sell said. "In the second half things slowed down. I thought the opposite was going to happen when it came to scoring as both teams wore down."
He said he is very proud of his team not just because they won their first section championship in 27 years but because they played a lot of football since the spring.
"They got to play a lot of football," Sell said. "At this time last year, it looked incredibly grim and it looked grim through January as well."
"They got to play 20 games and win a section championship. That's pretty spectacular," he continued. "Obviously, we wanted to win and play another game, but I'm just so happy for these kids."
Salesian College Preparatory (10-2) will play Arlington High School (7-8) 1 p.m. Saturday at home for the state championship.