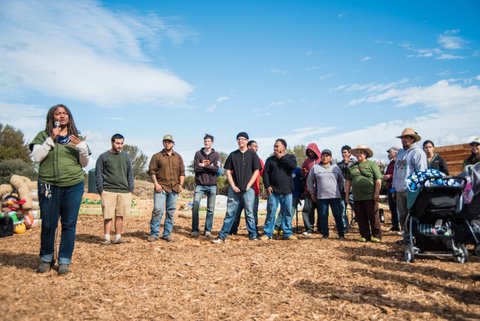 13 Dec

Activists Try to Renew Black People's Connection to Land and Healthy Food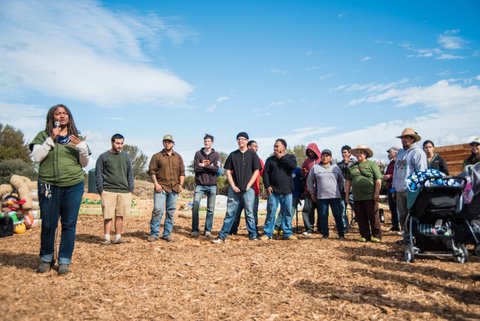 Doria Robinson, left, speaks in 2016 at the site of a then-planned farm in North Richmond. More recently, she spoke Nov. 8 in the online discussion "Black Farmers: Food Justice and Land Stewardship." (David Meza / Richmond Pulse file)
By Myah Overstreet
Fred Blackwell, CEO of the San Francisco Foundation, has an unusual definition of equity.
"Equity is the new coconut water — everyone is talking about, it but very few are drinking it," said Blackwell.
Blackwell said this in a recent panel discussion on YouTube, "Black Farmers: Food Justice and Land Stewardship." In an hourlong conversation hosted by the Commonwealth Club, Natalie Baszile, Doria Robinson and Andrea Talley raised important questions about the ways in which Black people and other people of color experience ongoing food insecurity in the Bay Area. Through dialogue and shared history, they amplified the need for food justice and explored Black people's relationship with land as an important part of achieving equity.
"The collective vision that we are engaged in [is] to reconnect Black and Brown people with these eating habits and practices that were once rooted in health and wellness," said Baszile as she kicked off the conversation.
"I think it's essential that people really understand that Black people, wherever we were, had an appreciation for good, healthy food. We're trying to get back to that," she added.
Baszile explores Black farming and land ownership in her novel "Queen Sugar" and anthology "We Are Each Other's Harvest." While researching for "Queen Sugar" in Louisiana, she was shocked at the lack of Black farmers.
"I started asking myself, 'What happened?' " she said in a follow-up interview. "How can we go from being so close to the land — although not by choice — to owning land by choice, to being disconnected from land today?"
She then guided audience members deeper into what land ownership looks like in the Bay Area through the work of Mandela Grocery Cooperative and Urban Tilth.
The Mandela Grocery Cooperative, a West Oakland grocery store established by three Black women in the 1990s, is dedicated to bringing accessible, affordable and quality produce to underserved neighborhoods in Oakland. The worker-led food cooperative loyally sources its produce from local Black farmers.
Urban Tilth, located in Richmond, is a collection of seven gardens and farms where community members can learn, grow, cook and distribute fresh produce. The nonprofit feeds 500 families every week from foods that they grow themselves, according to executive director Robinson.
Both organizations are products of what comes from a community that imagines an alternative future for its collective well-being.
"The transformation that we were envisioning was actually led for and by us, the people that live here, the people that grew up here, the people that suffered here," said Robinson.
The U.S. Department of Agriculture defines food deserts as a low-income area where a substantial share of residents has limited access to stores that stock affordable and healthy food. It's the opposite of a food oasis, an area with an abundance of supermarkets with healthy produce. Oakland and Richmond are well-documented food deserts that have long suffered from a lack of access to quality, fresh produce.
But activists felt unsatisfied with that term, as many counterarguments suggested that it's an easy problem to solve. So they opted for other ways to describe these areas like "food swamp" or "food apartheid," suggesting that food that is accessible in low-income areas isn't nutrient-dense, and that there is a divide in who has access to healthy food.
"We are interested in something different. It's not just the raw calories, but the nutrient-dense part of it," Robinson said.
Robinson and Talley "are giving people in their communities an opportunity to have firsthand experiences in growing food and to feel a sense of ownership," Baszile said. "They are telling [the Black community] that you are worthy of healthy food and you deserve better — for young people to understand that they deserve better."
The idea of the American farmer is changing to include Black and Brown men and women through the work of Baszile, Robinson and Talley.
"I would like to see a reconnection of urban to rural communities and create an economy around it, so it's economically sustainable," Robinson said. "We need that story and history and knowledge."