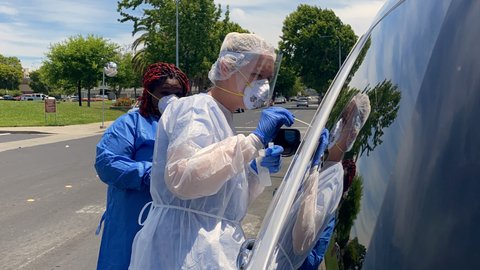 27 Dec

Appointments Needed for COVID-19 Tests Through CCHS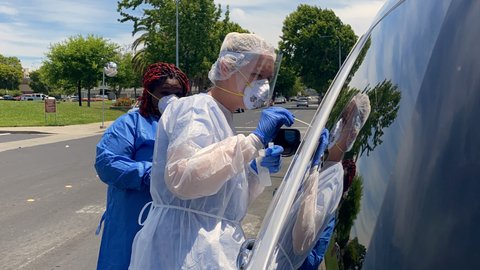 Medical professionals conduct COVID-19 tests in June 2020 at a drive-through site that has since closed. Now, walkup appointments are available by appointment in Richmond in Civic Center Plaza. (Denis Perez-Bravo / Richmond Pulse file)
By Michael J. Fitzgerald
A sharp increase in demand for COVID-19 tests through Contra Costa Health Services has prompted the agency to require appointments at its Richmond and San Ramon clinics.
The clinics are located at the Richmond Memorial Auditorium, or 403 Civic Center Plaza, and at 2600 Camino Ramon in San Ramon. Both sites are open only to people who live or work in Contra Costa County.
CCHS previously offered the tests without appointments.
Appointments can be scheduled online or by telephone at 1-833-829-2626 or 844-421-0804. Testing is available at state-operated clinics in Antioch, Brentwood, Pleasant Hill and San Pablo as well. Those appointments are also available online or by calling 1-833-829-2626.
A vehicle is required for the drive-through San Ramon site, while the rest are accessible to people without cars. People under the age of 12 need parental or guardian consent to get tested.
>>>Read: Omicron Variant Prompts Officials to Urge Vaccinations & Boosters
In announcing the appointment requirement, CCHS said other community healthcare providers might also offer testing services to patients and members.
As part of continuing COVID-19 testing efforts, CCHS distributed approximately 14,000 no-cost rapid antigen test kits in the community through county supervisors' district offices, community-based organizations, testing sites and other venues. CCHS officials said they expect to distribute a similar number of home test kits from the California Department of Public Health this week.
Home test kits are also available for sale at some drugstores and commercial sites, they said.
The county- and state-run sites will be closed New Year's Eve, New Year's Day and Martin Luther King Jr. Day.
For more information, including site locations and hours, visit coronavirus.cchealth.org/get-tested.