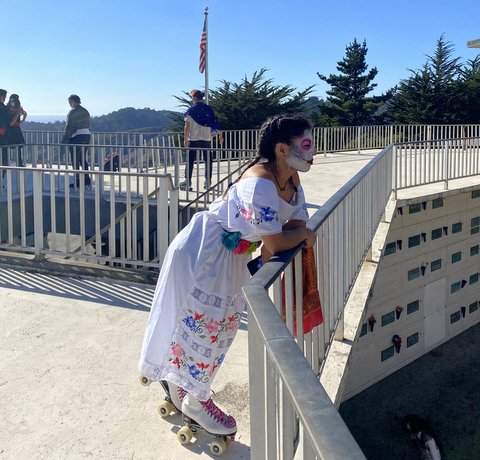 30 Dec

This Year Was a Fever Dream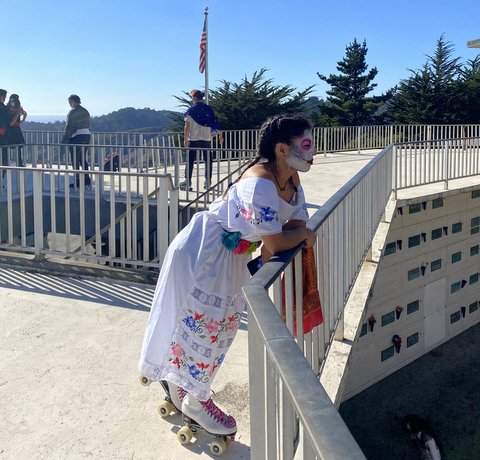 Roller-skating and celebrating her Mexican roots helped writer Maria Bernal navigate the hope, fear and surreality she felt amid the heightened stress of our new normal in 2021. (File photo by Yenny Garcia)
Commentary, Maria Fernanda Bernal
It's been two years since the start of our new normal, but my perception of time has been altered by the pandemic.
Like many families, mine took an economic hit during the pandemic. We had to be careful about what we bought and stretch to make supplies last. There is a shock that comes with worrying about having a home or enough to eat. Time starts moving differently in heightened states of stress.
As spaces slowly began to reopen and it looked like the economy was recovering, financial security finally seemed possible, at least in small portions. Those of us who have survived the pandemic are fortunate, but it is in our survival that we witness the loss of others, helpless.
My birthday came in a blink. It is an honor to get older, but quarantine and mask regulations have continued to make daily life feel surreal.
A week after my 24th birthday, I received a call from UC Berkeley. I had been accepted to the Graduate School of Journalism, and it still was not known whether classes would be held in person. It doesn't seem like it was that long since I finished undergrad.
My initial reaction was to celebrate, but after those emotions settled I felt fear. I would be the first in my family to get their master's. Education has always been a ticket to freedom, and that rang true louder than ever before.
I feared becoming a sell-out. I feared microaggressions. I feared losing out on an opportunity like this.
Opportunities do exist for me as a brown woman from a low-income immigrant family. But they are scarce. This education could help me get a job that could help me provide for my family.
In April, I hosted my first radio piece for KALW on Richmond's underground food scene. Hearing my work on the air, highlighting Richmond's beauty, felt so good.
>>>Read: Pandemic, Social Media Give Home Food Businesses a Boost
The news about Richmond is not always positive, of course, but this piece gave me hope that I could help change Richmond's narrative. It is a multifaceted city, and the news should reflect that.
In May, I got my second Pfizer vaccine dose. I didn't have any symptoms after the first shot, so I had planned to go to the beach after getting the second. But I became progressively sicker as I got closer to the destination. I had a fever and cut the trip short because all I wanted to do is lie in my bed to rest.
Now, having gotten the COVID-19 vaccine, I feel safer going out and interviewing people in person. My family has not gotten sick, so my symptoms were worth it.
I spent my sun-soaked summer skating in Oakland and Richmond. Sitting by Lake Merritt, watching flamboyant and free-spirited people glide through the boathouse parking lot on their eight wheels was like a dream. The snap of a fan opening on cue as the funky bass played elevated the feeling of freedom the summer provided.
Roller-skating brings me joy. Especially because I am part of a skating community that is loving and inspiring. And skating helps me express my joy.
I have noticed an uptick of roller skaters, and although this may be a temporary way to pass the time for some, I see myself continuing build community with others who find joy through roller-skating.
On Aug. 7, I won a contest by the Mexican Radio Institute for a podcast I made about the immigrant experience in the U.S during the 21st century. Awards have never crossed my mind. I do my work to help bring justice to underrepresented communities — and to pay my bills. It's my first time receiving an award as a journalist, and it was an honor to have it come from Mexico. The podcast I made was in Spanish, which meant my family in Mexico could finally understand my work. For those three minutes, I was in their living room, sharing a glimpse of what my life has been like since leaving Mexico.
>>>Read: 'My Life Feels Like a Subscription': An Immigrant's Story
A week after my immigrant experience was broadcast in 19 Mexican states, I started my first week of graduate school. I had visited the UC Berkeley campus several times as a teenager, and I again felt like one on my first day — giddy and optimistic about my future.
In September, I was featured on KPIX's Students Rising Above segment, in part for producing hyperlocal news in Richmond. The semester was also starting to pick up steam. Working next to like-minded and talented individuals was impressive and reassuring, a reminder of my place at school.
On Nov. 19, Kyle Rittenhouse was acquitted of all charges after killing two people. I was touring KQED, considering my future, when I heard the news. It seemed to echo in every chamber of the building as I was trying to decide whether I could see myself in that workspace. Seeing people of color working there — and elsewhere in journalism — makes me hopeful for the news media's future. I want to be a part of that, so I accepted KQED's offer and will intern there next year.
>>>Read: 2021 Was More of the Same, But Creativity Carried Me Through
This year was a long fever dream, a long symptom of COVID-19. It is a privilege to grow older and it was a privilege to have lived through this year even as difficult as it could be. The omicron variant brings threats that 2020 could repeat itself and a reminder that the present is precious.