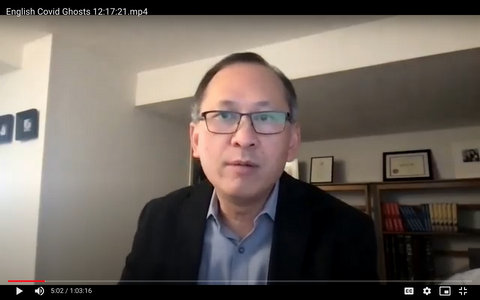 10 Jan

'Don't Underestimate Omicron,' Virologist Says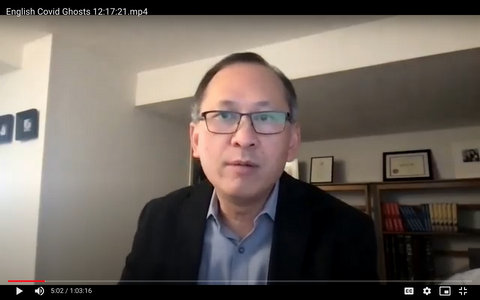 "More Americans have died from this pandemic in two years than died in all the wars of the last 120 years, including World War I and World War II," said Dr. Tung Nguyen of UCSF during an Ethnic Media Services briefing. (Screenshot captured by Danielle Parenteau-Decker / Richmond Pulse)
By Danielle Parenteau-Decker
The omicron variant is driving the number of COVID-19 cases back up, a result of vaccine inequity, misinformation and a false sense of security, a panel of medical experts says.
Three medical doctors, a virologist and a health access advocate addressed this increase and its causes during a press teleconference Dec. 17 sponsored by Ethnic Media Services. "The Ghosts of COVID: Past, Present and Future" provided an overview of the last year of the pandemic and where we are now.
"We're almost at the two-year mark of the COVID-19 pandemic, and … we're a long way from the end," said Dr. Tung Nguyen, professor of medicine and endowed chair of internal medicine at UCSF.
After vaccines became slowly available in December 2020 and eventually more accessible in 2021, it seemed the end of the pandemic was in sight. Cases, hospitalizations and deaths dropped. Officials relaxed masking and distancing requirements.
"By February of 2021, COVID cases in the U.S. plummeted," said Dr. Dali Fan, a UC Davis health science clinical professor.
Then, came the variants — most notably, delta and omicron.
There have been reports that the omicron of COVID-19 variant may be more easily transmissible than prior versions of the coronavirus but cause less serious illness. But Dr. Ben Neuman, chief virologist at the Global Health Research Complex at Texas A&M University, disagrees.
"Any reports — however hopeful — that predict omicron is going to be mild fly in the face of the science of what we know," he said. "Do not underestimate omicron."
Along with the two variants has come an increase in the death toll.
"There have been more deaths from COVID after the first vaccine was introduced than before, and that is a statistic that shows us how deep the problem of vaccine inequity has been," said Peter Maybarduk, director of Public Citizen's Global Access to Medicines program.
About 60.8% of the global population has received at least one dose of a COVID-19 vaccine as of Jan. 10, according to the New York Times. In 21 countries, however, the percentage of people who have gotten even one dose is in the single digits.
Maybarduk said these countries are concentrated in sub-Saharan Africa. Only Haiti and Papua New Guinea are located outside that region.
COVAX, a global vaccine equity initiative backed by the World Health Organization, originally sought to deliver 2 billion doses to people in low and middle-income countries by the end of 2021, according to Maybarduk.
He said it was a "modest goal" that was nowhere near being reached.
But vaccines are being distributed.
The U.S. leads in donating vaccines to other countries, Maybarduk says. China leads overall in international distribution. India and Europe have also distributed many doses abroad.
But the issue isn't just whether countries are getting vaccine doses; it's what they're getting.
"Not all vaccines are created equal," Maybarduk said. "The reality is that poor countries are more likely to receive poor vaccines, something that is going to have increasingly serious consequences as we get deeper into the pandemic."
This global inequity is a big part of why medical professionals were debating who should get booster shots back in October.
"Everyone should be getting a booster vaccine," if they're eligible, Nguyen said.
Nguyen said far more people may be eligible than realize it. His comment came in response to a question that suggested booster shots are only for people 65 and up.
All adults who have received the Pfizer, Moderna or Johnson & Johnson/Janssen vaccine can get a booster shot a certain amount of time after getting their initial doses. Some younger people are eligible as well.
At the time of the briefing, the minimum age to get a booster was 16. But on Jan. 6, the Centers for Disease Control and Prevention expanded its recommendations to include people aged 12-15 who have gotten the Pfizer vaccine.
The increased push for vaccinations is meant to keep cases under control.
"The more cases we have, the more the virus can mutate, and the more mutations there are, the more likely that one will come that escapes the current vaccines and treatment," Nguyen said.
Reports of breakthrough cases might make it seem the vaccine isn't doing its job, but it does make a difference, medical experts say.
Nguyen said that as of October unvaccinated people were five times more likely to contract COVID-19 — and 13 times more likely to die because of it — than fully vaccinated people.
Neuman said that the increase in cases and deaths could be partly attributed to political and policy decisions and the term "fully vaccinated."
"I think that gives a false sense of security," he said. "People who think that the vaccine is enough of a shield or that prior infection is enough of a shield to protect them are finding out that that is not always the case."
Fan said misinformation is also largely to blame.
He said that fear of the vaccine and the desire for a 100% guarantee of safety open "a lot of doors for misinformation."
"Some of them are just lies," he said. "There are no computer chips inside this injection, and they don't change your genetic material."
But some of the misinformation is rooted in "answers we don't have," he said. That includes how effective the vaccines will be against variants down the line or what effects they might have decades into the future.
Some people don't want to get the vaccine because they think it wasn't tested enough, that the government manipulated the test data or that it was developed for politicians' and pharmaceutical companies' benefit.
"Sometimes arguing with them is counterproductive," Fan said. "People believe what they want to believe."
Dr. Roshni Matthew, a clinical assistant professor at Stanford Children's Health, offered a reminder to persons skeptical of the safety or effectiveness of vaccines.
"We now have real-world experience with millions of people already vaccinated," she said. "Overall, vaccines have been found to be safe and very effective at preventing hospitalizations and death from COVID."
"The overall proportion of pediatric cases has increased recently compared to earlier in the pandemic, and that could be explained by the fact that the vaccine approvals occurred earlier for adults," Matthew said.
Some parents hesitate to vaccinate their children because they worry the research and development was rushed. But Matthew tells them no steps needed for vaccine approval were skipped.
"What happened is all the resources in terms of scientific knowledge, human resources, finances, everything got pulled together to make many of these processes happen simultaneously," she said.
In the roughly two years of this pandemic, more than 800,000 people in the U.S. have died from COVID-19.
"More Americans have died from this pandemic in two years than died in all the wars of the last 120 years, including World War I and World War II," Nguyen said.
Beyond that, millions of people have survived COVID, but "they're not out of the woods," he continued. And Maybarduk said that the numbers of people around the world who have died not just directly from COVID-19 but also because of problems caused by the pandemic "are staggeringly high."
Fan said that his main concern in 2022 is not the virus itself but its consequences.
"It generates school shutdowns, travel restrictions, societal consequences, other kind of diseases not being treated properly," he said
Medical experts agree the best way to prevent any of these consequences is simple: Everyone who is eligible needs to get vaccinated and get their booster shot.
People who live or work in Contra Costa County can visit the county Health Services' Get Vaccinated page for more information.