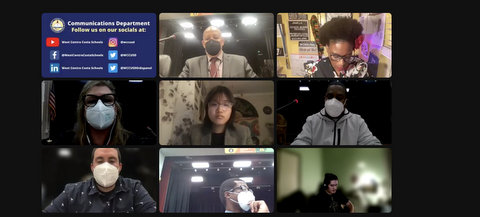 14 Jan

Students and Teachers Express Concern Over District's Handling of Omicron Surge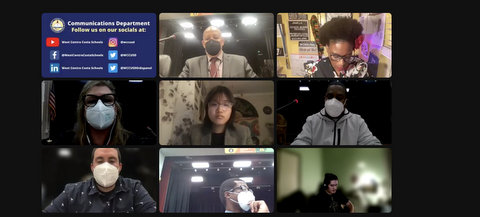 The West Contra Costa Board of Education met Thursday to discuss the district's response to the COVID-19 surge caused by the omicron variant. (Screenshot captured by Julia Métraux / Richmond Pulse)
By Julia Métraux
The West Contra Costa Board of Education convened Thursday to discuss the contingency plans district schools can take during the surge of the omicron COVID-19 variant.
Proceeding WCCUSD superintendent Kenneth "Chris" Hurst's presentation with other members of the central office, the board listened to concerned members of the public who spoke for nearly three hours about how the district has been approaching surges. At its peak, over 700 people attended the meeting over Zoom.
Previously, the district declared Jan. 7 and Monday "smoke days," closing schools to students and staff alike, due to safety concerns related to the surge.
Many teachers expressed disapproval of the possibility that students could be moved around to different classrooms due to teacher and student absences caused by COVID-19. They voiced concerns over safety and the emotional disruption it may cause.
"I work hard to create a culture of learning, collaboration and mutual respect, and I am proud of the way they work together," Verde Elementary School teacher and United Teachers of Richmond elementary director Gabrielle Micheletti said. "If you sit up here suggesting we collapsed classes or involuntarily reassigned teachers away from the communities we have built, how [does] this best serve our students and their needs?"
Hurst later said that collapsing classrooms and reassigning teachers was a possibility but not a final decision.
United Teachers of Richmond Vice President Francisco Ortiz also encouraged the board to implement weekly testing that everyone would sign up for and could opt out of, rather than the other way around.
"Our students are calling for weekly mandated testing because they know that students are coming in symptomatic, and they're scared to bring it back home to their families," Ortiz said. "KN95 for everyone on campus and having remote temporary options in case of outbreaks and mandatory weekly testing is what we need to keep our students safe and our schools open."
KN95 masks are now being given once a week to teachers on campus but not students, according to Hurst. COVID-19 testing procedures are listed by school on WCCUSD's website.
A handful of high school students also said they are worried about the lack of precautions taken to make schools safer.
"There's rarely any soap in the bathroom to wash our hands," Hercules High School student Jordan Daniel said. "I don't feel safe, and my fellow peers don't feel safe either, and most teachers aren't even at my school, so we end up being in the cafeteria or the gym."
Independent Learning Opportunities For Concerned Families
In the presentation on contingency plans, WCCUSD chief academic officer and associate superintendent LaResha Martin said that current California law does not allow the district to offer distance learning as it did during the 2020-21 school year for all schools. Vista High's Virtual Academy is an exception to this among WCCUSD schools.
"Virtual learning can only be offered through independent study and families must choose to participate in the program," Martin said. "So students cannot be placed in independent study without parents signing a contract."
Form J-13A, or the Request for Allowance of Attendance Due to Emergency Conditions, protects schools from losing funding if their attendance is affected by extraordinary circumstances, like fires or earthquakes. Many schools will not qualify for J-13A this academic year due to COVID-19, except in limited scenarios outlined by the California Department of Education.
WCCUSD would be able to offer virtual learning, however, if there was a relevant state or local health order.
"[With] the absence of a state or local health order, LEAs [Local Educational Agency] do not have the explicit authority to shift to virtual learning, outside of the independent study statute," Martin said.
While the options for remote learning right now are limited, Martin said that she did not want to minimize the effects of the surge.
"I want to acknowledge that our teachers, our staff, our community, we are definitely experiencing the surge, not only at school sites but at the central office as well," she said.
As the Pulse previously reported, the board voted before winter break to delay a vaccine mandate. Students 12 and up now have until Feb. 18 to get vaccinated against COVID-19 to continue attending school in person.