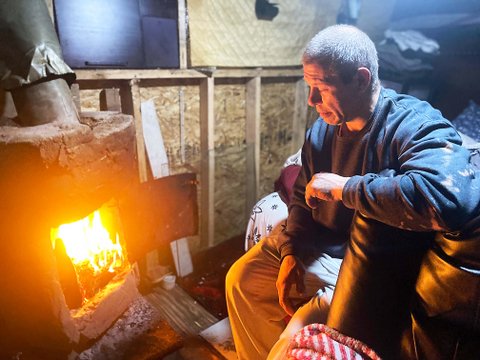 30 Jan

Unhoused Narratives: Hoping for Better Days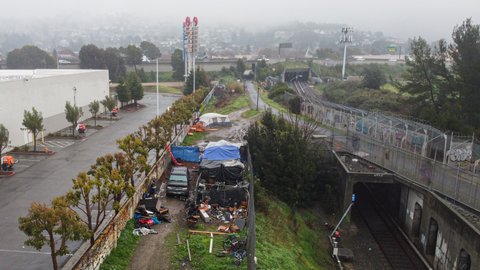 Makeshift shelters line the Richmond Greenway Trail by Target.
Story and photos by Denis Perez-Bravo
Unhoused Richmond residents on the Richmond Greenway Trail adjacent to Target opened their homes to share the struggles they have been facing and their hopes for the new year.
As a cloudy and cold morning kept people inside their makeshift shelters, the sounds of vehicles passing on the freeway, BART and shopping carts surrounded the area.
On the grassy and dirt areas, multiple structures and tents have been erected alongside the pavement trail.
Here, the neighbors know each other, for the most part. Most know each other by name. They say they interact regularly and don't have problems with each other.
It is a community unseen and unknown by many, and this is what they shared.
One Day at A Time
Cecil Martinez, 40, has only one goal he aims for every day – staying alive.
"I just try my hardest to f— survive," Martinez said. He has been homeless on and off for six years.
He doesn't hope for much in 2022, but he does hope city and CalTrans workers will leave him be.
Martinez spent some time in jail last year, and when he got out, found his previous makeshift shelter had been torn down. He was unsure if it was the city or CalTrans that took apart his home, but it didn't matter. The only thing on his mind was getting to work and building a new one.
With a lot of experience in construction, specifically in roofing and flooring, he scouted a location.
With the help of his dad, they laid out the foundation, placed floor boards and put up walls for a structure on the trail. Inside, Martinez installed a sink and a small free-standing stove. On the roof, solar panels were installed. And to keep him warm when temperatures drop, he built a brick mortar oven and chimney that he burns wood in.
>>>Read: Q&A: Homeless During a Coronavirus Christmas
He has lived in the makeshift shack for five months now.
For income, Martinez receives disability benefits, but he says he doesn't want any other help from the government.
"I'm born and raised here, you know. I love my town, but I don't ask for help," Martinez said as he smoked a cigarette he had just rolled. "I got my bathtub right there and my shower right there."
He lives alone, but he has family in the area.
A remorseful tone echoes inside the four walls he built up as he talks about his six daughters. His relationships with them are strained because of his life choices.
His father abused drugs and alcohol, putting Martinez in a traumatic cycle he carried over into his own parenthood. The grasp drugs and alcohol had on him pushed loved ones away.
"My dad was worse than I was," Martinez said. "I try to be calm."
But Martinez's mental demons have a strong grip, and while he does his best to handle meeting his basic survival needs, he said he feels like his mental stability is always under attack.
At one point in his life, he would have turned to drugs and alcohol to drown out the mental health issues he would go through, but now he sits by his fireplace and thinks.
Depression penetrates the hardest of emotional shells like his, he said. But to his favor, he understands his situation. Making the best of what he has, he accepts how he lives with dignity.
Asked how he keeps himself from falling into depression, he said, "That is a trick question.
"You either live through it or you let yourself die," Martinez continued. "I've been struggling since I was born, but I mean, I just keep on."
***
Hope for Better Days
Jaime Rodriguez, 36, hopes to find consistent work as a mechanic and have a better year financially and personally. That includes getting closer to his 11-year-old son and his 14-year-old daughter.
Jaime Rodriguez stands in front of his home on the Richmond Greenway Trail where he has been living for two years.
Since being let go from his job as a mechanic in a shop as part of layoffs caused by COVID-19, he has been working as a handyman.
But losing his job doesn't compare to the sadness caused by being distant from his kids because of his living conditions.
His son used to visit him at the encampment, but that soon stopped because of the condition of the shack he lives in, he said.
Not being able to be visited by his kids is constant motivation to move into an RV or other more stable home.
"Most of the time, we tend to back away from family because you start feeling you aren't worth much anymore," Rodriguez said.
>>>Read: 'It's Scary': Unhoused Richmond Women on Life in the Pandemic
The last thing he wants to do is become complacent with what he has. The small wooden shack Rodriguez and his girlfriend share has a kitchen, living room and bedroom. Multiple tarps hang overhead to keep out the rain.
Jaime Rodriguez's girlfriend sleeps on a bed in their makeshift shack on the Richmond Greenway Trail.
Rodriguez, who is undocumented, was brought to the U.S. when he was 12 years old. He said conditions in the part of El Salvador he is from were similar to how he lives now.
"I don't want to live like this anymore," he said.
Rodriguez was homeless but doing well professionally when he was working as a mechanic in a tire shop in 2020. Then, he was let go due to changes caused by COVID-19. Ever since, he has tried to work in any labor jobs he can find.
"I've always worked my whole life, but lately I haven't found work because of COVID-19," Rodriguez said.
He has gotten odd jobs as a handyman, but he is still looking for a position as a mechanic.
He dreams of working on army vehicles or other large vehicles. To do so, he knows he needs more training or to take classes.
Jaime Rodriguez, who wants to return to working as a mechanic, keeps tools and parts such as this engine behind his home.
As he sat in his furnished living room area, his face lit up as he learned that Contra Costa College offers mechanical classes in its automotive service technician program.
If he could easily take these classes, he would, he said. But he struggled with the idea of tuition, needed materials and buying textbooks.
The time he has and the money he earns is spent on needs for his home. Recently, he had to purchase a new generator to replace a broken one. And if the tarp covering ever rips, it won't be cheap to replace it, he said.
"Everything is hard," Rodriguez said about his living conditions.
He looks around, then puts his head down. He places one of his hands on his forehead and rubs it side to side.
He talks calmly in a low voice.
"I want to do better," Rodriguez said.
***
Banding Together
This year, 40-year old Michael C., who declined to give his last name, hopes to lend a helping hand to his neighbors in an effort to empower the community around him.
"I'm gradually trying to make sure that I help and bring people up with me," Michael said.
He lives in an RV at the vehicle encampment on Rydin Road in Richmond. He visits friends at the Richmond Greenway encampment as he tries to stay connected to the community.
At both encampments, Michael said he meets people who are talented in different trades and crafts.
>>>Read: Q&A: 'We Need to Now Build New Approaches to Homelessness'
Michael said the unhoused residents' skills and knowledge could be used as a solution to the problems around them and suggested the city take note.
"I know there are more people out here that I'm willing to bring together," Michael said.
Michael worked as a hazardous waste technician five years ago but was let go, he said. Soon after, financial problems forced him out of a conventional home.
Michael C. poses for a picture with his back turned to the camera. He says the city should put unhoused residents' skills and knowledge to use. He, for one, has expertise in hazardous waste management.
Being privy to hazardous waste mismanagement and its consequences, he tries to raise awareness on hazardous materials and how to dispose of them properly at the Richmond Greenway and Rydin Road encampments. Michael says he would be an asset to city crews that tackle waste management. He just needs to be given a chance
"Bring me in a crew out here. We could sort this all out," he said.
Michael does not want to be rescued; he just needs something to pull himself up with, he said.
"The first step is to stand up and look in the mirror and say, 'Hey, I need to be a better me.' That's, that's real. That's honest, man," he said. "And then you need to go find yourself a job."
Although, without proper toiletries, clothes, housing, transportation, identification, paperwork and other possible hurdles for the unhoused worker, a minimum wage job or under-the-table and underpaid labor work are the most attainable.
Even with steady income, it can be impossible for some to afford to rent an apartment by themselves. In fact, a household earning $64,000 or less can't afford the median apartment rent in any neighborhood in the Bay Area, the Mercury News reported.
"A lot of people do have jobs out here," Michael said as he looked around at the different homes that line the Richmond Greenway. "They're still homeless though, because they can't afford [rent]."
Richmond had the most unhoused residents in Contra Costa County, according to the 2020 Point in Time Count. Unhoused people set up camp in almost every Richmond neighborhood.
He said the rigged economic system quickly benefits the upper class, and the possibility for unhoused low-income people to escape a lifetime of economic oppression is rapidly fading.
That is why the most immediate solution Michael has for himself and his community is to band together, share knowledge and pick each other up.