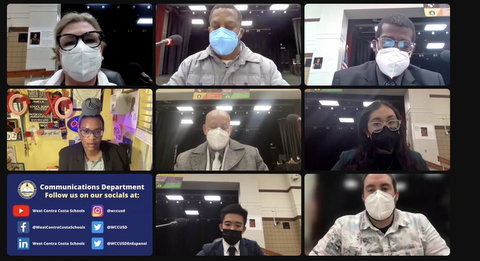 03 Feb

WCCUSD Still Not Ready to Meet Student Vaccine Mandate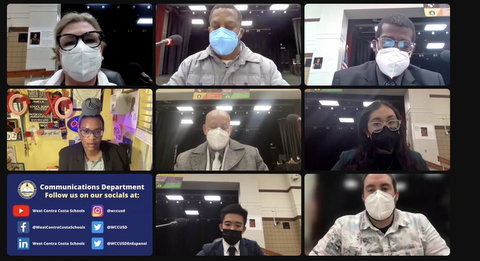 The district COVID-19 vaccine requirement and the election of board president Otheree Christian were addressed at Wednesday's school board meeting. (Screenshot captured by Julia Métraux / Richmond Pulse)
By Julia Métraux
The West Contra Costa Board of Education unanimously voted to temporarily suspend the Feb. 18 deadline for students 12 and older to be fully vaccinated against COVID-19.
West Contra Costa Unified School District superintendent Kenneth "Chris" Hurst will bring new COVID-19 vaccine implementation plans to the next meeting Feb 16.
Hurst had brought a recommendation to the board that the trustees move the deadline to submit proof of COVID-19 vaccination to July 30. The school board also entertained motions that would move the deadline to March 1, April 1 or a time at the superintendent's discretion.
According to Contra Costa Health Services, nearly 90% of people ages 12 to 15 are fully vaccinated against COVID-19 and over 90% of people ages 16 to 19 are fully vaccinated in the county. But less than 60% of WCCUSD students 12 and older have submitted proof of vaccination against COVID-19
Trustee Leslie Reckler asked Hurst if the district could frame this issue as an issue with getting proof of COVID-19 vaccination, rather than a vaccination issue due to data from the county showing that students are getting vaccinated. Hurst said they could, and different strategies to get proof of COVID-19 vaccination into the district's secure portal were also discussed.
"For the high school students, they discussed doing it during homeroom to ensure that students knew so if they bought their vax card, they would actually give them time …   to actually upload themselves," WCCUSD chief academic officer and associate superintendent LaResha Martin said.
Clerk Demetrio Gonzalez Hoy had action items related to reconsidering the board's prior decision to completely open schools removed from the meeting agenda. Gonzalez Hoy said that these motions were never about closing schools again.
"E1 and E2 were about providing flexibility to staff to be able to implement stronger safeguards around COVID in our schools," Gonzalez Hoy said. "It seems like we're already doing that through the work the superintendent, staff, [United Teachers of Richmond] and our unions are doing, which is why we decided to pull it."
The United Teachers of Richmond reached a tentative agreement with the district Monday to avoid a strike, which included KN95 masks provided daily for all students and staff, weekly testing at all school sites for the rest of the school year, and increased pay for substitute teachers.
After Gonzalez Hoy pulled those action items, trustee Jamela Smith-Folds, student trustee Angelica Flores, and student trustee Martin Leung voted against approving the schedule for the evening. Voting against the approval of the schedule for West Contra Costa Board of Education meetings is unusual.
Legal Opinion of the Election of Board President Otheree Christian 
On Jan. 26, the board instructed Hurst to get an opinion from legal counsel on whether or not district policy was followed in the Dec. 15 election of Otheree Christian as board president. Many people who have called in during public comment since the election have said the board violated its policies by not elevating then-clerk Smith-Folds to the role of president.
In a letter published on the online agenda, lawyer Harold M. Freiman said that while it is policy to elevate the clerk to the role of president, except under extenuating circumstances, the board has the discretion to elect someone else.
"I'm influenced by the fact that the board does ultimately have the discretion," Freiman said during the meeting. "I also just note that it doesn't state that you have to indicate that it's an unusual or exceptional case."
During the meeting, different members of the board argued about what role trustees should play. Trustee Mister Phillips repeatedly said they should follow the advice of Hurst, while Smith-Folds said that varying opinions from trustees are valuable. Gonzalez Hoy raised concern that toxic divisions within the board are visible to the public, and it affects their working relationship with each other.
"I think that our division is not going to change soon until we start understanding why we do what we do," Gonzalez Hoy said. "It saddens me that I feel like we have to address this, but it feels like over time, we can't work together."