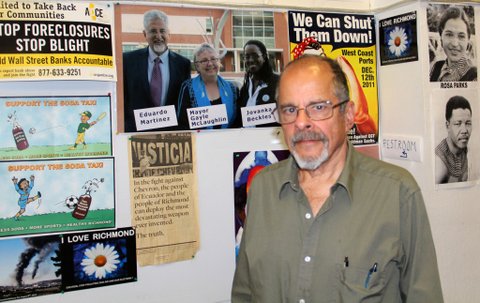 06 Feb

Q&A: Gayle McLaughlin Remembers Mike Parker, 'A Lifelong Progressive Activist'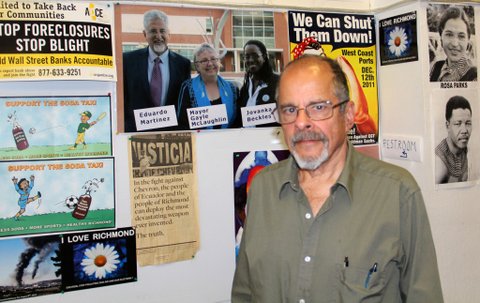 Mike Parker, seen in 2014 during his run for mayor of Richmond, was a member of the Richmond Progressive Alliance along with the also-pictured Eduardo Martinez, Gayle McLaughlin and Jovanka Beckles. Parker died Jan. 15. (Richmond Confidential file photo)
Interview, Malcolm Marshall
Editor's note: Mike Parker, former Richmond Progressive Alliance campaign coordinator and one-time Richmond mayoral candidate, died Jan. 15 from pancreatic cancer. He was 81. Parker was a longtime union activist, a teacher and an electrician. A socialist, he devoted much of his life to social justice and political change. Parker co-authored four books including "Democracy Is Power: Rebuilding Unions from the Bottom Up," a blueprint for building a member-driven union. He was a mentor to countless activists in the Bay Area and beyond. 
Former Richmond mayor, current City Council member and RPA co-founder Gayle McLaughlin spoke with Richmond Pulse's Malcolm Marshall about Parker's many legacies. This interview has been lightly edited.
Richmond Pulse: When did you first meet Mike Parker and what were your initial impressions of him?  
Gayle McLaughlin: The first time I met Mike one-on-one was in 2008 when he started to work on Jeff Ritterman's campaign for City Council.  My impression was that he was a long-time committed activist eager to play a sound and strong role in our Richmond progressive movement.
RP: How did he influence your political career?
GM: By the time Mike got actively involved in our Richmond progressive movement, the RPA had already been operating for five years. We founded the organization in 2003 and Mike got involved in 2008. During those initial five years of developing the RPA, those of us who were co-founders worked hard to launch a new progressive organization and began the long march, along with other organizations, to a progressive Richmond.  We drew up a mission statement and a set of principles — including, and especially, the principle of not taking corporate money for campaigns — as well as platform ideas, policies and intended directions.  By the time Mike got involved, I had already been elected first as a council member [in 2004] and then as mayor [in 2006]. I had been a lifelong progressive political activist as well, so my political direction and ideas had already been solidly cemented in my consciousness prior to Mike's involvement in RPA.  But, of course, he greatly augmented the work we were undertaking in Richmond in so many ways.
RP: How do you think he changed Richmond politics?
GM: Mike got involved in 2008 and jumped in with both feet.  While we had already built relationships with Communities for a Better Environment, Laotian Organizing Project/Asian Pacific Environmental Network, Alliance of Californians for Community Empowerment, West County Toxics Coalition, North Richmond Shoreline Open Space Alliance, Service Employees International Union, and many other groups, Mike augmented all this work and also brought in new connections, particularly many additional labor connections. He was a strong intellect and helped with strategizing and policy positions, and also helped with fundraising efforts.  He also helped further the RPA organization with outreach and regrouping efforts. His role in the RPA, alongside many of us who were continuing the work, was exceptional.
RP: Did Mike regret dropping out of the mayor's race in 2014? (Stepping aside to give Tom Butt a clearer shot to become mayor)
GM: That's an interesting question. I don't know what Mike's feelings were on that.  But I can tell you that I personally wish he wouldn't have dropped out.
RP: What was your last conversation with Mike?
GM: The last time I spoke in person with Mike was at the 2021 Juneteenth celebration.  It was great to see him, and we shared words of support for our mutual ongoing efforts to build a better Richmond. He was feeling strong due to a new treatment, and I was glad he was able to continue to play a role in Richmond politics even with his diagnosis. I had a few additional connections with him by Zoom and email over the months that followed and greatly appreciated the many times he spoke at council meetings through last year.
RP: What do you think is Mike's legacy and how will you remember him?
GM: I would say Mike's legacy is that of a lifelong progressive activist. Up until the day he died, his commitment to progressive change remained solid and unwavering. I personally believe his work to build a bottom-up U.S. labor movement is his greatest legacy. His contributions to helping us further advance a progressive movement in Richmond, in connection with a grassroots U.S. labor movement, helped energize and advance us all.
RP: Is there anything else you want people to remember about Mike? 
GM: I would only add that Mike was also a loving family man. He and his wife, Margaret Jordan, a strong activist in her own right, who passed on in 2019, loved each other dearly and even as they both were dedicated to the political work, they were also deeply committed to family. They adored and loved spending time with their daughter, Johanna, who was obviously a profound joy to them both.