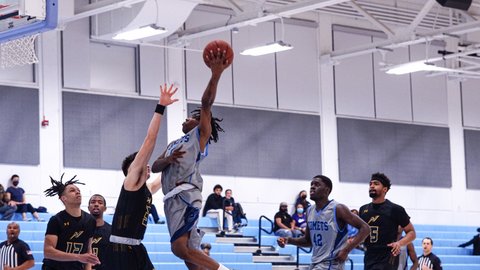 08 Feb

Contra Costa College Basketball: Fighting for First or Fighting to the End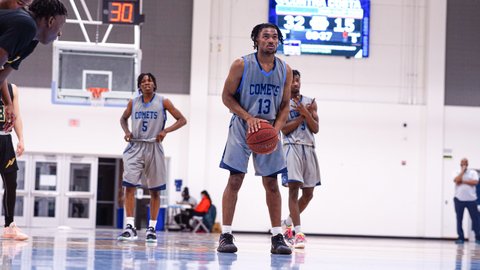 Miles Lewis, preparing to shoot a free throw Jan. 26 against Napa Valley College, leads Contra Costa College in scoring with an average of 15.3 points per game. Through Monday, the Comets are tied for first in the Bay Valley Conference.
Story and photos by Denis Perez-Bravo
Under the bright lights of the new Contra Costa College gymnasium, the men's and women's basketball teams prepare to finish their first full seasons since before the COVID-19 pandemic began.
A promising season for the men's team reaches its final stretch, while the women's team looks to set a foundation to build on next year.
But for both teams, the last month of the season comes with tough games and high expectations.
"Here at Contra Costa, we play hard and we always try to put on a show for the fans. We want everybody to come out and show love," Contra Costa men's guard Seneca Willoughby said.
MEN'S
Seneca Willoughby watches fellow guard Prime Payton go to take a corner shot after passing him the ball during the Comets' eventual 96-63 win Jan. 26 against Napa Valley at home.
As of Monday night, Contra Costa is tied atop the Bay Valley Conference with Yuba College, a team it beat 75-74 on the road Jan. 31. At the time, Yuba held first place.
Both teams are 8-2 in the conference. Overall, the Comets are 16-4 with five games left to play.
"We are winning everything," Willoughby said.
He is pushing his team to stamp their season record among the best in school history. Like most of his teammates, Willoughby is a freshman. The lone exception on the 15-man squad is guard John Wade II.
Since 1999-00, Contra Costa's best season came in 2015-16 when it finished 11-1 in conference play and 25-8 overall, according to the CCCAASports.org archives. (Final standings were not given for the 2004-05 and 2011-12 seasons.)
The Comets could best those marks if all goes well against their remaining opponents. Contra Costa would finish 13-2 in the conference and 21-4 overall if it wins every game from here on out, though that is much easier said than done.
Contra Costa guard Jakarri Lindsey goes for a layup during the Comets' 96-63 win against Napa Valley College on Jan. 26 at Contra Costa's gym.
Even still, the Comets seem set for a major improvement over 2019-20. Then, Contra Costa's record was 3-13 in the conference and 6-22 overall when the coronavirus put an end to the season.
Willoughby said his team has the talent to finish this season strong, though.
"We are a bunch of young guys, and I am at the head of it, trying to lead my team," he said. "We have exceeded what was expected, so now we are just trying to win."
The conference-leading Contra Costa and Yuba will face off 7:30 p.m. Friday at the Comets' gym.
WOMEN'S
Contra Costa guard Sucareiana Daniels, left, celebrates as forward Ashanti Stricklen makes a three-pointer during the Comets' 47-40 win over Napa Valley on Jan. 26.
Local high school graduates have kept the Contra Costa College women's basketball program active as Keith Allison finishes off his second year as head coach.
When Paul DeBolt left in 2016 after 30 seasons, he was then the only head coach in the program's history. The team has undergone several changes in coaching staff since.
And the Comets' records have reflected that.
They finished the 2015-16 season atop the Bay Valley Conference and have gone steeply downhill since.
Since 2017-18, the most wins they had in a season was three.
This season, the all-freshman team lost its first six games.
Promisingly, the Comets have begun to turn things around, despite being at a distinct disadvantage.
As the season has worn on, the roster has thinned out because of injuries and players simply dropping the team.
"We started with 13 people on the roster, and then we went down to seven quick," forward Ashanti Stricklen said.
Now, Contra Costa is down to the bare minimum — just five players.
From the final seven, one player is out of the country visiting family and another is injured.
The five women remaining now have to step up and play every minute of every game. If one of them had to leave with an injury or fouled out, Contra Costa would have to forfeit the match.
"So now we just got five. So that's all we got; that's all we all need," Stricklen said, referring to the athletic program motto at Kennedy High, where she and guard Sucareiana Daniels graduated from.
Contra Costa head coach Keith Allison shouts to his players during their 47-40 win against Napa Valley College on Jan. 26 at Contra Costa's gym.
The Comets finally got their first win Jan. 24, kicking off a 4-1 stretch. That fourth win came Monday with a 44-35 victory at home over Los Medanos. That makes Contra Costa 4-5 in conference play and 4-7 overall.
With so much adversity, Allison is happy the women are continuing to push on to the end of the season. Completing the season is a win in itself, he said.
Allison was an assistant coach under DeBolt from 1998 to 2016 and played on the men's team when he attended Contra Costa.
As an athlete himself and during his time with DeBolt, he saw and experienced the impact coaching can have on a student's life. Therefore, his goal this year and in those to come is to help his team graduate and transfer to a four-year university.
"My plan is to help these women to get to the next level," Allison said.