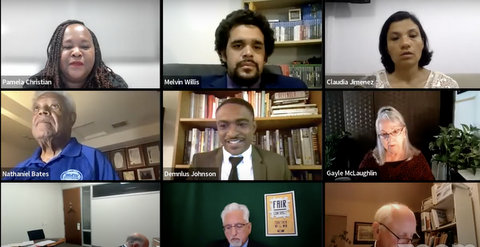 23 Feb

Urban Tilth Wants Stronger Working Relationship With the City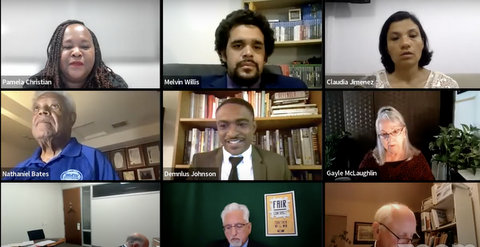 Tuesday's Richmond City Council meeting saw Mayor Tom Butt give his last State of the City address. (Screenshot captured by Julia Métraux / Richmond Pulse)
By Julia Métraux
Urban Tilth wants to work more closely with the city, said executive director, founder and third-generation Richmond resident Doria Robinson in a presentation Tuesday to the City Council.
Urban Tilth teaches two elective classes at Richmond High School and gives 200 families a free box of fresh locally grown produce. This year, Urban Tilth also plans to continue its summer youth apprenticeship program, which is in its fifteenth year, and is working on new public art.
"We're going to have a new community mural right next to the playground that we're doing to help brighten up that area," Robinson said, "so the kids will have something really positive to look at that reflects on the power of the imagination and nature."
Robinson said Urban Tilth is looking for more ways to formally partner with the city to reduce some costs of their work. This is, in part, due to the administrative work and fees needed to run programs that benefit Richmond.
"We want to ask the city to partner with us more to look for opportunities where we can use the work that we've been doing to really galvanize young people in this city towards working learning and moving towards positive outcomes for Richmond," Robinson said.
Council member Nathaniel Bates spoke in favor of supporting organizations like Urban Tilth through fee waivers and commended the group for participating in trash clean-ups.
"It especially seems like organizations like yours, having these young people with a lot of energy, a few dollars could go a long way in maintaining the cleanliness of the city," Bates said.
Interim city manager Shasa Curl said that staff is looking for ways to support organizations like Urban Tilth.
"Just to reiterate that our goal and our plan is to come to City Council in March with an update pertaining to the fee waiver and a process around how we can have MOUs [memorandums of understanding] with organizations in Richmond to facilitate better community and city partnerships," Curl said.
Urban Tilth is also running a campaign with Richmond Our Power Coalition and community allies to stop the development of 411 Brookside Drive. The development project risks blocking the North Richmond Farm from receiving sunlight, where Urban Tilth grows produce for the Richmond community.
"We're asking that the city look into this with us, and see if you can support our bid to have no shade on the North Richmond Farm," Robinson said. 
Mayor Butt Gives Final State of the City Address
Mayor Tom Butt gave his final annual State of the City Address at Tuesday's meeting. Butt's term as mayor will end in January 2023.
"Highlights include top leadership transitions, disputes between council members and myself, including nearly $300,000 of taxpayer dollars being spent investigating and suing me," Butt said.
Although Butt repeatedly criticized the City Council for diverting some funding from the police and approving funds to investigate him, he did commend the members for seeing eye-to-eye on one major problem.
"Trying to prevent climate change and preparing for its consequences are two of the issues that unite the city council," he said.
Butt called for more measures to track the efficiency of projects used to reduce greenhouse gases in Richmond, citing understaffing as an issue. Butt also cautioned the city to continue to take COVID-19 seriously.
"Although COVID-19 may seem to be in the rearview mirror for some of us, and Richmond has a high vaccination rate, people in Richmond can die from it every week — just nine this past week," he said.
Butt also shared that he is confident that the council will improve its relationship with members of the Richmond community.
"I am, however, optimistic that we will … rise to residents' expectations for a city that more than meets their needs," he said.