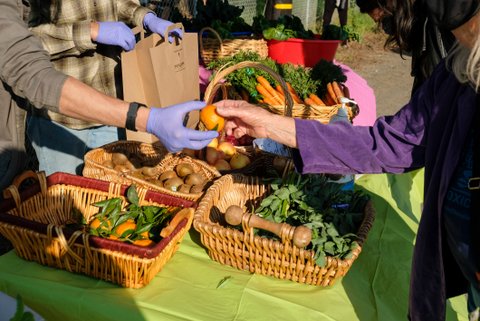 28 Feb

Threat of Nearby Development Looms Over North Richmond Farm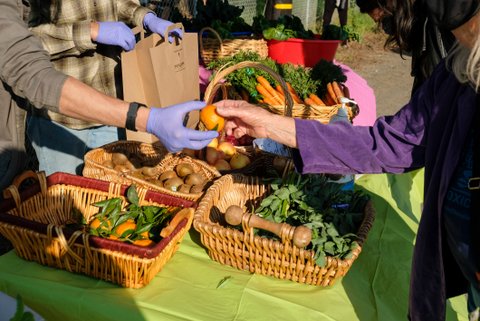 Urban Tilth's North Richmond Farm provides fresh produce to hundreds of families every week. But a proposed development could deprive the farm of four hours of sunlight a day.
Story and photos by Myah Overstreet
The North Richmond Farm provides fresh produce every week to hundreds of local families who otherwise could struggle to access healthy food. Now, a proposed real estate development could deprive the farm of sunlight, reducing the amount of food it can grow.
Real estate developer Panattoni wants to build a four-story warehouse at 411 Brookside Drive — just a short walk from the farm. Community members, including people from Urban Tilth, the Richmond Our Power Coalition and other local organizations, gathered Feb. 18 at the intersection of Fred Jackson Way and Brookside Drive to launch a campaign to stop the planned project.
They cited health concerns and loss of land that has historically belonged to people of color as primary reasons the plans should not go through. Additionally, the four-story structure would deprive the farm of up to four hours of sunlight each day.
"We are here because we are making it known that the community needs to be involved in making any of the decisions of the changes that are going to happen to our community," said Katherine Ramos, communications manager for the Richmond Our Power Coalition, as she kicked off the event.
For seven years, Urban Tilth's North Richmond farm has been producing organic produce for nearby communities.
Today, the farm produces food for 400 families every week. Urban Tilth's collection of seven gardens and farms, where community members can learn about, grow, cook and distribute produce, is especially valuable in an area where fresh fruits and vegetables can be hard to come by.
Last year, the farm and its local partner organizations distributed 127,000 pounds of food. The farm alone grew and distributed 26,000 pounds of produce, according to Executive Director Doria Robinson.
"Urban Tilth usually fights by growing food and actually directly solving the problem that we have," Robinson said in an earlier interview. "And this is one of those situations where we don't actually have the power to solve the problem that we have, that we actually need other people to come to the table and work with us."
"What do you want our future to look like?" Doria Robinson told the crowd to ask themselves as residents and activists gathered in North Richmond on Feb. 18 to protest the proposed building of a warehouse in North Richmond.
Because the farm is in unincorporated North Richmond, decisions about the land are governed by the county. Panattoni, the company contracted for the development, "is one of the largest privately held, full-service real estate development companies in the world," according to its website.
Community allies pointed to many issues that could negatively impact the neighborhood if this plan were to go through.
Activists are worried that the development, along with one other warehouse to be constructed just down the road, is too close to Verde Elementary School. The proximity of the construction site to the school alarmed many attendees. They repeatedly emphasized that increased emissions in the neighborhood could put children at risk of developing or worsening asthma.
Children are the most vulnerable population to asthma, and in 2018, Contra Costa Health Services reported that 17.9% of children in the county were diagnosed with the illness compared with California's 14.6%.
Along with increased health risks, the Panattoni project could mean the loss of historic land owned by people of color.
Currently, the site at 411 Brookside Drive is owned by the Nabeta family. In 1902, the Japanese American business owners opened their first nursery in Contra Costa County, followed by many more across the Bay Area, according to the Historical Marker Database. In North Richmond, they are the last family to own a nursery. The warehouse would demolish the land and nursery.
An Urban Tilth press release laid out other consequences the development could have, among them increased traffic and "the potential impact on Ohlone historical assets."
"Tell people and ask yourself, 'What do you want our future to look like?' " Robinson asked the crowd.
This is just the beginning for Urban Tilth and its allies. Robinson encouraged attendees to spread the word, go online to learn more, sign up for newsletters and sign the petition to support the campaign as they move forward.
The nonprofit organization recently acquired the land at 323 Brookside Drive from Contra Costa County and has plans for "community-informed and driven development," according to a press release.
The North Richmond Farm Project would include an Ohlone reflection garden and a café to support local food business owners and educate youth, while continuing to provide fresh produce.
The site is meant to preserve and uplift its history and create opportunities for community members to solve local problems. The area is envisioned as a "green zone," where residents can come together to create community-based projects that target issues like unemployment and lack of healthy foods and come up with climate change solutions.