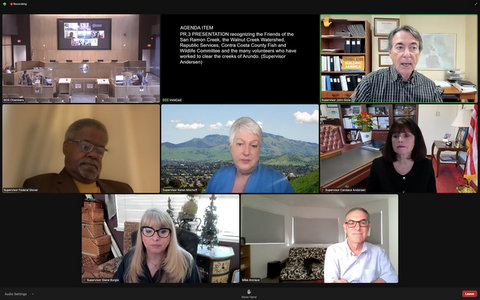 01 Mar

Contra Costa Lifts COVID Restrictions Along With California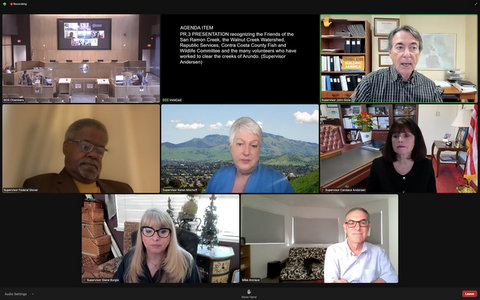 Contra Costa County plans to follow the state in lifting its indoor mask mandate, even for unvaccinated people. (Screenshot captured by Richard Tzul / Richmond Pulse)
By Richard Tzul
Contra Costa County continues to see a decline in COVID infections and hospitalizations as it also lifts restrictions. Meanwhile, it's also trying to reduce traffic deaths. These topics, along with the approval of a condominium project, were discussed in at the Board of Supervisors meeting Tuesday.
COVID Update
Health officials addressed the state's recent announcement that masks will not be required in K-12 schools after March 11. Local school districts can still impose their own mask mandates.
California is also lifting its indoor mask mandate in most venues, even for those who are not vaccinated. Contra Costa will align with the state on COVID restrictions. Masks are still required on public transportation and in healthcare venues and homeless shelters. Anna Roth, the county health director, still recommended wearing masks, saying that she'll continue to do so.
Sofé Mekuria, county deputy health officer, said the Centers for Disease Control and Prevention has released new guidance for local governments to determine their COVID risk level. Contra Costa is at the lowest risk level per the guidance.
"Protecting ourselves and the community is now really up to each one of us," said Roth, "and making individual health decisions to reduce the risk to yourself as well as to your loved ones is very important as we move forward."
The pandemic continues to wane. As of Tuesday, the county has an average of 142 new cases per day, down 43.5% from the week before. Seventy-five people are hospitalized, down 33% when comparing figures from this week and the week before. Infections are at their lowest since mid-December, or before the omicron surge. Fifty percent of county residents who are eligible are boosted.
Condominium Project
The Board of Supervisors hosted a hearing about a proposed condominium project that would consist of 125 units. The Oak Road Townhouse Condominium Project would be built in the unincorporated Walnut Creek area. The development would also feature a dog park, 34 bicycle spaces and 278 parking spaces.
The project would demolish the now-closed private Palmer School to make way for the new construction.
The board unanimously approved the project.
Traffic Fatalities Prevention Plan
The supervisors were presented with a report of the Vision Zero program, an initiative to completely eliminate traffic and pedestrian deaths. Monish Sen of the Public Works department said that San Francisco and Fremont have already implemented this program, which originated in Sweden.
Between 2015 and 2017, he added, there was a high number of deaths on Contra Costa roads. Adopting the Vision Zero plan will fulfill a state requirement to have a local traffic safety program in order to obtain funding.
There are five completed or developing projects that are already aligned with Vision Zero, with 20 more on the way. District 1 Supervisor John Gioia praised one of the completed projects, saying that data showed a reduction in collisions after it was installed.
Leading up to the report, the county assembled an advisory committee made up of members from various groups and agencies including Public Works, Public Health, the California Highway Patrol and cyclists advocates. They have put forth recommendations, which include:
Curb extensions
Highly visible crosswalks
Speed feedback signs
Roundabouts
Pedestrian signage
Pedestrian paths
Reducing curbs' radius
Obstruction removal
Paving or widening shoulders
Extending red and yellow lights
The plan would raise awareness through public communications, including on social media. The county would also partner with schools, law enforcement and healthcare providers. An annual report would be made to analyze collisions and how to prevent them.
Local officials remain split on how to respond to sideshows, the subject of ongoing controversy in Richmond.
"Youngsters tend to come in our neighborhoods and just perform stunts, and people drive through my neighborhood doing drag race," said a caller during public comment. "So my question is, how can you guys support us with trying to deal with that issue? I brought it to Supervisor Gioia's attention and to the Richmond City Council. And it seems like it falls on deaf ears."
The caller asked if cameras could be implemented as an alternative to police response. Sen said traffic enforcement cameras are currently outlawed in California. However, he added, the state may pass legislation allowing them.
The board unanimously adopted the Vision Zero plan.
The next Board of Supervisors meeting is March 8.