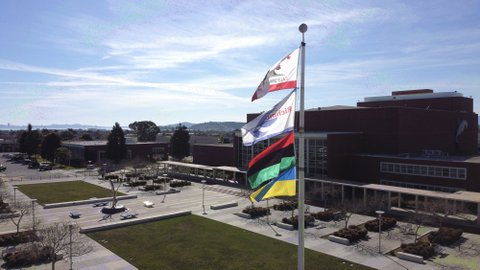 02 Mar

Richmond Raises Ukrainian Flag in Support of the Ukrainian People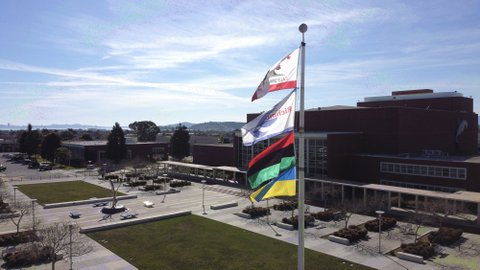 Flying at Richmond Civic Center on Monday are, from top to bottom, the California, Richmond, Pan-African and Ukraine flags. (Denis Perez-Bravo / Richmond Pulse)
By Denis Perez-Bravo
Wind waved the Ukrainian flag on the flagpole outside Richmond City Hall on Monday, hung to show support for the Ukrainian people.
The blue-and-yellow-striped banner, made by Richmond resident Claudia Citroen, joined the California, Richmond and Pan-African flags. Mayor Tom Butt and Richmond residents gathered for the Ukrainian flag raising to support the country, which is under attack from neighboring Russia.
"I hope somebody in Ukraine reads that the people of Richmond are rooting for them," Butt said.
On Feb. 24, Russia launched a full-scale military invasion of Ukraine. Days before, Russian President Vladimir Putin officially recognized the separatist Eastern Ukrainian regions of Luhansk and Donetsk before sending troops in on a so-called peacekeeping mission.
The invasion is part of the ongoing Russo-Ukrainian War, which began in February 2014.
Ukraine's Ministry of Interior said Sunday that the invasion had killed 352 civilians in the country, including 14 children. The exact number of casualties is not confirmed, however, as many factors make such counts difficult to verify in times of war. The United Nations had counted 227 civilian casualties as of Tuesday, though U.N. Human Rights Office spokesman Ravina Shamdasani told the New York Times there "have definitely been underestimates."
Russian military operations continue in the north around the capital city of Kyiv, in the south from Russia-annexed Crimea and in northeastern Kharkiv, the second-largest city in Ukraine.
Butt began his public support for Ukraine on Feb. 26 when he sent a letter to the consul general of Ukraine in San Francisco, Dmytro Kushneruk. He condemned Putin's attacks, calling them "senseless" and "unprovoked." He also stated his full support for "President Biden and our allies in enacting severe sanctions against Putin and his supporters."
At Monday's event, Richmond resident Gail Wiemann, a retired librarian who majored in Russian studies in college, said she admires the Ukrainian culture, which spans thousands of years.
Although her study emphasized Russia, Ukraine has always been a major player in the history of that part of the world, Wiemann said.
"It is really gratifying to see the city supporting this way," Wiemann said. "It's not helping in the war, but it shows that we care about what's going on and we care about those people."
At the event, a cooler was put out with Ukrainian beer for attendees to drink.
As she drank the foreign beverage from a plastic cup, Wiemann stood under the flagpole. The wind picked up, and the flag, which had hung still for some time, began waving strongly.