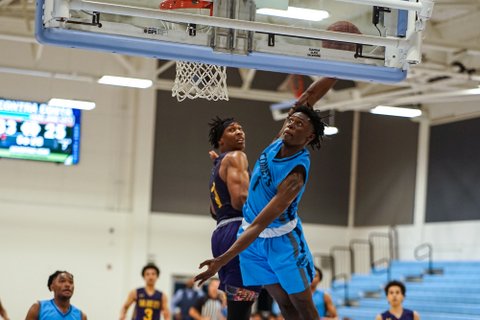 05 Mar

Contra Costa Advances in Basketball Playoffs With Win Over San Jose

Contra Costa Guard John Wade III dunks Thursday during Contra Costa College's playoff win over San Jose City College. "I wanted to bring energy to the crowd," he said.
Story and photos by Denis Perez-Bravo
Contra Costa College buckled down and stayed poised down the stretch to stop San Jose City College's comeback, finishing with a double-digit win Thursday at home.
Contra Costa, the sixth seed, defeated San Jose, the 11th seed, 89-79 during the second round of the California Community College Athletic Association state championship's Northern California regional tournament.
"We were up by 16. They cut it down to six," Contra Costa guard John Wade III said.
As San Jose continued to close the gap, Contra Costa head coach Miguel Johnson called two timeouts, one after the other. That gave Contra Costa time to take a breath and get themselves situated, Wade III said.
In the crowd, Contra Costa football, soccer and women's basketball players shouted in support of their fellow athletes. San Jose fans were sprinkled in the bleachers, but the energy was controlled by Contra Costa.
Contra Costa guard Seneca Willoughby dribbles past San Jose point guard Armond Simmons. Willoughby had 15 points, 11 assists and two blocks in the win.
The offense gave Contra Costa the lead for most of the game, but on defense, the team was losing rebounds, letting San Jose go up in the paint and gain points on converted fouls.
"We were the better team, but they were trying to fight back," Wade III said. "And they were playing harder than us, but we just had to pull it together."
Johnson praised guards Wade, Seneca Willoughby and Miles Lewis for their play that guided Contra Costa to the win.
Contra Costa guards, from left, Seneca Willoughby, John Wade III and Miles Lewis contributed heavily to Contra Costa's win in the second round of the CCCAA State Championship.
Wade racked up 17 points, eight rebounds and six steals. Willoughby ended the game with 15 points, 11 assists and two blocks.
"Lewis got his kill shots and stretched the lead by getting a few buckets in a row for us," Johnson said.
Lewis led Contra Costa in scoring with 21 points and he also got three assists.
"I think moving forward, we have to do a better job on the defensive glass," Johnson said.
Contra Costa's biggest challenge was to box out San Jose, Willoughby said.
San Jose players were very athletic, and their team had big players in the wings. The solution was for all of Contra Costa to "work and box off," he said.
Although San Jose had a last-minute run, Contra Costa had a winning mentality from their practices to the last buzzer of the game, Willoughby said.
>>>Read: Contra Costa College Basketball: Fighting for First or Fighting to the End
Contra Costa's work ethic has already proved itself as the best of the Bay Valley Conference. A win over Mendocino College on Feb. 23 to conclude the regular season gave the team a 14-2 record, good for the Bay Valley League Conference Champion title.
Individually, Contra Costa players were among the best in the conference.
Willoughby was named Bay Valley Conference MVP and was selected to the CCCAA All-State team.
Wade and Lewis were named to the Bay Valley All-Conference team, while guard Jakarri Lindsey was an honorable mention.
Contra Costa guard Jakarri Lindsey goes up for a shot during an 89-79 win over San Jose City College at home.
Johnson was named All-Conference Coach of the Year.
But the team's past achievements have no bearing on the next matchup.
In a win-or-go-home situation, no team can be looked past, he said.
If Contra Costa wins its next game, it will be one of four Northern California colleges to advance to the CCCAA State Championship quarterfinals in Lemoore.
There, the three-day state championship tournament will pin Northern and Southern teams against each other until one is crowned winner.
"These guys are resilient," Johnson said after their win against San Jose.
Johnson highlighted the regular season shift to conference play.
As conference play raged on in February, Johnson said he worried about lulls in their gameplay. But, with leadership from Wade, their only sophomore, the team showed then and now that they have matured as athletes and students.
Their next game, to be played on the road, will be hard, but Johnson said his 2022 Comets are "battle-tested."
"They are ready to go," he said.
Contra Costa will next play in the third round against College of Sequoias in Visalia on Saturday at 7 p.m.