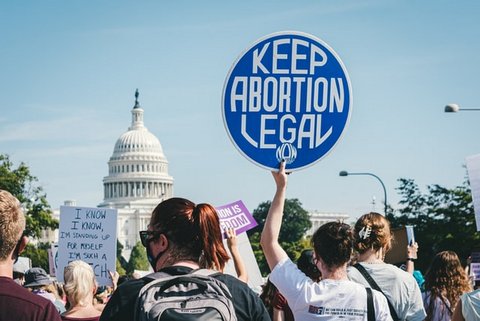 07 Mar

Advocates in California Fight for Reproductive Freedom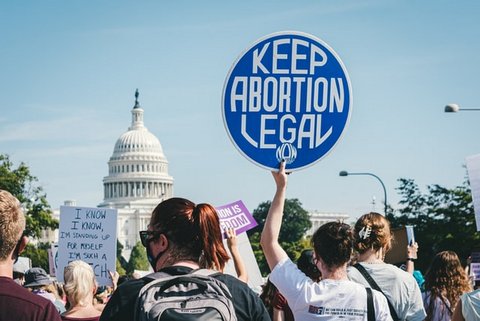 People gather in Washington, D.C., in 2021 in support of abortion rights. (Gayatri Malhotra on Unsplash.)
By Keisa Reynolds
Reproductive freedom has been under scrutiny from conservative legislators across the country.
A barrage of anti-abortion legislation is making its way through many states that could make it extremely difficult — if not impossible — for millions of people to get an abortion and, ultimately, even threaten the landmark Roe v. Wade decision.
The consequences of these proposed and enacted laws and how abortion rights advocates in California are working against them were the focus of an Ethnic Media Services briefing Feb. 11 called "Facing the end of Roe v Wade: women of color face the most severe impact."
In recent years, several states have enacted restrictive abortion laws in efforts to challenge Roe v. Wade. Many advocates recognize that this was fueled by the anti-abortion rhetoric of the previous administration as former president Donald Trump sought to overturn Roe v. Wade during his tenure. Over 200 federal judges were appointed and confirmed by the Senate under the Trump Administration and were specifically picked for their pro-life stances.
In 2021, the Texas Legislature passed the Texas Heartbeat Act, or Senate Bill 8, banning Texans from having an abortion after what is known as a fetal heartbeat is detected. This means that individuals seeking an abortion after six weeks — which is typically when embryonic cardiac activity can be detected — are legally unable to have one in their state.
This makes SB 8 one of the most restrictive abortion laws to go into effect since Roe v. Wade legalized the right to abortion in 1973.
Doctors say that the Texas legislation is misleading because "fetal heartbeat" is not a medical term. Given that 85% of abortions happen past six weeks of pregnancy, this law essentially bans abortion throughout the state.
The law was blocked by an injunction for 48 hours, however, the Supreme Court allowed SB 8 to go into effect in September. The law also enables private individuals to sue practitioners suspected of providing abortions. Successful plaintiffs in a lawsuit are eligible to receive $10,000 per claim as well as attorney's fees.
Reproductive justice advocates and supporters continue to fight fiercely against the law that has set a legal precedent across the country.
According to advocates, copycat bills were introduced in six states including Florida, Ohio and Arizona. Legislators in six other states have announced intent to introduce such a bill.
In 2018, a Mississippi law aimed to make abortions illegal after 15 weeks. The law never went into effect after its enforcement was blocked by federal courts. Mississippi's only abortion provider has challenged the law in Dobbs v. Jackson Women's Health Organization, a case before the United States Supreme Court. Oral arguments were heard Dec. 1, and a decision is expected in June.
"[Dobbs] is a direct challenge to a precedent in Roe v. Wade, meaning that it seeks to overturn that case and remove protections for the right to obtain an abortion," said Lisa Matsubara, general counsel for Planned Parenthood Affiliates of California. "Should that happen, people in potentially half the states will no longer have access to abortion in their state."
Overturning the historic law would allow each state to decide what abortion restrictions would be in place.
"Part of the efforts that are coordinated are to make sure that there is equitable access to abortion care," Matsubara said. "This is an issue that disproportionately impacts people who are low-income as well as women of color."
Matsubara said more than 180 bills restricting abortion have been introduced in 37 states so far in 2022, and those numbers have gone up since. At the time of writing, two bills banning abortion after 15 weeks had passed in Florida and West Virginia's Houses of Representatives.
A 2021 Planned Parenthood study found that more than 36 million women of child-bearing age would be affected by the lack of abortion access if Roe v. Wade is overturned or obliterated. (Numbers for nonbinary and trans people potentially impacted were not provided, but it was acknowledged that they will be affected.)
"If the U.S. Supreme Court overturns or severely guts Roe v. Wade, it is estimated that more than 1 million people will find their nearest abortion provider in California, which is nearly a 3,000% increase from today," said Matsubara.
Reproductive Freedom in California
ACCESS Reproductive Justice operates the only statewide abortion fund in California. The organization operates a helpline and provides support for procedures and material needs of those seeking abortion care. Founded in 1993 by clinic escorts, ACCESS has a network of volunteers across the state who provide lodging and transportation for patients, whom the organization considers "callers."
Executive director Jessica Pinckney said the organization engaged callers — typically, people seeking an abortion — from 18 states in 2021. According to Pinckney, callers are often uninsured, underinsured or have private insurance plans with high deductibles.
Through its helpline, ACCESS has identified transportation, lodging, childcare and food as significant barriers to abortion.
Many Californians seeking an abortion still have to travel three or four hours to the nearest clinic, while out-of-state patients may require extensive travel by train, plane or car.
"Should Roe v. Wade fall in June, California will be a safe haven for those seeking abortion care," said Pinckney.
As expected, Texas' legislation has impacted people not only throughout there but in other states as well. Wait times for abortions in California have increased as Texas residents travel long distances for assistance.
Pinckney shared the story of a caller from Texas who went through all the necessary steps to secure an abortion in California. ACCESS coordinated with an abortion fund in Texas to provide comprehensive support to the caller. At their appointment in California, they learned that there wasn't a fetal heartbeat, which meant that the procedure would have been legal in their home state.
Last September, Gov. Gavin Newsom declared California a "reproductive freedom state" after signing two laws that aim to protect privacy of patients and abortion providers.
That same month, more than 40 organizations established the California Future of Abortion Council after meeting to discuss threats against abortion access. The council released a report with 45 policy recommendations to ensure California lives up to its commitment.
California is poised to not only serve as a model state for reproductive freedom but provide robust advocacy to protect the right to abortion.