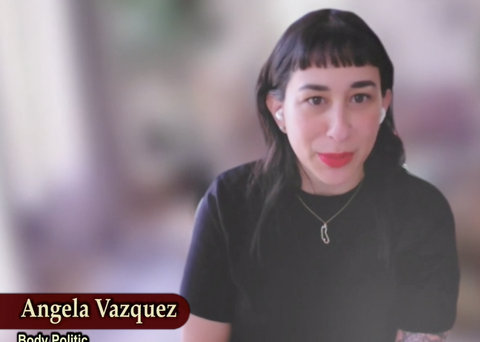 11 Mar

Long COVID Is Keeping People Sick Well After Infection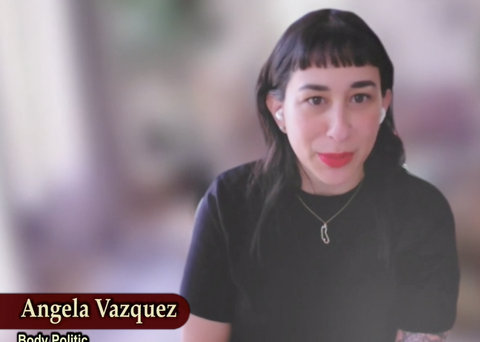 Angela Meriquez Vázquez contracted COVID-19 in March 2020 and is still feeling the effects, something she shared during a hearing Wednesday on long COVID. (Screenshot captured by Julia Métraux / Richmond Pulse)
By Julia Métraux
Angela Meriquez Vázquez used to be a runner, but after contracting COVID-19 in March 2020, she has not been able to go on a run since. She lives with long COVID, the symptoms of which include myalgic encephalomyelitis for her.
Long COVID hasn't been explicitly defined yet, but generally, it is a catch-all term for symptoms that remain after someone has otherwise recovered from a COVID-19 infection. Those symptoms vary but can also include chest tightness, debilitating fatigue and difficulty concentrating, according to an article published in the journal Diabetes and Metabolic Syndrome. The causes of long COVID and how widespread it is also are not known.
"When I push myself past a dynamic threshold, I will experience a relapse of my worst symptoms like insomnia, brain fog and confusion, sleep apnea, heart palpitations, fevers and severe migraines," said Meriquez Vázquez, the interim president of Body Politic.
On Wednesday, the California state Senate's health committee and the special committee on pandemic emergency response held a special hearing on long COVID-19, which included input from health professionals, COVID-19 long haulers and senators from the aforementioned committees. Only the state senators were in-person in their meeting chamber — the rest attended via teleconference — and a majority of senators in-person were not wearing masks.
Dr. Steven Deeks, a UCSF doctor who is researching long COVID-19, said that around 10-20% of people who contract COVID-19 will experience at least one long COVID symptom. Long COVID may appear very different from person to person.
"People have a neurologic version of this, with the brain fog and neuropathy and so forth," Deeks said. "There's a strong, distinct cardiovascular flavor of this, in which people have heart rate problems and blood pressure problems and develop acute cardiac complications."
Research suggests that getting vaccinated and boosted against COVID-19 can help mitigate some more severe complications of this infectious disease, but Deeks said that even vaccinated people with mild symptoms can still develop long COVID.
"All the cohort studies that have been reported suggest that people who've been vaccinated, become infected can get long COVID, but the rates are about 50% lower," he said.
Children under the age of 5 in the United States still cannot get vaccinated against COVID-19. Dr. Sindhu Mohandas, the co-director of the immunocompromised infectious diseases program at Children's Hospital Los Angeles, has serious concerns about children developing multisystem inflammatory syndrome after contracting COVID-19.
>>>Read: Vaccination Protects Children from the Dangers of COVID-19
"We have also seen that ​​MIS-C affects the minority community disproportionately, [and] more than 52% of our patient have been Latinos," Mohandas said.
Mohandas also said that debilitating symptoms of long COVID-19 are keeping some students out of school, which affects both their education and their families.
"I believe that we have only seen the tip of the iceberg," Mohandas said. "Symptoms of long COVID are keeping children out of school and their parents out of work, and it has potential for significant public health impact."
People with long COVID and caregivers of those with long COVID asked both politicians and health professionals to take specific steps to better accommodate people looking for help to function with debilitating symptoms.
>>>Read: Caregivers Need Support — and for People to Get Vaccinated
These include not requiring a positive COVID-19 test or hospital admission as a requirement for care at long COVID clinics, like the one at UCSF. This is because not everyone has been able to get a test, especially at the beginning of the pandemic, and a person does not need to have severe COVID-19 symptoms to develop long COVID.
Jennifer Stark, a lawyer with Disability Rights California's Mental Health Practice Group, called for federal guidance that would recognize long COVID as a disability. Stark has long COVID herself, and she was unable to get a COVID-19 test when she got sick.
"There needs to be a clear recognition that long COVID can be deemed a disability under the Americans with Disabilities Act, which triggers the need for providing accommodations, despite the often invisible nature of this condition," Stark said.
Meriquez Vázquez also said that long COVID-19 is just another example of a postviral condition. Other postviral conditions include post-polio syndrome and AIDS from HIV.
"We must build on this existing research and not continue to frame long COVID as an entirely new phenomenon," Meriquez Vázquez said. 
Both Deeks and Mohandas, as well as patient advocates such as Meriquez Vázquez, said there needs to be more research on long COVID to better know how to treat it. No firm decisions were made at Wednesday's hearing on steps forward for the state.
While more research is needed to better understand long COVID-19, California state Sen. Dr. Richard Pan, the health committee chair and a trained pediatrician, said what research suggests so far should be a call to action to continue to limit the spread of COVID-19.
"We should take every effort to prevent people, especially our children, from ever being infected or reinfected by this very serious disease," Pan, who was masked, said to his mostly maskless colleagues.