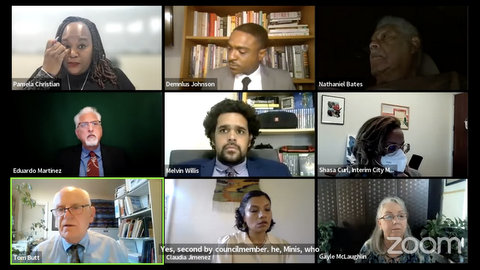 16 Mar

City Considers Waiving Fees for Some Community Events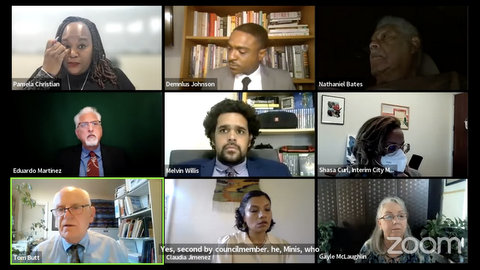 The Richmond City Council considered but did not yet adopt a proposal to waive fees for certain events in the city that could benefit residents. (Screenshot captured by Julia Métraux / Richmond Pulse)
By Julia Métraux
The Richmond City Council discussed plans to introduce fee waivers for events taking place in the city that would benefit residents. A motion to adopt a plan for fee waivers was not taken at Tuesday's meeting.
LaShonda White, the interim director of library and community services for the city, said to qualify for a waiver for short-term and temporary events, groups applying would need to be an intergovernmental organization, nonprofit organization or an official city of Richmond partner, or the event would have to be co-sponsored by the city.
"As part of the criteria, we are looking at this work through an equity lens," White said. "Looking at that through the lens of both race and equity, but also health … so we'll take those things into consideration."
Members of the City Council were supportive of fee waivers, but they had questions on how they would be applied. White said the city would look at an organization's structure, the application, potential community benefit and resources needed.
White and her team are proposing as of Tuesday's meeting that eligible organizations could apply for fee waivers for up to $3,000 during a 12-month period. A memorandum of understanding could be an alternative between Richmond and an organization for a more formal partnership.
White said the city could also use fee waivers to support organizations that bridge the gap between what the city provides and what residents need.
"We want to make a callout to organizations to say, 'Here's a need, and can you help us fill it?' " White said. "That's a way in which we could have a level playing field and notify organizations to have opportunities for partnership."
Mayor Tom Butt spoke in favor of fee waivers, even though the city does profit from costs charges to host events in Richmond facilities.
"I think that the city has to stop looking at these facilities as profit centers, and more of an opportunity to enter into partnerships to get things that the community needs," Butt said.
Council member Melvin Willis asked if any organization that is nonprofit would be able to qualify for a fee waiver, such as Kaiser Permanente. White said large nonprofits like Kaiser have not asked for waivers in the past.
"We're hoping that organizations are really thoughtful and understand with the purposes behind this policy, that it does cost us as Richmond, as the city of Richmond to provide services and to maintain facilities," White said.
Groups would be ineligible for fee waivers under proposed policies if they are based outside of Richmond or if their events are based around fundraising, are not public to the public or offer no benefit to residents.
Standing Up Against Hate
Council member Gayle McLaughlin said that she received a request from former council member Jeff Ritterman that members of the Richmond community put up posters saying "Richmond Stands United Against Hate."
Ritterman's requested this after hundreds of antisemitic flyers were dropped in Berkeley Hills driveways in late February. According to Berkeleyside, "these incidents have been linked by advocacy groups to a notorious hate group out of Petaluma, Goyim Defense League."
"The City Council's office has kindly made copies of these posters," McLaughlin said. "Anyone who wants to pick up a 'Richmond Stands United Against Hate' poster, please come to the lobby of City Hall and pick one up."
Council member-at-large Nathaniel Bates also encouraged neighborhood councils to ask businesses in their area to put up these posters.
"These coordinating neighborhood councils can very easily go and have them posted in those particular neighborhood councils' business areas," he said.
The next City Council meeting will take place March 22.