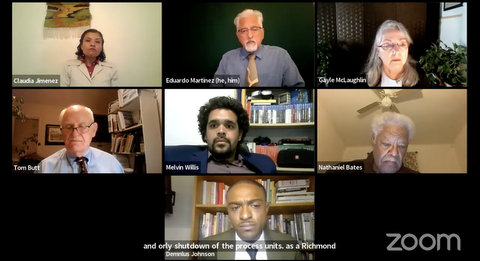 23 Mar

Council Supports Redistricting Map and Striking Refinery Workers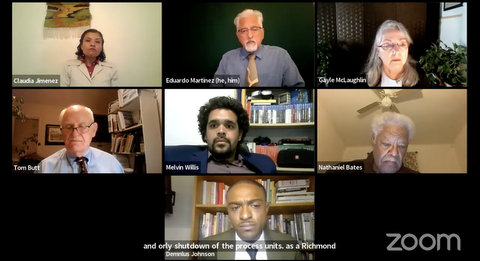 By Julia Métraux
The Richmond City Council voted to support map 201 in its redistricting process following receiving information on voting populations after the 2020 census. The map's main purpose is to designate the six areas that City Council members will represent.
The City Council did not adopt the map at Tuesday's meeting, but they will vote on it — likely in the consent calendar — at the next meeting. Mayor Tom Butt, council member Demnlus Johnson and council member Nathaniel Bates voted against this map, with Johnson and Bates voicing their support for map 102c, which was created by a neighborhood council coalition.
While members of this coalition called in to voice support for map 102c, other members of the Richmond community voiced concerns that neighborhood councils are not inclusive of all residents.
"Unfortunately, when somebody doesn't believe in what the neighborhood councils are saying, they ban them from coming to those Zoom meetings," Marisol Cantú, a Richmond resident and adjunct professor at Contra Costa College, said.
Several members of the public and some members of the council also spoke to the fact that there is not a singular map that will serve all the needs of Richmond residents, in part due to the city's layout.
"The way that the city of Richmond is laid out, it's like somebody threw a couple of octopi on the wall, you got tentacles all over the place," Don Gosney, who lives in East Richmond and supported the 102 map options, said. "Someone is going to get screwed."
Council members Claudia Jimenez and Gayle McLaughlin both expressed their concerns that map 102c would disenfranchise voters in upcoming City Council elections. Under map 102c, over 6,000 voters would have to wait six years to vote for a council member again. No voters would be deferred under the 201 map.
"I really cannot vote for disenfranchising thousands of voters," McLaughlin said. "​​Taking away their vote is not in the interest of democracy… and it's not in the interest of our sacred right to vote that many have fought for over for hundreds of years."
Richmond Refinery Workers' Strike
Chevron Richmond Refinery employee Robert Travis spoke to the council about the workers' current strike to protest safety concerns and request better pay and benefits. The refinery is continuing to operate during the strike, which began Monday.
"The company initially informed the union that they did not want to strike, however an hour later they called the union back and said that they did not want to meet," Travis said.
Over 500 workers from the refinery are now on strike, and they have been replaced by temporary workers, many of whom Travis alleged do not have adequate experience to know how to safely operate the refinery.
"We have regimented hands-on training that takes years for us to run the unit successfully," Travis said. "I believe none of this was followed in the training of these replacement workers."
Travis also raised concerns about refinery workers being offered fewer medical benefits but having higher healthcare premiums.
"It's a competition to offer less and less … in an effort to make more and more money," he said.
Travis and other workers who called into the meeting said that recent flares over the past few days since union workers went on strike show that trained workers need to be supported. All members of the Richmond City Council spoke in favor of backing the union.
"We're all in sympathy with any labor group that is in bargaining," council member Bates said. "The city attorney may want to advise this council of what limitations that we have as an elected body to intervene in a negotiation between a labor union and a business."
When asked what specific measures the union wants the council to take by both council members Bates and Melvin Willis, Travis said they did not have specific requests of the council that evening other than support. After encouragement from Bates, Travis said the union would contact the city attorney about any actions the union requests of the council.
"Knowing the dangers and knowing what they're [replacement workers] taking control of, and [the refinery has] been flaring for two days, and we've been on strike for two days," Travis said. "To me, that bothers me greatly."