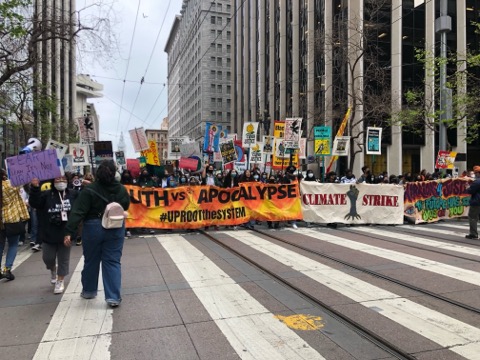 30 Mar

Youth Protest Climate Injustice in San Francisco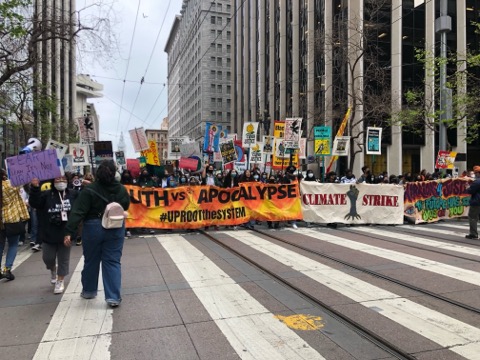 Bay Area youth marched through downtown San Francisco on a school day to protest climate and migrant injustice as part of the global climate strike.
Story and photos by Maria Fernanda Bernal
Hundreds of Bay Area teens and younger children marched through San Francisco's Financial District on a recent weekday morning to protest climate and migrant injustice as part of the global climate strike.
The global climate strike got its start in 2018 when Greta Thunberg, who was 15 at the time, began skipping school to protest outside the Swedish Parliament. Other young activists soon joined her. They created the slogan Fridays for Future and encouraged people around the world to join them in taking action. The Oakland-based group Youth vs Apocalypse organized the group that marched April 25 from Embarcadero Plaza.
>>>Read: As Climate Change Worsens, 'We Have No Future'
One of the organizers was Kevin G. Ruano Hernandez. The 18-year-old Richmond resident is passionate about climate justice because of his experiences living in a city with a fossil fuel company.
Ruano Hernandez said a friend and close family members have died from respiratory diseases.
"I lost my uncle and aunt [to] chronic respiratory disease. They've been in Richmond most of their life. And so they've recently passed away. I lost my friend to the same disease …," he said. "That's just my story. There's millions of stories, in Richmond, thousands of stories of students being affected by fossil fuels, by Chevron."
>>>Read: "Chevron Is On Fire" Again. Change Is Long Overdue.
Richmond has the highest rates of emergency room visits and hospitalizations due to asthma in Contra Costa County. Homes near major sources of air pollution saw increased asthma attacks by 108%.
>>>Read: Richmond's Most Vulnerable Can't Escape Dangerous Air
In the San Francisco strike, hundreds marched to the BlackRock offices and were escorted by police officers who blocked the streets. BlackRock is an investment management firm that has been criticized by environmentalists for its ties to the agriculture industry and deforestation in the Amazon, among other issues.
Young people painted the pavement in front of the building with red handprints as a symbol for people who have died because of climate change. Shortly after, the crowd marched to Immigration and Customs Enforcement offices to protest mistreatment of migrants.
Another organizer, Hannah Estrada, is driven by her love for her partner who is undocumented. The 18-year-old said that she uses her ability to speak up because others can't.
"I want people to see that climate justice is rooted in the same system that causes us as people of color and low income people of color and immigrants to have these horrendous issues," Estrada said. "As people of color our communities are most vulnerable to the climate crisis, and climate catastrophe."
Youth vs Apocalypse plans to protest again in San Francisco on Earth Day, starting at Civic Center Plaza. This April 22 event will focus on environmental justice in San Francisco and, in particular, Treasure Island, which is contaminated with radiation.